Tunisia with all-time record before a mega-European heatwave! Jendouba +49,0°C, Kebili +48,5°C; Algeria up to +48,9°C last days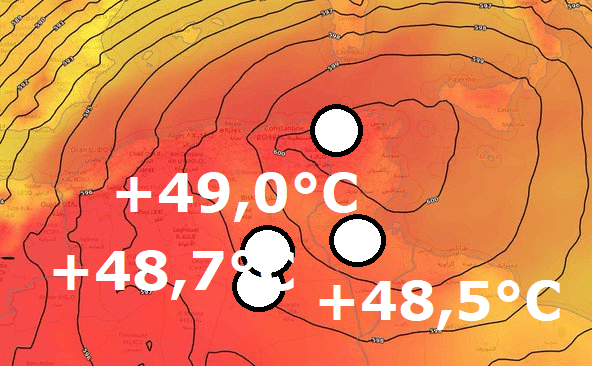 Only in one of the last articles, we warned about extreme heatwave forecasted for large parts of Europe between 10.-25. August 2021 /https://mkweather.com/the-peak-of-summer-2021-mediterranean-47c-alpine-and-carpathian-region-42c-scandinavia-and-the-uk-maybe-the-last-30c-mega-heatwave-starts-on-11-august-in-western-europe-and-ends-around-24-august-in-ea//.
Above southern half of Europe, but too Central Europe and partly northern Europe will shift anomalously hot air from North Africa with a Saharan origin, which is already causing problems in North-African countries, mainly Tunisia and Algeria, where already all-time temperature records in metropolitan areas were measured.
The hottest was on 9. August 2021 in Jendouba, Tunisia, +49,0°C, what is the highest temperature measured in the city in all-time history (previous record +48,5°C and previous August record +48,2°C).
Extremely hot was on 8. August 2021 in Kebili, too, +48,5°C, is a new August record for the city.
In Algeria, extreme heatwave, only 2°C below all-time records is persisting since early August. On 9. August, +48,7°C was measured in Ouargla and Touggourt, but in the last days was locally even warmer – on 7. August 2021, +48,8°C in Timimoun or on 5. August, +48,9°C in In-Salah.
In the next period, gradually temperatures up to +47°C are expected in European Mediterranean – Spain, Italy or Greece.
In northern Africa, maximum temperatures should reach in the next few days around +50°C and the next all-time records are possible.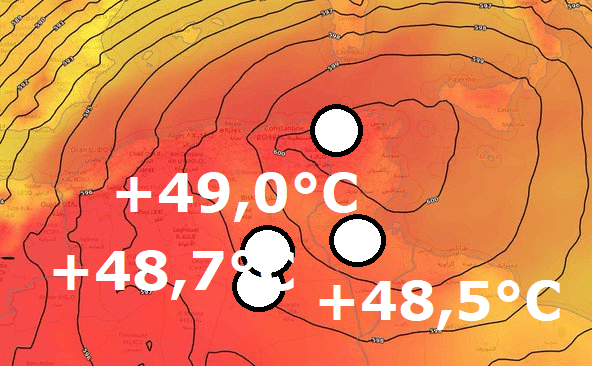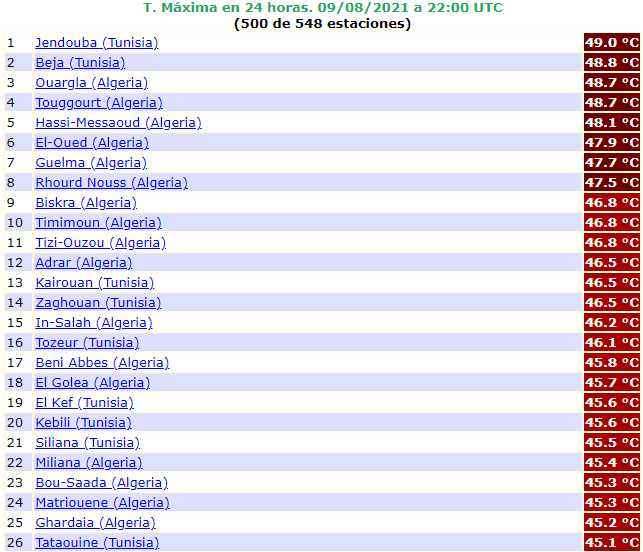 Source: ogimet.com


Source: wikipedia.org