Vietnam should hit next typhoon between 10.-15. October, Indonesia with widespread floods and landslides after ITCZ shift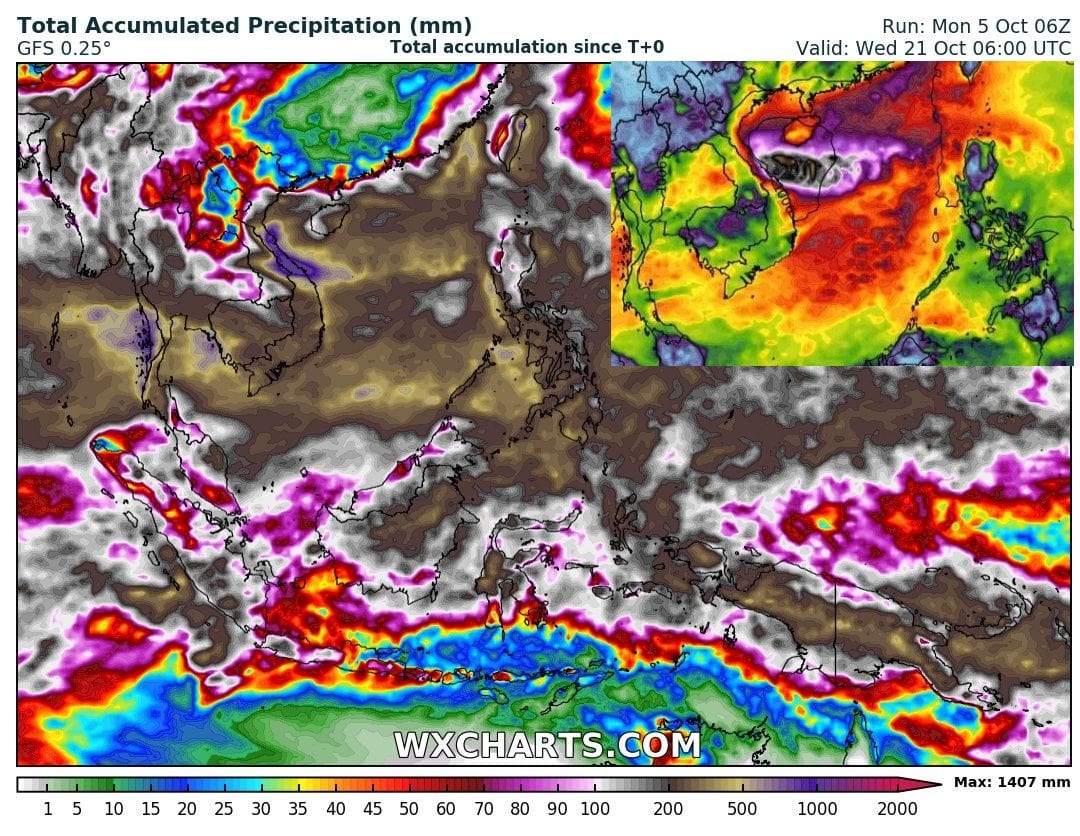 According to new prognostic materials, Southeastern Asia is waiting hard times with widespread flooding, landslides and ITCZ (Intertropical Convergence Zone) shift to the southern regions, while northern areas should hit next typhoon of the season – mainly Vietnam.
In fields in central Vietnam and southern Myanmar, GFS is prediction extreme rainfalls during the next 16 days, until 21. October, up to 1407 mm!
In Vietnam, these extreme precipitation will be very probably linked with next typhoon of the season, which is forecasted to develop northwestward from the Philippines from 10. October and should hit Vietnam already around 13.-14. October 2020, with forecasted winds up to 167 km/h and possible wind gusts up to 200 km/h.
Extreme rainfall are expected during the next 16 days mainly in Vietnam, Cambodia, Thailand, Myanmar, Philippines and parts of Indonesia and Papua-New Guinea.
In Indonesia, severe storms with landslides left 13 killed and 4 missing in Kalimantan, Java and West Papua during last week /http://floodlist.com/asia/indonesia-landslides-tarakan-north-kalimantan-september-2020; http://floodlist.com/asia/indonesia-floods-papuaprovince-september-2020; https://watchers.news/2020/10/05/west-java-flood-october-2020//. Floods hit Sumatra, too.
11 people died after landslide in North Tarakan and Central Tarakan Districts in Kalimantan, 2 people died after heavy rainfall caused houses to collapse in Papua Province, floods and landslides leave 4 missing in West Java and flooding has been reported from Sumatra too.
Infographics: