We will suffer extremely cold mornings until 24. March in parts of Central Europe, yet
In many regions, the coldest will be night form Friday to Saturday, 19.-20. March 2021.
Period with severe frosts will be prolonged on the front side and the center of Azores high, although in warmer, but extremely dry air, with result of frosts up to below -10°C, maybe very rarely up to -15°C in Carpathian basins, until Wednesday, 24. March 2021.
Days thanks to sunshine will be however, mainly in lowlands, gradually warmer.
Already the next 3 mornings, frosts will be strengthening and we will watch, if temperature -20°C, or least -15°C will be reached in Czechian frost valleys, which are according to estimates, the coldest parts of Central Europe within altitudes below 1000 MASL (Alpine mountainous unpopulated frost valleys are not included into these watches).
Interesting will be situation in Central Massif, France, too and frosts are expected in large parts of the Spain and part of Portugal, too.
On Thursday and Friday, 18.-19. March 2021 there will be many moisture in the air yet, with widespread snow showers in Germany, Poland, Czechia, Switzerland, Austria, Slovakia and Hungary, yet.
At the weekend, cyclonic activity over southern Balkan should bring high snowfall in parts of Serbia, Montenegro, Kosovo, Albania, Northern Macedonia and even northern Greece. Later, above Central Europe will shift occlusive front, with additional snowfall, or rain, respectively.
Extremely dry air on the front side of Azores high finally should bring last severe frosts below -10°C of the winter season in many regions until Wednesday, 24. March 2021.
Last March week will bring, such we forecasted in the article before, extremely warm weather thanks to Azores high over European continent associated with strong NAO+ phase /https://mkweather.com/the-first-summer-heatwave-25c-and-powerful-storms-on-cold-front-already-at-the-end-of-march-extreme-weather//.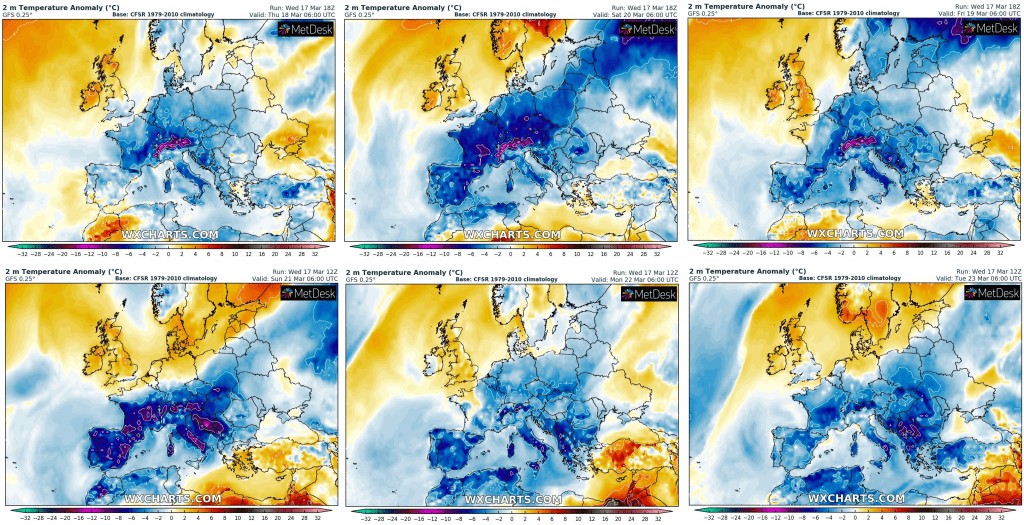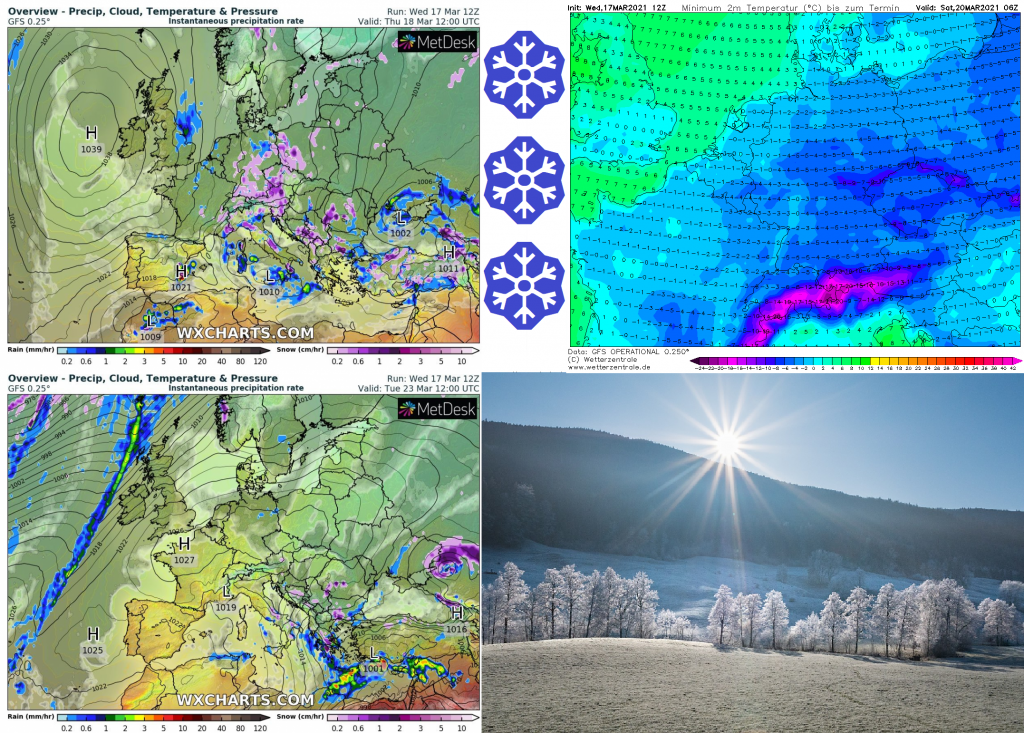 Infographics: wxcharts.com, wetterzentrale.de