Colorado is suffering a lack of Autumn snow, 212 days without snow cover in Denver means 5th place in historical tables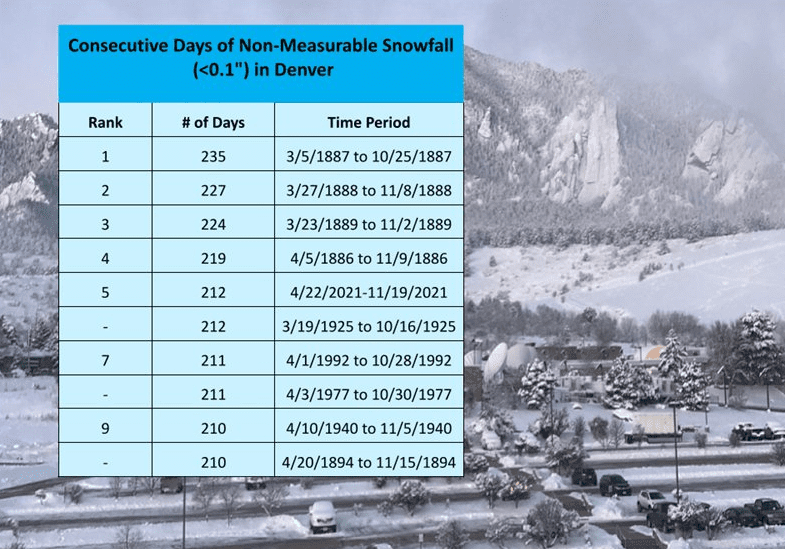 Only in the last 2 articles, we have started to write about the past weather events in the USA, Canada, and partially Mexico and the Caribbean, too.
While the continent is suffering all types of weather from -43°C and blizzards to +43°C and wildfires /https://mkweather.com/from-blizzards-arctic-blasts-floods-and-tornadoes-to-heatwaves-and-wildfires-weather-in-the-usa-and-canada-in-late-november-2021//, probably the worst situation has been reported from Pacific coast, with 500-year flood even in British Columbia, Washington state and Oregon /https://mkweather.com/the-catastrophic-year-2021-for-pacific-coast-canada-nw-usa-after-496c-in-june-500-year-floods-in-november-2021//.
Now, we will shift into Denver, Colorado, where is Autumn 2021 anomalously warm.
Together 212 days since late April 2021 snow cover hasn´t appeared in the city, which is the 5th longest period in history without the snow!
After the very early start of the last winter season (in September 2020) and the very late end of the season (April 2021 – with a result of the longest snow season in history) it's quite surprising.
It should be linked with persisting NAO- phases in October and heatwaves about the southern USA, while atmospheric rivers hit more southern regions, from northern California through Wyoming to Midwest, with a result of warm spells and lack of snow and frosts in Denver.
Autumn 2021 blizzards hit northern states of Rocky Mountains, mainly and Colorado in the south therefore with some luck has stayed in the warm sector all Autumn 2021.
In the next period, the next heatwave is forecasted in California, with tropical days and wildfires and the next warm spell should hit Colorado, too.
Am arrival of snowy winter is therefore in one of the coldest places in the USA shifting into December 2021.
According to Winter 2021/2022 forecasts for North America (or Northern Hemisphere), winter will be peaking in the USA and Canada around February 2022 /https://mkweather.com/winter-2021-2022-forecast-for-northern-hemisphere//.