Belgrade, Serbia / Tuzla, Bosnia and Herzegovina with 40 cm snowfall, most of Balkan after a blizzard
MK
December 14, 2021
4 min read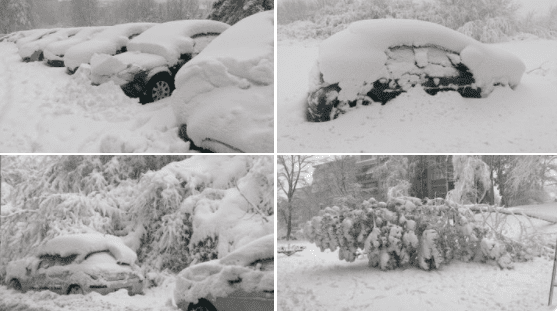 While in the mountainous parts, the 3rd level of warnings before a severe blizzard was in the last days valid and regionally fell up to 1 meter of snow in Balkan mountains, extreme snowstorm surprisingly hit lower situated regions, too.
The worst snow calamity was after intensive snowing reported from Belgrade, Serbia and Tuzla, Bosnia and Herzegovina, only around 100 – 400 MASL.
While Belgrade, city, 132 MASL reported 27 cm snowfall, hills above the city reported according to watchers on Twitter up to 40 cm of fresh snow, and in Serbian Mountains, snow cover should reach up to 1 meter.
From Serbia were reported widespread problems with the power grid due to snow and strong winds, traffic collapse – including Belgrade, or problems with electricity and heating.
More than 300 fallen trees were reported from Belgrade.
Warnings of the 3rd level were valid in southeastern Serbia according to meteoalarm.org.
Extreme snowfall was reported from Tuzla, Bosnia, and Herzegovina, only 305 MASL, 39 cm, and in mountainous parts of the country, similarly such as in Serbia, up to 1-meter snowfall is possible.
Power cuts in Srebrenica, Bratunac, parts of Lopare, and roads blocked due to snow were reported in Bosnia and Herzegovina.
5 cm reported Bulgarian capital, Sofia, 586 MASL.
From Pozarane, North Macedonia, 885 MASL, 27 cm was reported.
Parg, Croatia, 863 MASL reported 25 cm.
In Plevlja, Montenegro, 784 MASL, 28 cm snowfall was measured.
The worst blizzard since 2004 is reported from Greece /the next Mkweather article/.
In Ratece, Slovenia, 864 MASL, already on Friday, 10. December, 86 cm snowfall was reported /https://mkweather.com/ratece-slovenia-86-cm-snowfall//.
The next extreme coldwaves, with snowing and severe frosts, are forecasted in Europe already around Christmas and New Year 2021-2022 /a topic of one of the next Mkweather articles/ and cold weather should persist above the southern half of Europe until 25. January 2022 /https://mkweather.com/ecmwf-6-week-forecast-for-europe-until-24-january-2022//.