Brazil (+43,9°C) and Paraguay (+43,6°C) regionally with the hottest days in history! El-Nino years bring even worst food crisis and expensive products worldwide!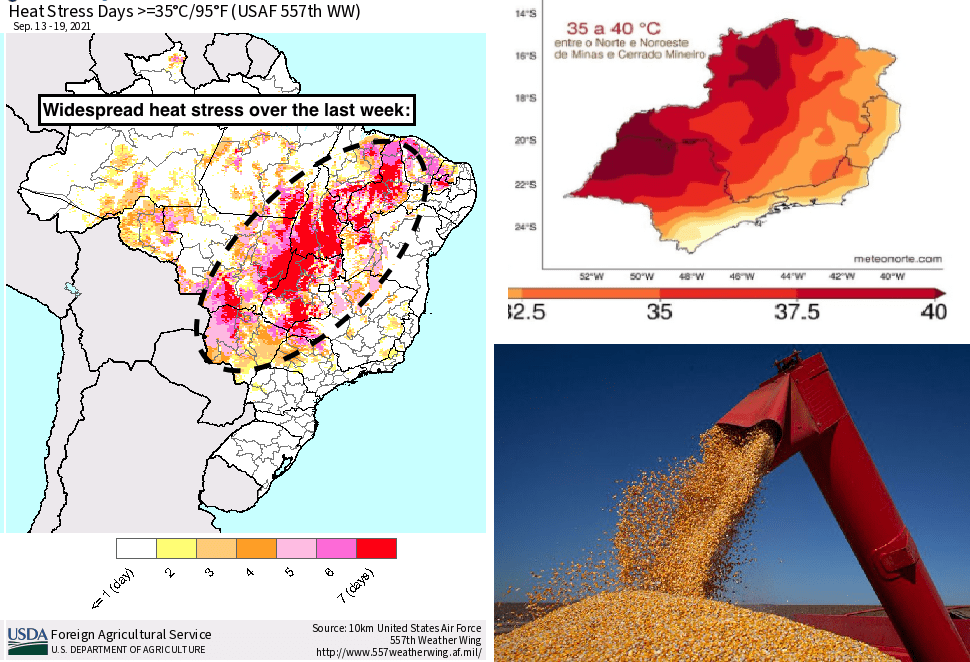 The hottest days in history!
Parts of South America has experienced in the last week the next anomalous heatwave, linked with drought and loss of harvest.
In Corumbà, Brazil, the hottest day ever occurred on 20. September, with a maximum temperature of +43,9°C.
Records were measured in Tres Lagoas, Brazil at +43,1°C, and in Valparaiso, Brazil, +42,0°C on 20. September at Puerto Casado,Paraguay, +43,0°C on 19. September 2021.
A heatwave hit region very close to Sao Paulo and Rio de Janeiro: new records of all-time highest temperatures were measured in Jales, +42,4°C, and Valparaiso, +42,3°C. The city of Goias recorded +43,1°C.
Pozo Hondo, Paraguay, reported +43,6°C before a week.
From the region, the next losses of harvest are reported, which has a significant impact on more expensive products in the global market, together with critical weather behavior in other key regions.
Currently, however, a more favorable global pattern – La Nina, associated with better harvest, is ongoing /https://mkweather.com/2022-2023-forecast-chances-for-el-nino//, but the next years a crisis should be even worse – El Nino since Autumn 2022 (possibly years, 2023, 2024 maybe 2025) is expected, with widespread worldwide drought, heatwaves, wildfires, and crop failures.
Therefore, a current financial and economical crisis, associated with a COVID-19, should be in the agricultural market even worse and prices of food should significantly increase not only the most impacted continent by ENSO, South America but almost in all key regions around the world.