California with ´the wettest start to water year´ in more than 40 years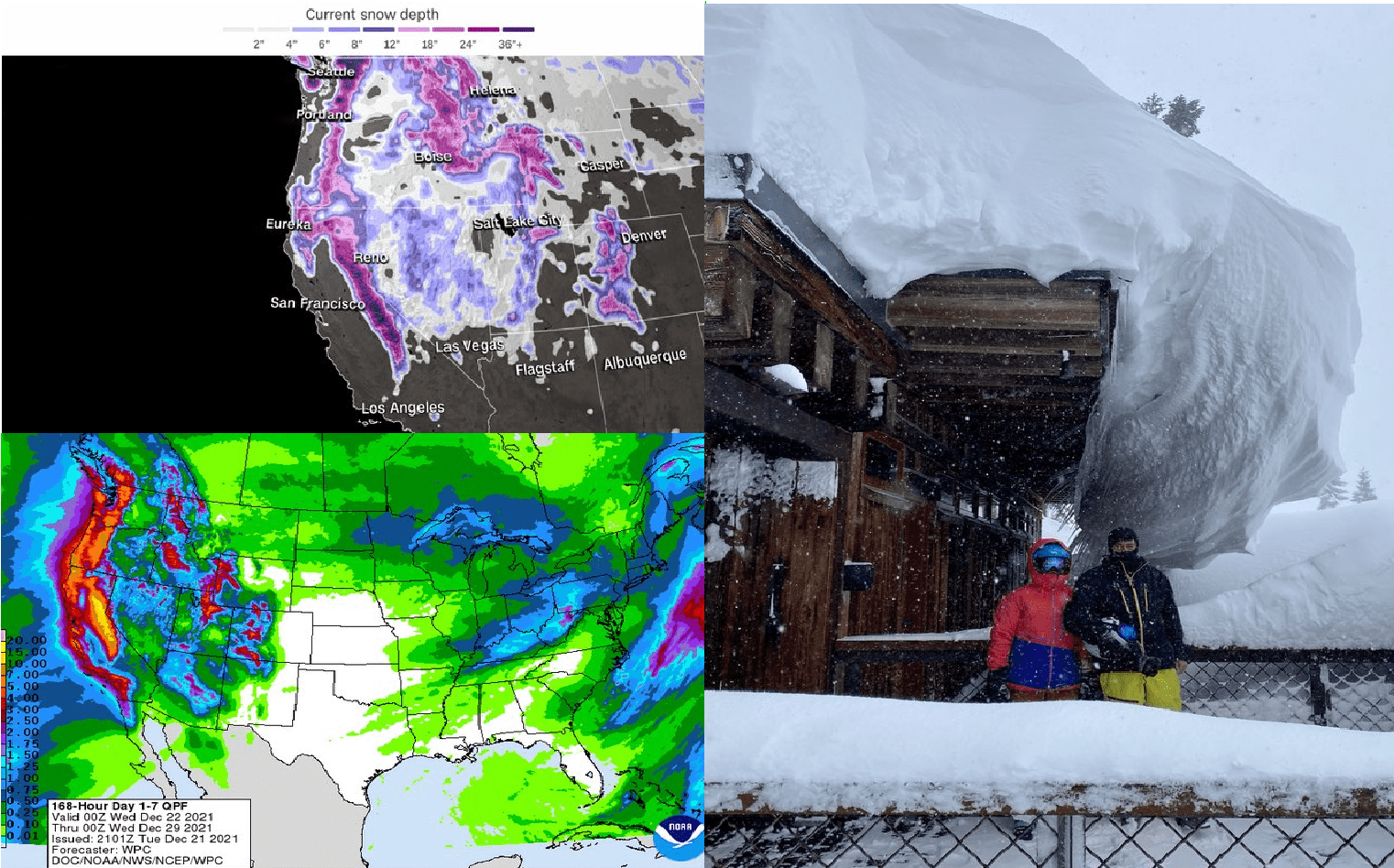 While in Central and Eastern USA experience with anomalous winter heatwave (according to the newest information, 95°F / +35°C was measured at the Christmas 2021 in Rio Grande, Texas – will be updated soon) and severe storm rounds with tornado outbreaks /https://mkweather.com/the-warmest-christmas-in-history-the-usa-hit-tropical-heatwaves-farms-and-ranches-in-texas-are-in-fire/; https://mkweather.com/after-the-christmas-heatwave-the-next-possible-tornado-outbreak-in-the-usa-between-28-31-december-2021/; https://mkweather.com/breaking-ef4-tornado-in-kentucky-killed-50-people-it-was-historic-winter-supercell/; https://mkweather.com/record-heatwaves-the-strongest-storms-since-2004-and-the-next-tornado-outbreak-december-in-the-usa/; https://mkweather.com/the-first-december-tornado-outbreak-in-minnesota-in-all-time-history-7-tornadoes-caused-damages/; https://mkweather.com/chicago-with-the-latest-first-snowfall-in-history//, and the northwestern USA have seen white Christmas at the first time in 13 years /https://mkweather.com/portland-and-many-parts-of-northwest-the-usa-with-the-first-white-christmas-since-2008//, Southwest, the USA experience with anomalous amount of rainfall and snowfall in the mountains.
The wettest Christmas in 80 years is reported from Phoenix, Arizona (the next Mkweather article) and the Christmas rainfall record fell in Reno, Nevada.
In California, the percentage of average snowpack jumped from 19% on 10. December to 98% on 17. December.
While along the coast, more than 5 inches / 125 mm is forecasted for a week around Christmas, in the mountains has created snow cover high 10 feet / 3 meters (e.g. near Lake Tahoe).
After the last 2 hot summers with deadly wildfires and record heatwaves, it should be a positive signal for the next spring and summer season, although, hot and dry winter weather should return, yet, in the second half of the season, when the winter weather was in winter forecasts forecast to shift above central and eastern USA /https://mkweather.com/winter-2021-2022-forecast-for-north-america-a-peak-of-winter-with-extreme-arctic-blasts-and-blizzards-in-february-2022/; https://mkweather.com/winter-2021-2022-forecast-for-northern-hemisphere//.
The region until 10. January 2022 will receive up to the next 21 inches /around 550 mm of precipitation – mainly snowfall in the mountains and along the coast, except for southernmost parts, 3-10 inches (75 – 250 mm) is still forecast, with mostly cold conditions.