CFS sees hot and dry northern parts of Europe and North America and very stormy subtropical regions in July 2021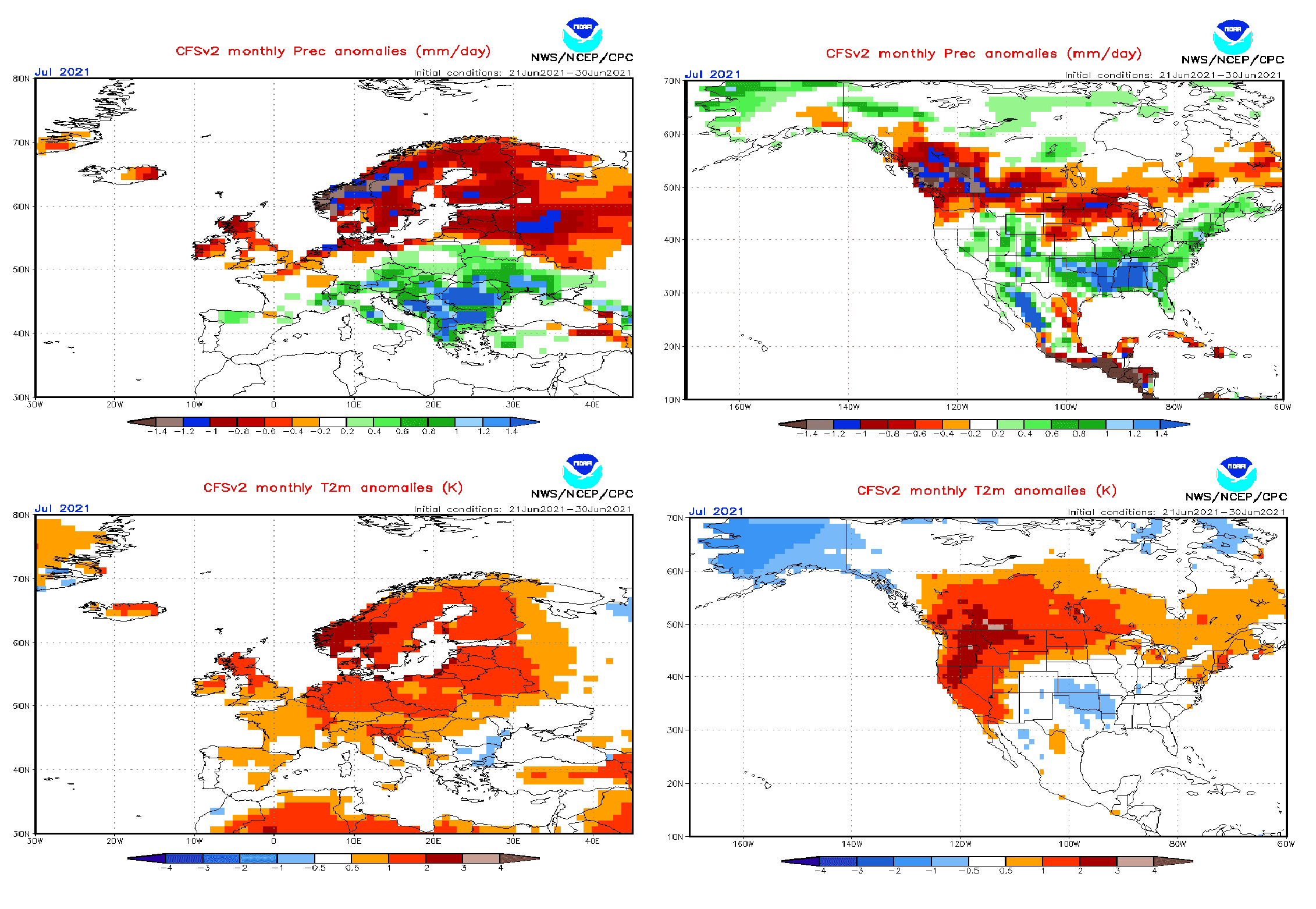 Forecasts for July from CFSv2 are very disturbing for northern latitudes, while southern parts of Europe and North America should be very stormy.
Outputs from the 3rd June 2021 decade /https://www.cpc.ncep.noaa.gov/products/CFSv2/CFSv2_body.html/ say about extremely hot and dry July 2021 in the northern half of Europe, while the Mediterranean, mainly Balkan and southern continental Europe should be very stormy /for comparison, GFS forecast: https://mkweather.com/after-the-3rd-european-heatwave-will-come-4th-heatwave-spain-and-turkey-48c-italy-45c-balkan-hungary-40c-central-europe-southern-france-and-eastern-europe-30-38c-scandinavia-32c-france-later-43c-briti//.
The main region with anomalously dry conditions should appear from Benelux to the Moscow region and central Scandinavia, while the Alpine region, the Carpathians, Balkan, and Ukraine should experience anomalous storm activity.
Surprising is forecasted anomalous dry and extremely hot weather in Vancouver, Seattle, and Portland region, Canada, and the USA. Forecast see a potential of the next heat domes across western North America during July 2021, which should have dramatic consequences on regional ecosystems and society. /https://mkweather.com/50c-in-canada-one-of-the-biggest-heatwaves-in-modern-history-overwrote-national-records-by-5c-9f-lytton-496c//
On the other hand, stormy Southeast in the USA should be the result of extremely strong Hurricane season 2021 and behavior of a long-term circulation pattern in the region /https://mkweather.com/a-major-hurricane-cat-3-in-the-usa-next-week-not-impossible-2021//.
CFSv2 outputs for July 2021 are interesting, but should be affected by extreme weather patterns across continents during the 3rd June 2021 decade.
This strange pattern should develop in AO+, but NAO- pattern – NAO- is traditionally associated with stormy subtropical regions, but in July, Arctic air masses will be missing, therefore, blocking high should be linked with heating of northern parts of the continent.
Soon we will see, if CFSv2 model will be successful.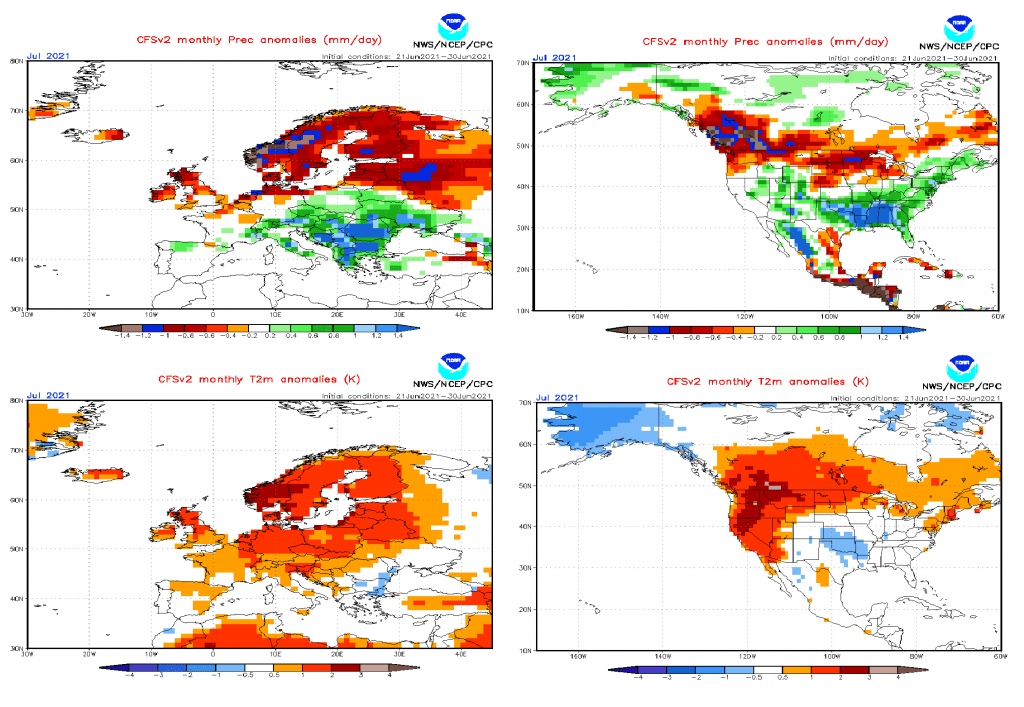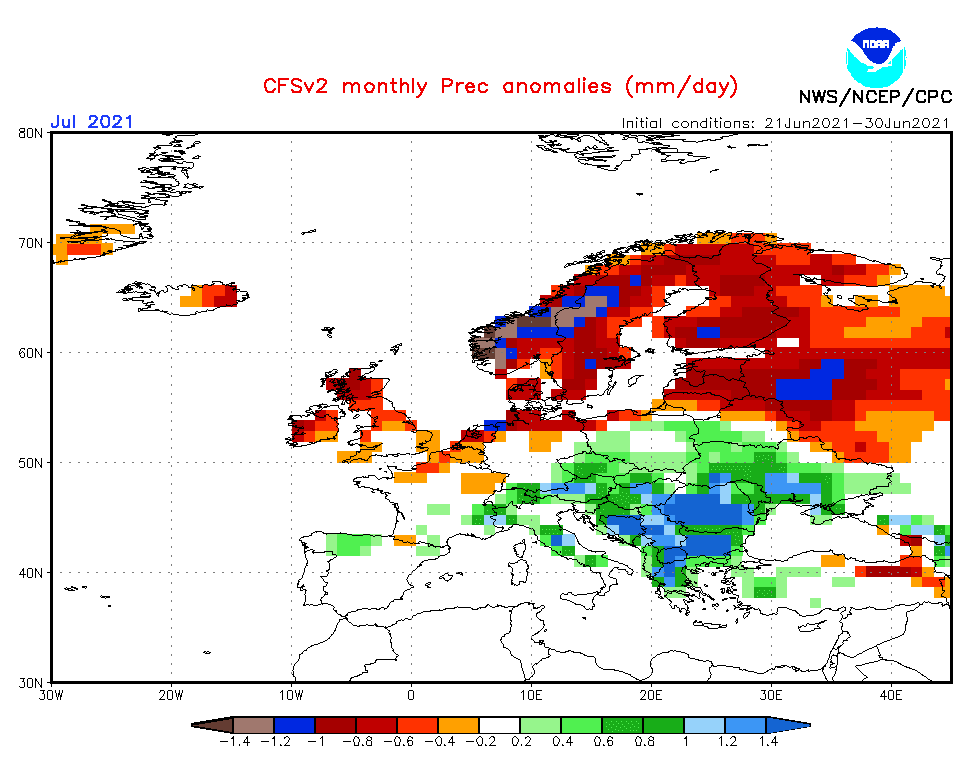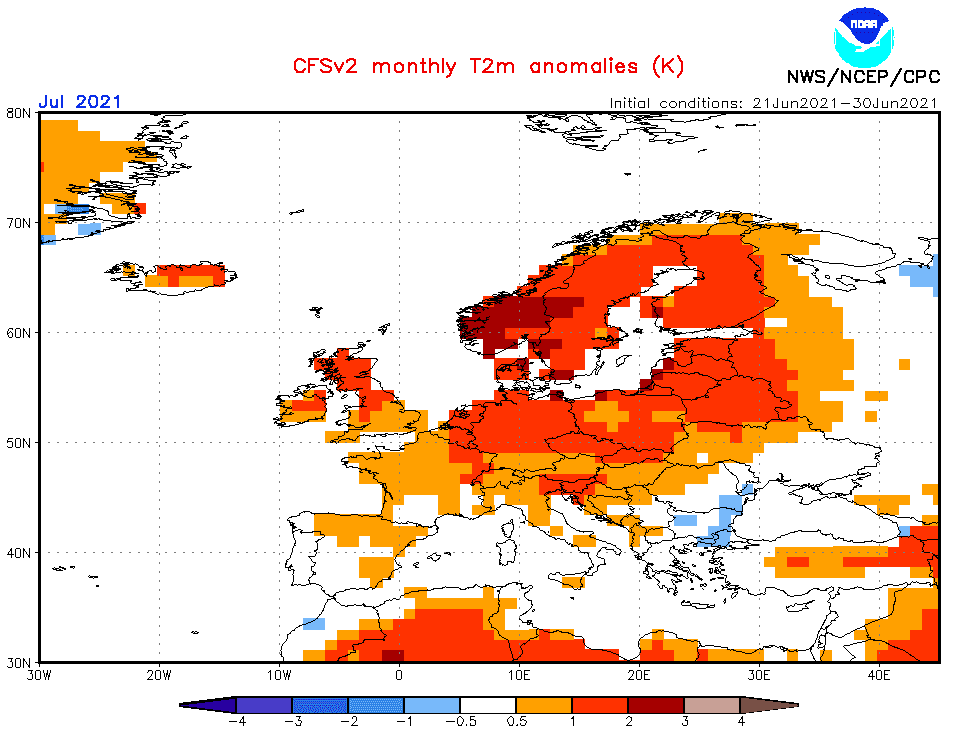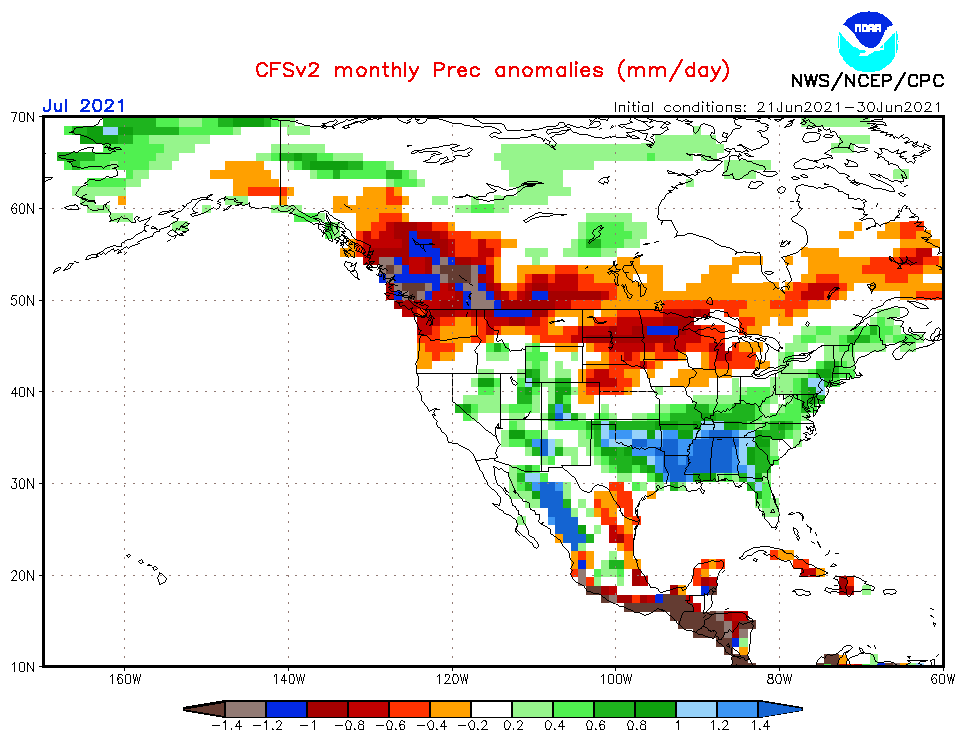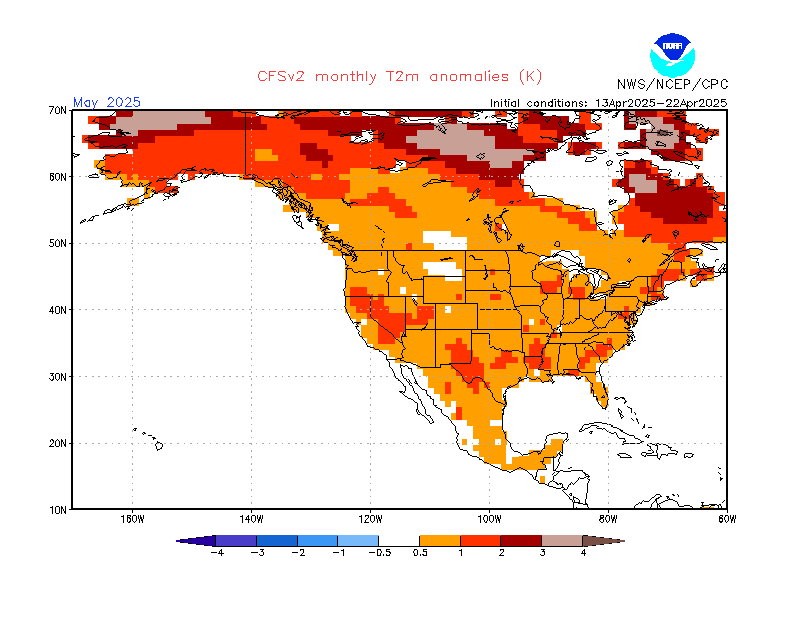 Source:https://www.cpc.ncep.noaa.gov/products/CFSv2/htmls/euT2me3Mon.html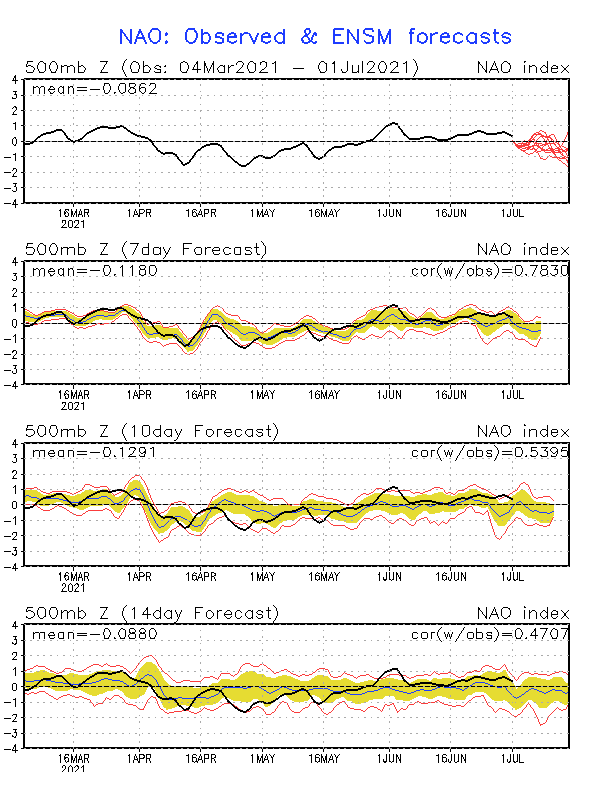 Source: https://www.cpc.ncep.noaa.gov/products/precip/CWlink/pna/nao.sprd2.gif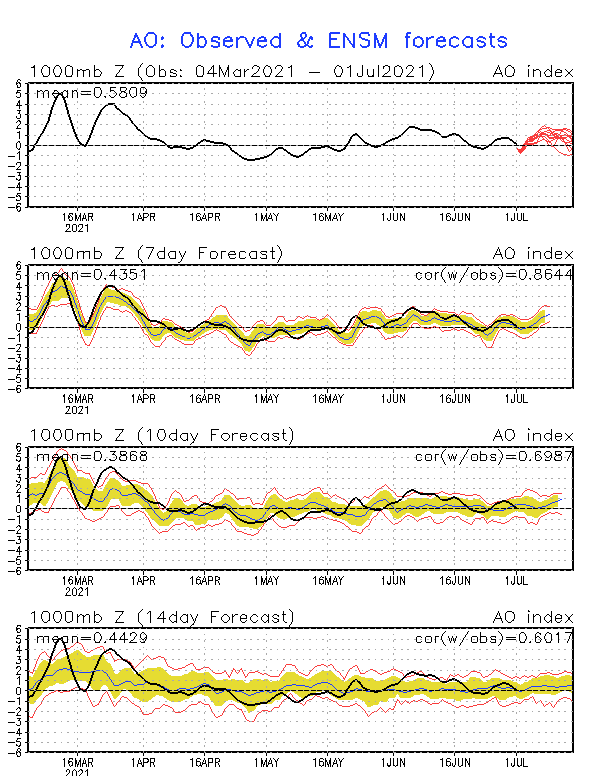 Source: https://www.cpc.ncep.noaa.gov/products/precip/CWlink/daily_ao_index/ao.sprd2.gif