Germany +12°C, Greece +44°C! 1. July in Europe is bringing a big contrast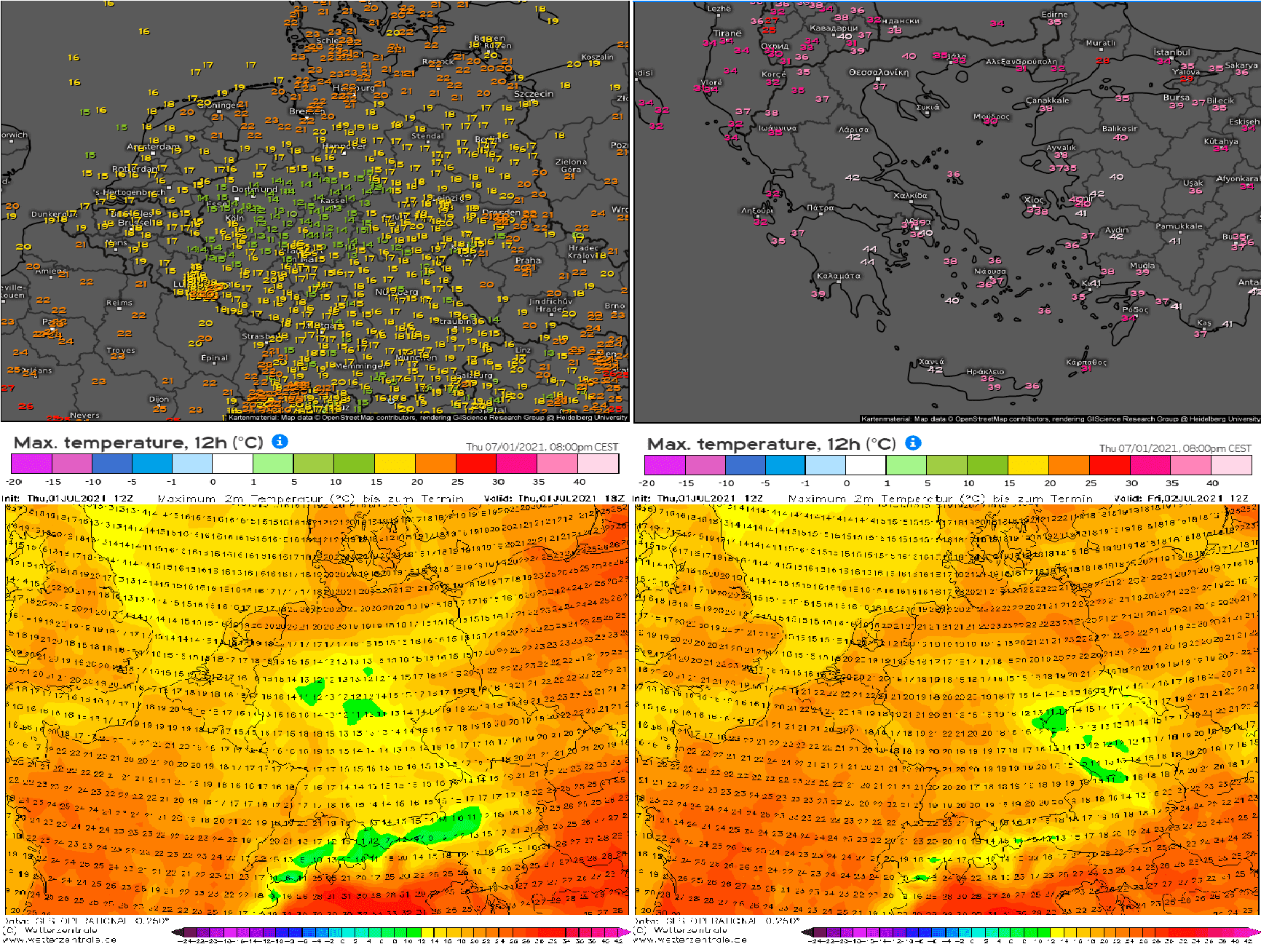 While Kahler Asten, Germany, 839 MASL, reports maximum temperature only +11,6°C or Wasserkuppe, Germany, 921 MASL, only +11,9°C, Argos in Greece is enjoying extreme +44,1°C or Astros +43,8°C!
A big temperature gradient between northwestern parts of continental Europe and the Eastern Mediterranean is a result of the effects of the powerful cold front, which is slowly shifting through Europe eastward and southward and is interrupting deadly heatwaves, which have persisted above Europe between 10.-30. June 2021.
Elseborn in Belgium reported maximum temperature only +13,6°C or Spa in Belgium +14,3°C, Arcen in the Netherlands only +14,4°C.
On Friday, a very cold anomaly will shift above Czechia, Austria, Switzerland, and northern Italy, where similar maximum temperatures in lower situated regions, only around +12°C should appear.
After a colder weekend, the next round of hot days will come gradually to Europe /https://mkweather.com/after-the-3rd-european-heatwave-will-come-4th-heatwave-spain-and-turkey-48c-italy-45c-balkan-hungary-40c-central-europe-southern-france-and-eastern-europe-30-38c-scandinavia-32c-france-later-43c-briti//.
Before a heatwave, parts of continental Europe and northern Balkan are expecting stronger storms with a cooldown, yet /https://mkweather.com/storm-forecast-for-europe-for-the-1st-half-of-july-2021-severe-storms-in-wider-alpine-region-already-on-sunday-then-storm-round-in-central-europe-between-8-14-july/; https://mkweather.com/extreme-storms-in-germany-184-mm-6-hours-near-berlin-neighboring-poland-103-mm//.