Cold weather will continue in parts of continental Europe until 20. August: -4,0°C in Sweden, +1,8°C the UK, +3,6°C Estonia, +4,3°C Denmark, +5,1°C Poland, +5,9°C France and +6,0°C Spain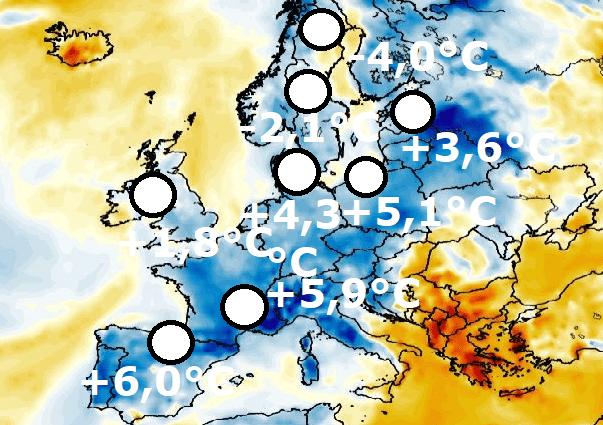 During the first August days, autumn temperatures are reported from parts of mainly the northern and western half of Europe.
In northern Sweden, -4,0°C in Latnivaara, in central Sweden -2,1°C in Bortnan surprised.
In Northern Ireland, +1,8°C and in England +2,0°C was measured /https://mkweather.com/shap-20c-only-4c-from-all-time-august-record-for-england-katesbridge-18c-35c-from-all-time-august-record-for-northern-ireland//.
Cold air after France (Mende, +5,9°C) and Spain (Vitoria +6,0°C) shifted above northern parts of continental Europe – Denmark reported +4,3°C (Horsens), Poland +5,1°C (Cewice) and Estonia +3,6°C (Jogeva).
Outlook for some parts of continental Europe is still very cold until 20. August 2021 – e.g. Berlin (ensemble below), the temperature in 850 hPa is forecasted to be long-termly below average minimally in the next 16 days.
The heaviest rainfall however is expected mainly in warmer air in eastern continental Europe, in the Alps, or in Ireland, Scotland, and Denmark, too. Cold weather will cause, that in many parts of the continent, rainfall will be less extreme and more often such storms will be showers.
The Mediterranean, including Balkan and later western Europe should however surprise with heatwaves.
Current storm activity has shifted mainly above northern Balkan, southern Central Europe and northern Italy – in Bulgarograsso, Lombardia, Italy, 132 mm fell on 4. August 2021 only in 12 hours.