Crops in Brazil destroyed: -7,8°C was measured, an all-time national record is -14,0°C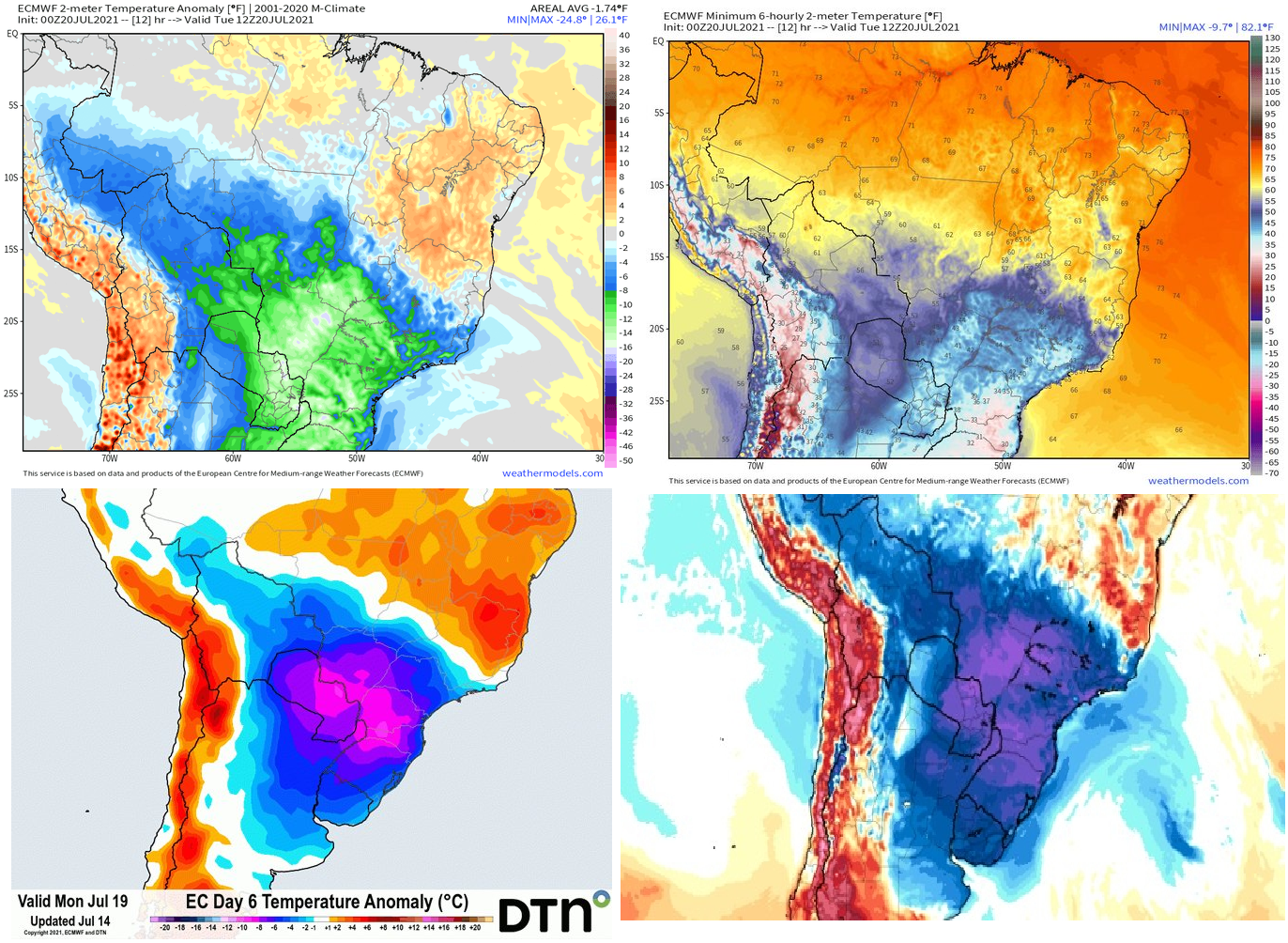 The second coldwave in Winter 2021 in South America is very strong mainly in southern Brazil, where temperatures deep below 0°C were measured with widespread harvest damages.
The first extreme coldwave in Paraguay, Bolivia, and southern Brazil (and to Uruguay, Argentina, and Chile) brought in early July 2021 all-time temperature records mainly in Paraguay and Bolivia /https://mkweather.com/paraguay-and-bolivia-with-all-time-cold-records-74c-the-first-frosts-in-history-ever-and-a-3-day-period-with-snowing-in-southern-brazil// – in Paraguay -7,4°C was measured, which is the second-lowest temperature in a tropical climate on the Earth ever.
Now, the second winter coldwave hit mainly the Santa Catarina region, Brazil. In Gen. Carneiro, 1018 MASL, only -7,8°C was on 20. July 2021 measured, what is only 6,2°C from the all-time national record for Brazil from Cacadot, Santa Catarina, 11. June 1952.
Only on Sunday, 18. July 2021, -13,0°C was measured in Maquinchao, 888 MASL, Argentina, and on Monday, 19. July 2021 -1,6°C in Mercedes, 22 MASL, Uruguay.
Caazapà and Coronel Oviedo in Paraguay reported -2,9°C on Monday, 19. July 2021 and it´s possible, that until a current workweek, the all-time July record will be broken, again.
 Frosts hit crops including sugar cane, coffee, and orange in the center-south region.
Farms in Minas Gerais state, the top producer of coffee in Brazil, were hit, too.
Coffee prices rose 7% on ICE_Markets on the news. Sugar up 2%.
Frosts were documented as far as the south of Goiás state, in the heart of Brazil's farm country, where average temperatures tend to be higher than in southern Brazil, according to Reuters.
Cold weather has shifted to the Sao Paulo region, too.
Only before 1-2 months, the region reported the worst drought since 1920 /https://mkweather.com/the-worst-floods-in-amazon-since-1902-and-the-worst-drought-in-southern-brazil-since-1920-at-the-same-time-2021//.
The next problems with drought are expected in the wider region of south-central Brazil thanks to La Nina around October 2021.
Already on Friday and at the weekend, 23.-25. July, heatwave is prepared for the region, but the last 3 days of July 2021 will bring the next extreme coldwave – mainly to La Plata region and southern Brazil.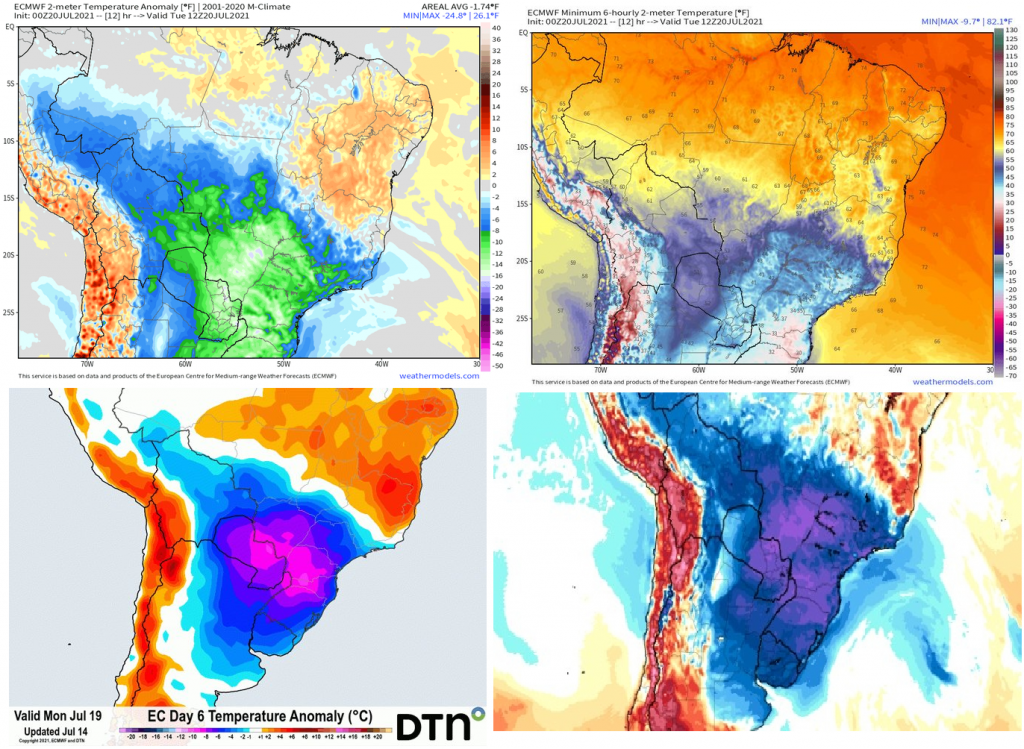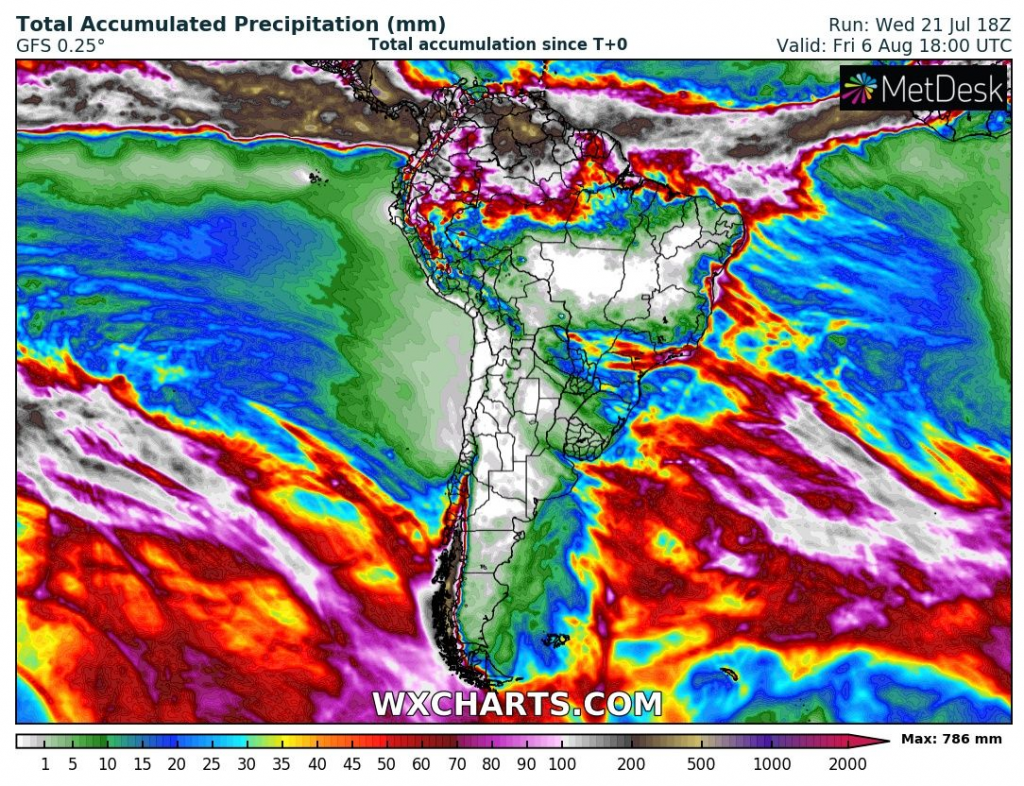 Source: wxcharts.com