Only in the last Mkweather article from South America, we were informed about extreme heatwaves across southern and central parts of the continent /https://mkweather.com/abnormal-heatwaves-hit-south-america-argentina-44c-brazil-399c-peru-398c-chile-373c-uruguay-366-in-the-middle-of-spring//.
The situation is however developing very similar, such as in our Spring and Summer 2021-2022 forecast for the continent /https://mkweather.com/summer-2021-2022-forecast-for-south-america-stormy-north-hot-and-dry-south-cold-and-dry-pacific-coast/; https://mkweather.com/spring-2021-forecast-for-south-america-floods-and-drought-in-many-regions/, and while the southern half of South America report extreme heatwaves, in the northern half, severe floods and storms are bringing extreme conditions.
The biggest disaster hit in the last days Taija, Bolivia, where an extremely high accumulation of hail was created during severe storms, which hit the city.
Accumulation of hail in parts of the city reached an anomalous 1 meter and higher and people saved their lives in a mix of hail (hypothermia) and floodwater (drowning).
Severe floods in the last period hit other South-American regions, northward from extreme heatwaves, too.
In Brazil, Uberlandia and Santa Catarina were hit by heavy storms and floods (materials from Twitter below).
In Peru, Jaen, Cajamarca, was heavily flooded.
Floods hit parts of Colombia, too, mainly the region of Cucuta.
It´s very probable, that a big contrast between the southern and northern half of South America will be continuing in the next months, with abnormal summer-season heatwaves in southern parts and severe storms in northern parts of the continent, partly thanks to La Nina.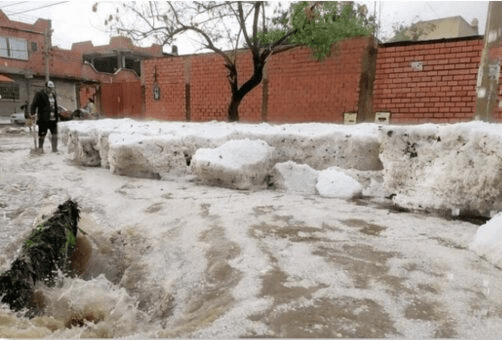 (Visited 221 times, 1 visits today)