Early spring is coming, NAO+ with blocking admixtures will bring very warm February and March 2022 in Europe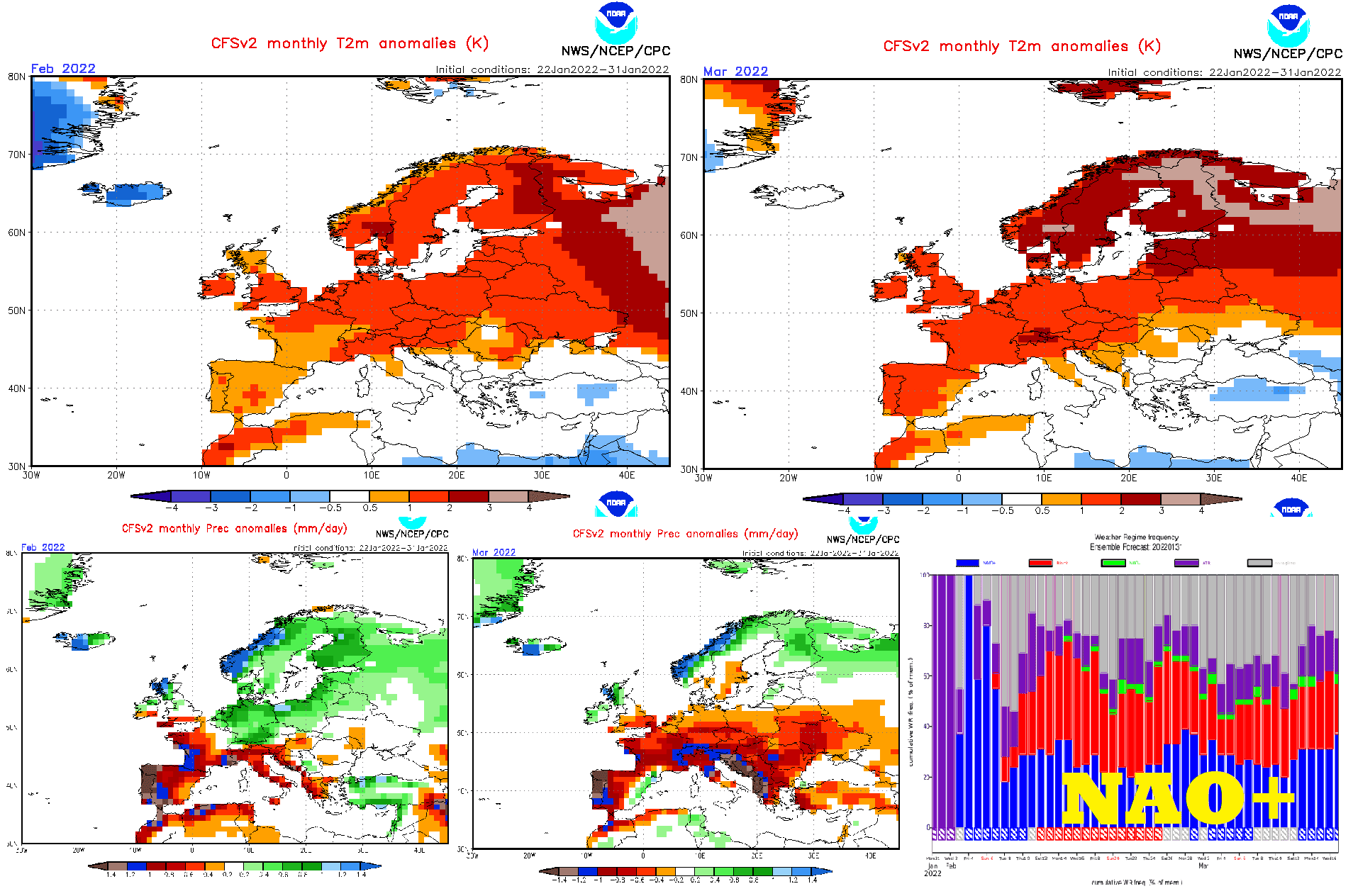 Already in the last articles, we informed about early-spring weather in Croatia (+21,1°C – update, Switzerland (+21,4°C), France (+23,6°C – update), Portugal (+24,3°C), Spain (+26,7°C), Algeria (+29,7°C), and Morocco (+31,7°C – update) /https://mkweather.com/early-spring-weather-is-coming-switzerland-214c-spain-267c-morocco-298c/; https://mkweather.com/tenerife-hit-floods-from-32-mm-rainfall-in-a-few-hours-agadir-morocco-already-317c// thanks to strengthening NAO+ phase, with strong Azores high above Europe.
It still appears, that this trend will be continuing during all February and March 2022, although, rainfall and snowfall in Central Europe should be in February surprisingly above average, yet.
A main sign of NAO+ is mainly dry Mediterranean and stormy Scandinavia.
Despite wet anomaly northward from the Alps and the Carpathians, a very warm anomaly in comparison with previous CFS outputs /https://mkweather.com/early-spring-should-be-peaking-around-13-27-february-2022-nao-in-march-2022-will-be-even-warmer// shifted more southward and eastward in the newest outputs, so far, which should mean longer persistence of Azores high above continental or maybe even later eastern Europe.
March 2022 appears totally with strong NAO+, with drought from the Mediterranean up to England and southern Sweden and stormtrack shifted far to the north, above Scotland, northern and western Scandinavia, and northern European Russia (or maybe Gulf of Riga).
It means, that temperatures similar as in Switzerland in the last days (+21,4°C in Lugano), or higher, should until the end of February appear in European mid-latitudes, close to +20°C should be even in England and in March, rare summer days above +25°C will be in continental Europe possible.
Drought should be however not very favorable for agriculture, on the other hand, the weather will be very calm and good for outdoor activities.
A blocking pattern (a map of weather regimes from ECMWF) should bring shorter cold admixtures mainly in the eastern half of Europe during both months (a center of Azores high should gradually shift above NW Europe, with possible pressure troughs only above eastern parts of the continent).
In the next articles, we will look at 6-week ECMWF forecasts for Europe and the USA (+Canada, Mexico) and will tell which weeks should early-spring weather be peaking.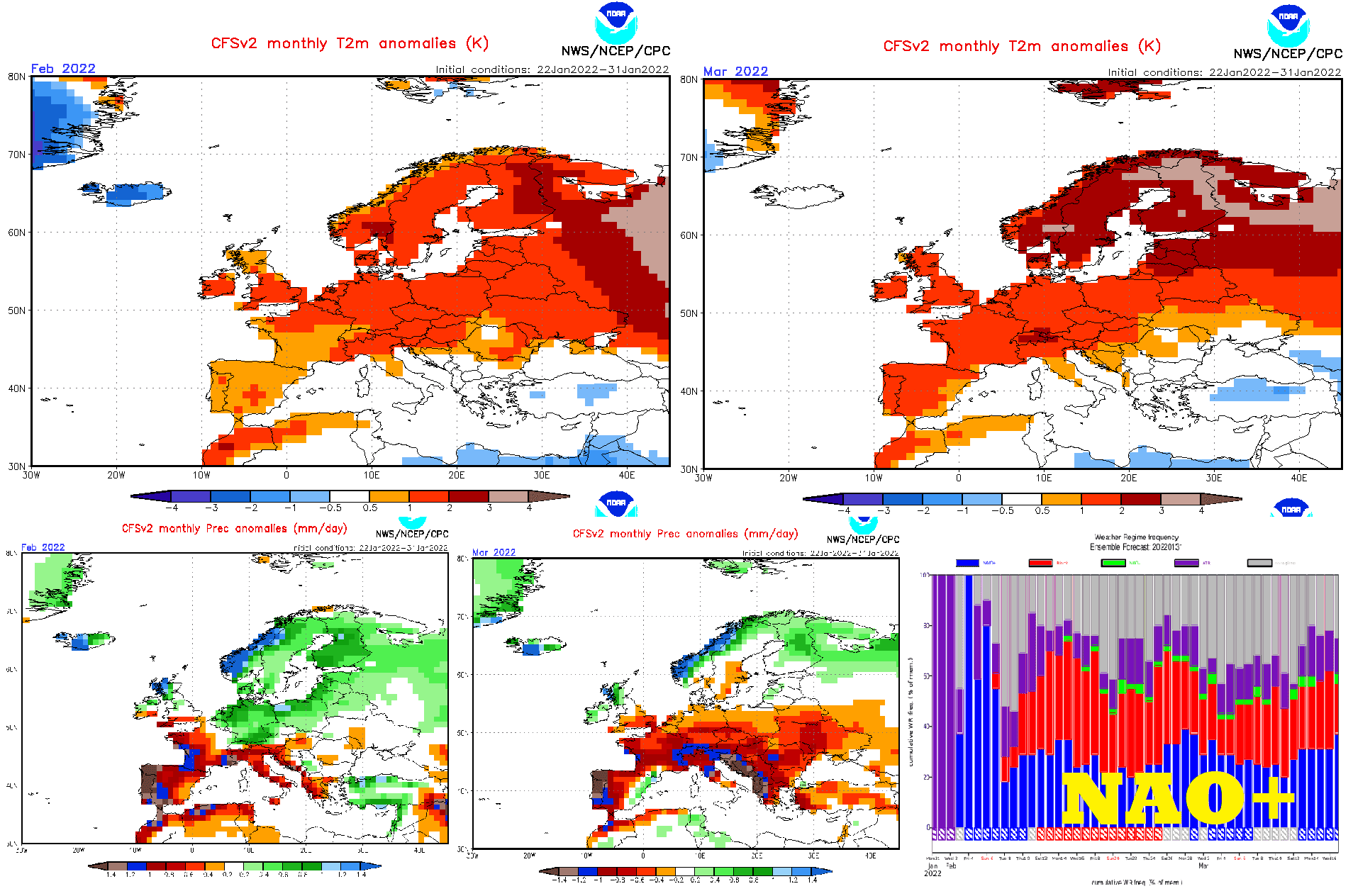 Sources: CFS, ECMWF (links below)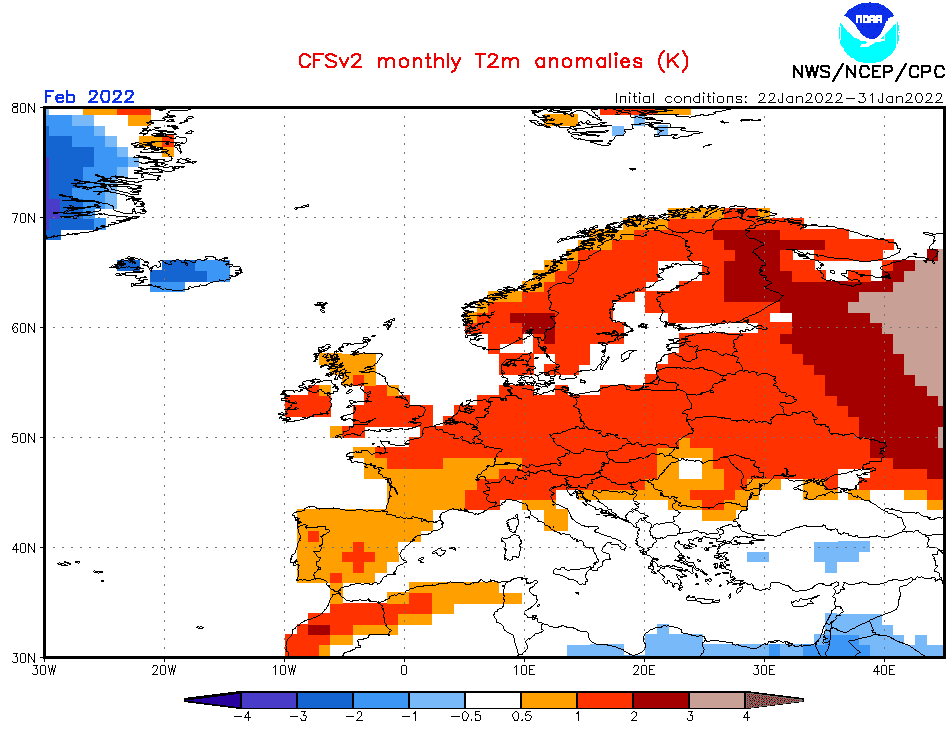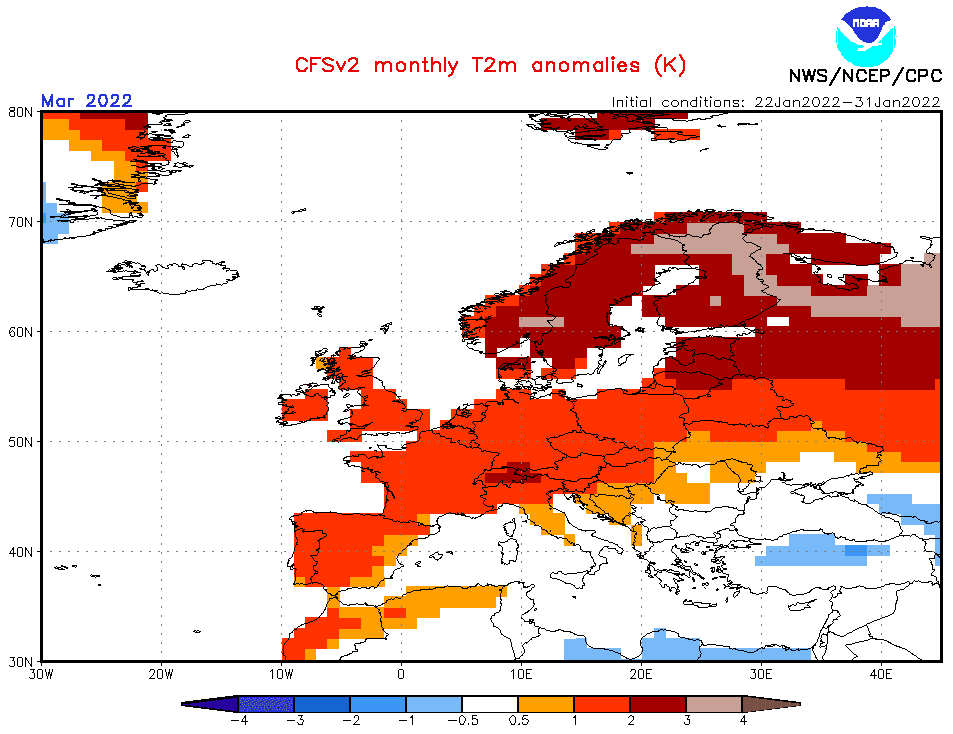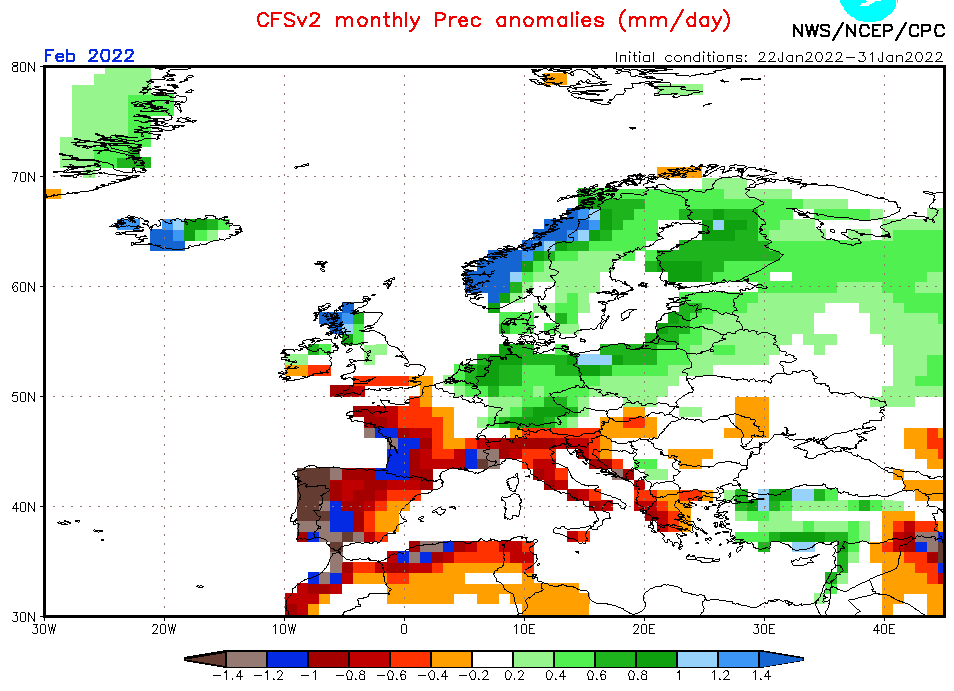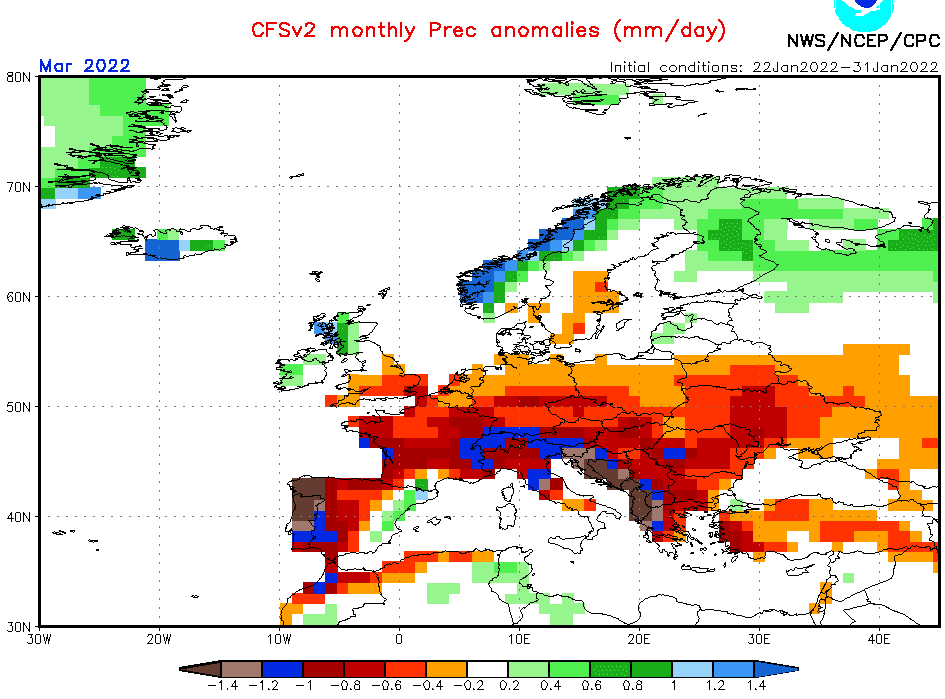 Source: https://www.cpc.ncep.noaa.gov/products/CFSv2/CFSv2_body.html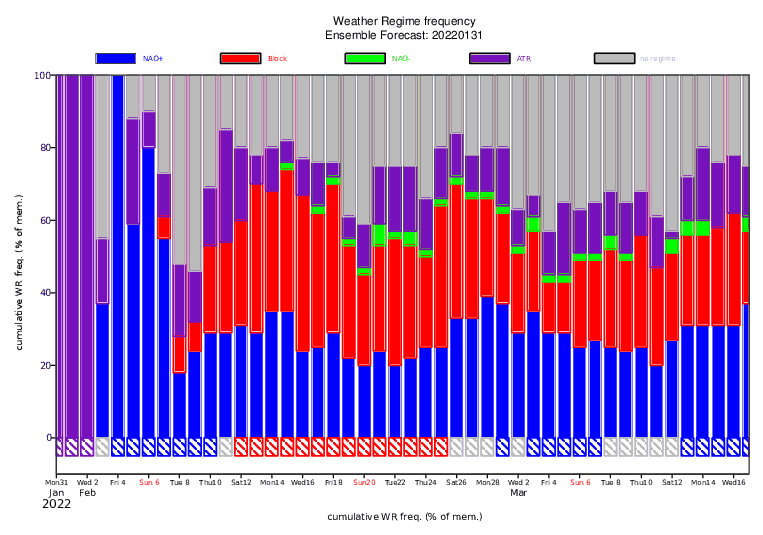 Source: https://apps.ecmwf.int/webapps/opencharts/products/extended-regime-probabilities?forecast_from=latest