Spring 2022 in Europe will start very early! NAO+ and extremely warm early spring conditions in February and March 2022 are predicted (CFS, ECMWF)!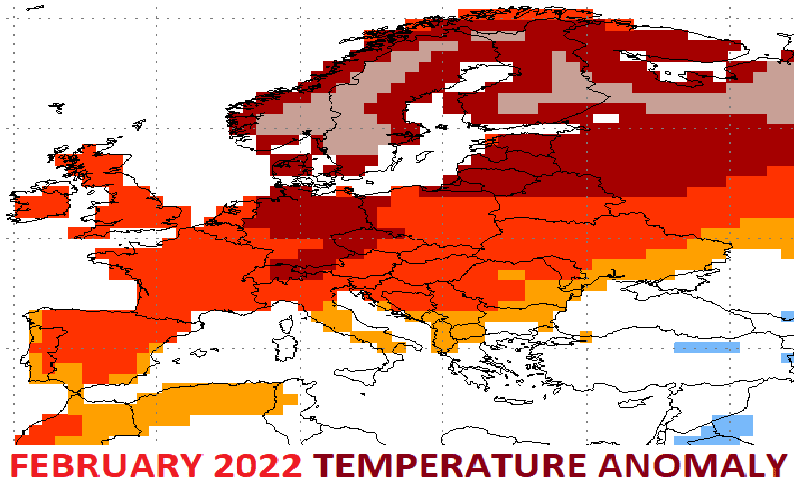 While January 2022 is in outlooks for Europe from ECMWF and CFS quite colder, yet, February and March 2022 should preliminary surprise with extremely warm early spring conditions!
According to model CFS, very strong positive temperature anomalies will flood after the next peaks of Winter 2021/2022 in January 2022 all Europe, with possible temperatures +10/+15°C, regionally +20°C in European mid-latitudes for a longer time already in February 2022!
March should be continuing in anomalously warm conditions, with the first summer days /above +25°C/ in mid-latitudes, later and temperatures above +20°C at the beginning of the month.
All should be a result of an expected NAO+ phase, which is associated with a lack of Mediterranean lows (dry Mediterranean) and a shift of stormtrack of Icelandic low above Scandinavia (above-average precipitation anomalies – maps below).
In airflow such as this, winds from the west and south are a main component, influencing weather in Europe, with very warm and dry conditions around 40° N and 50° N.
Long dry and warm periods during this circulation pattern are expected.
This forecast agrees with our Mkweather Winter 2021/2022 forecasts for Europe and Northern Hemisphere from before several months /https://mkweather.com/winter-2021-2022-forecast-for-europe-early-extreme-arctic-and-siberian-blasts-and-blizzards-late-dry-and-very-warm-conditions/; + materials here: https://mkweather.com/winter-2021-2022-forecast-for-northern-hemisphere//.
Therefore, you should be prepared for the arrival of early Spring 2022 into many parts of Europe and prematurely good conditions for gardening, various outdoor activities, or tourism.
However, don´t forget, that during dry weather patterns, virological situations should be worsened.
Mkweather will be furthermore updating long-term forecasts and already in 3-4 weeks, we will definitively see, if February 2022 will be really excessively warm.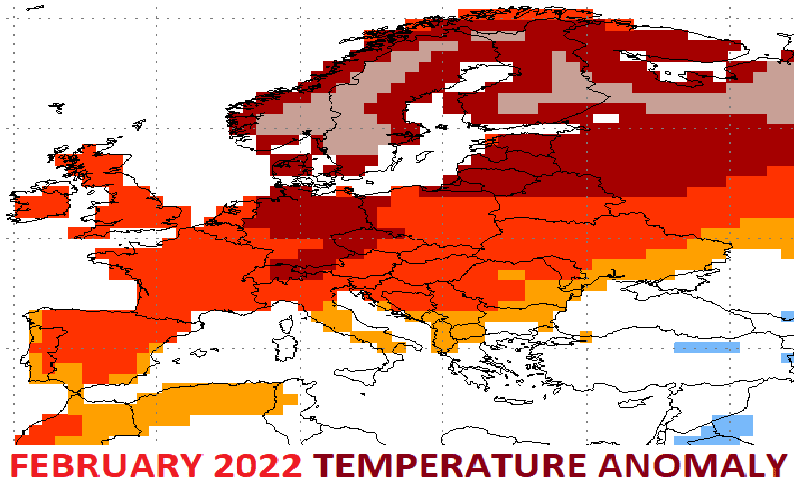 Illustration map: Forecast temperature anomaly in Europe in February 2022 (early Spring 2022 conditions?) /Source: CFS model, links below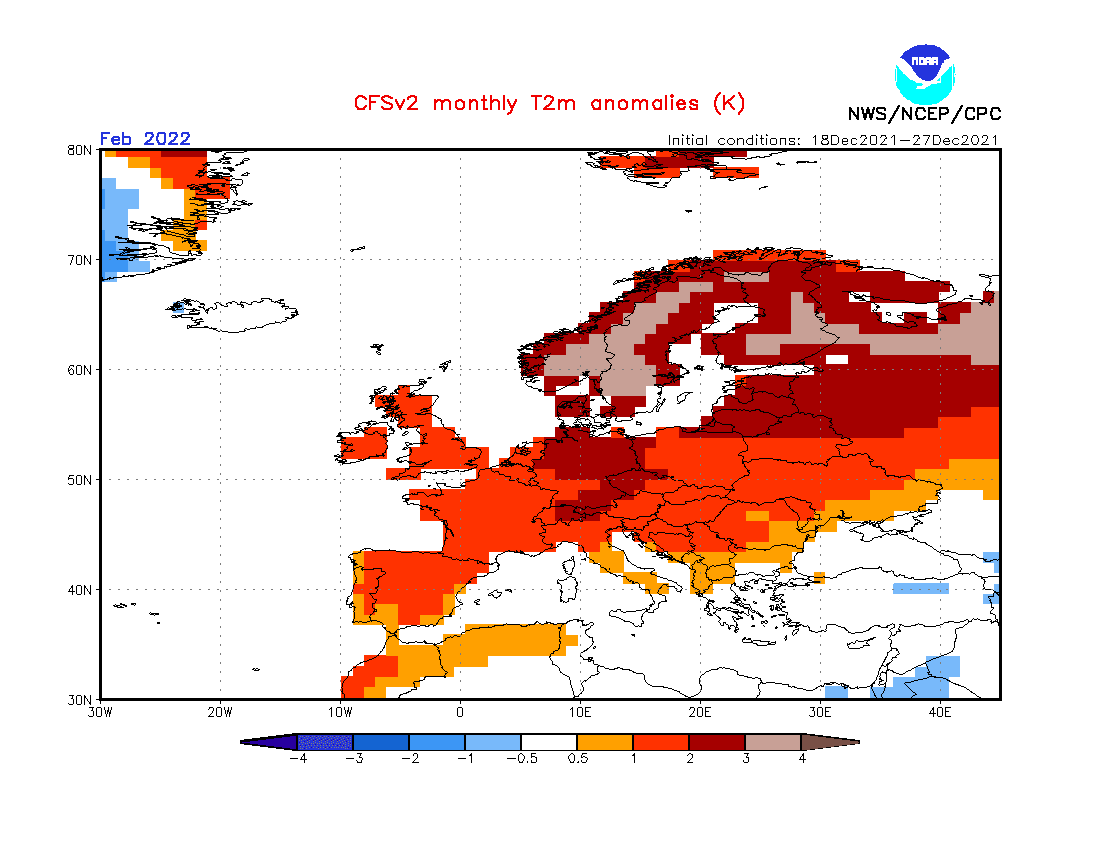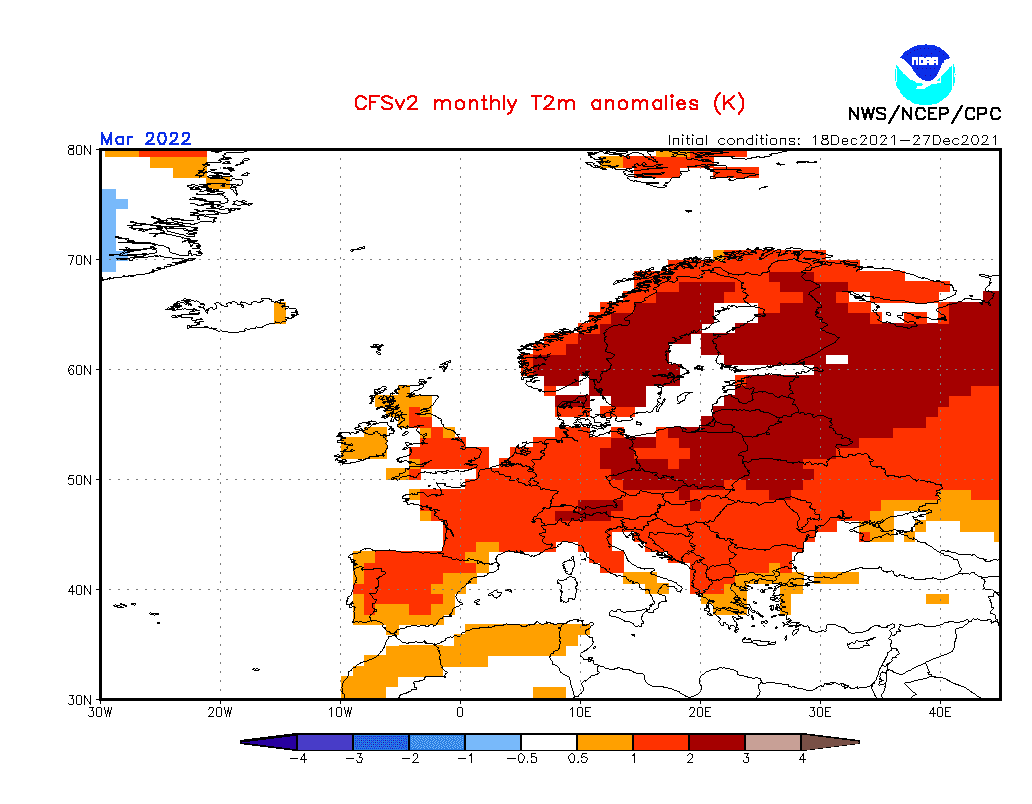 Source: https://www.cpc.ncep.noaa.gov/products/CFSv2/imagesInd3/euT2mMonInd3.gif