Extreme 850 mm / 38 h in Taiwan and 625,3 mm / 24 h in Philippines from Typhoon Kompasu! A system already in China, Vietnam, with impact in Thailand, Laos, Cambodia, and Myanmar!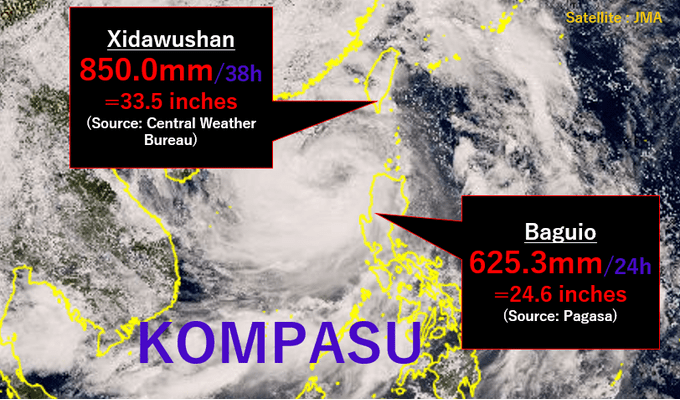 While northern parts of Eastern Asia reported in the last period extreme heatwave (Japan, Taiwan, Korea) and on the other hand, early frosts and snowing (northern China), in southern Eastern Asia and Southeastern Asia appeared another tropical threat.
Typhoon Kompasu caused in the Philippines minimally 13 dead and the next 8 missing.
A typhoon brought anomalous rainfall in the northern Philippines and southern Taiwan early this week:
in Baguio, Philippines fell

625,3 mm / 24 hours

, Pagasa informed

in Xidawushan, Taiwan, fell unbelievable

850 mm / 38 hours

according to Central Weather Bureau
The storm caused many damages in Hong Kong, too, with 100km/h+ winds in some places. Some parts of Hong Kong were flooded by 1-meter high floodwater, how we should see on materials below.
In Hainan, China, 119km/h (74mph) winds were measured, as the storm hit the coast of the Qionghai city.
Typhoon has already shifted above Vietnam, with possible floods, severe winds, and the next fatalities.
Gradually Laos, Thailand, but Myanmar and Cambodia, too, will be hit by unfavorable weather.
Kompasu is the 18th storm of the Typhoon season 2021. Typhoon season is however expected to be below average, contrary to Hurricane seasons and Cyclone season in the North Atlantic, East Pacific, and the Indian Ocean.
A peak of Winter 2021/2022 in northern, colder parts of monsoon Asia (northern India, China, Japan, Korea, northern SE Asia) should arrive already in December 2021 or early January 2022 according to fresh seasonal forecasts, similarly such as in other parts of Eurasia and North Africa /https://mkweather.com/winter-2021-2022-forecast-extreme-frosts-in-eurasia-in-december-in-north-america-in-february-early-canadian-stratospheric-warming-ne-pacific-blob-la-nina-qbo-and-shift-from-nao-to-nao-such-le/; https://mkweather.com/winter-2021-2022-forecast-a-peak-near-nao-already-in-december-ne-pacific-warm-blob-nao-and-early-spring-in-february-north-america-oppositely-warm-start-cold-end-of-winter/; https://mkweather.com/russian-meteorologists-expect-extreme-winter-around-december-january-2021-22//.