Extremely rare! Tropical cyclone Shaheen hits deserts in the United Arab Emirates!
Tropical system Gulab, which hit in the last period India, re-intensified above the Arabian Sea and it hits the United Arab Emirates, southern Iran, Oman and southern Saudi Arabia such as a Tropical Cyclone Shaheen in the next hours and days! /https://mkweather.com/cherrapunji-india-305c-only-06c-below-all-time-record-india-hit-tropical-system-gulab//.
The system is reaching a strength minimally of a tropical storm currently, with some parameters characteristic for Indian Ocean cyclones – mainly severe wind gusts highly above 100 km/h.
The system will bring severe storms and possible floods in extremely dry desert regions in the continental United Arab Emirates, southern Iran, and eastern Oman soon and many weather warnings across the region are valid.
Since 1950, only four storms have had made landfall in Oman at that scale: Gonu (2007), Phet (2010), Mekunu (2018), and Hikaa (2019) and it´s not fully clear if something powerful like that has appeared in history of meteorological observations in deserts of United Arab Emirates.
Some outrageous model runs even expect a shift of the system above Qatar in the Persian Gulf, what would be the first tropical cyclone in northern parts of Persian Gul in all-time history. These forecasts are however very improbable and the forecasted track of the system is in current runs with mainly east-to-west, not a parabolic direction.
Remnants of the system should shift somewhere towards Riyadh, Saudi Arabia, while parts of the United Arab Emirates and Oman are preparing for severe floods and windstorm. In some areas, 100 – 300 mm of rainfall is possible.
Before the arrival of the system, in southern Iran maximum temperatures reached historic October´s +46,0°C, and in the United Arab Emirates record +45,7°C /Tweets below/.
The system will bring a temporary cooldown, but hot weather will gradually return back during October 2021.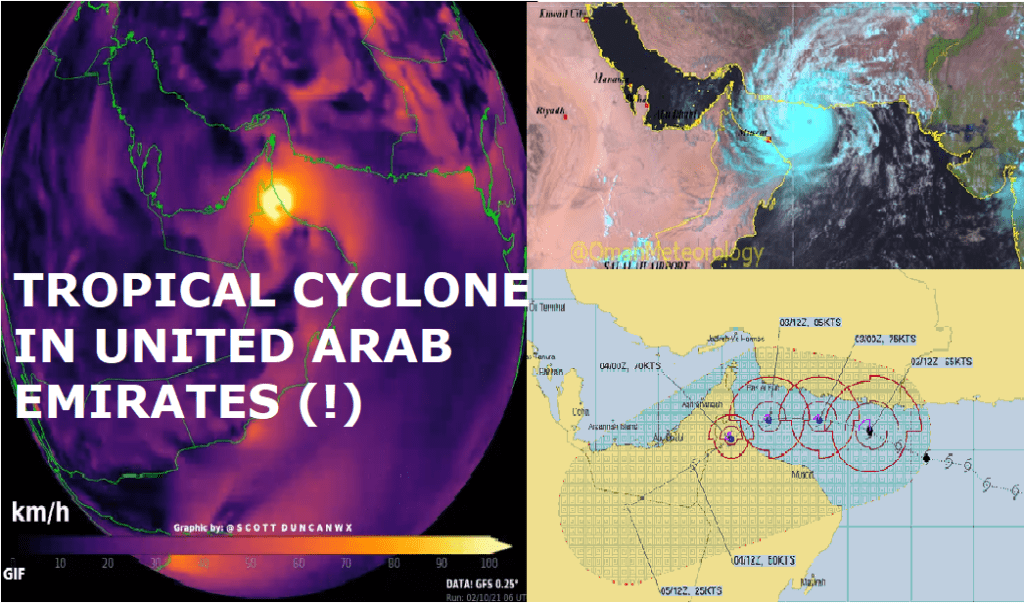 Source: wxcharts.com