While Sweden on Friday, 18. June 2021 experiences with the hottest June day since 1947 /Sweden: The hottest June day since 1947, +34,6°C! – mkweather/, in Germany, 20 meteorological stations reported maximum temperatures above +35,0°C.
The hottest was in Bernburg and Waghäusel, western Germany, +36,2°C.
From bigger cities in the region, Potsdam reported +35,0°C, Berlin +34,4°C, Magdeburg +34,4°C, Frankfurt +34,2°C, Manheim +34,2°C, Ofenbach +34,2°C, Rostock +34,2°C, Strasbourg and Calvi in France +34,2°C, Koeln +33,6°C, Duesseldorf +33,5°C or Hamburg +33,3°C.
During the weekend, anomalous heatwave will shift above eastern parts of the country and East-Central Europe, with possibility of temperatures up to +37/+38°C (corrected values), still exceptionally hot for month June for central parts of the continent.
Meanwhile, in Italy, Greece, Turkey, Balkan and parts of Central and Eastern Europe, the next, second anomalous heatwave is already forecasted for the end of June 2021 and the start of July 2021 /All-time national records should be broken! Greece +50°C, Italy +49°C, Romania / Serbia +46°C, Croatia/Bosnia +44°C, Hungary +42°C! The 2nd heatwave for Europe prepared! – mkweather; +40°C in Central Europe on last school day (30.6.) forecasted! – mkweather/.
Between both heatwaves, the strongest storms in 2021 hits large parts of Europe, including Germany, where already in next 72 hours will be storms extremely strong /Europe is preparing for the worst storms of the year: Hailstorms, gusting winds, heavy rains with flash floods, damaging lighting, rare tornadoes… – mkweather; Severe storms are shifting from FR, UK, ES, PT, NL, BE to GE, CH, AU, IT – mkweather/.
In Plzeň, Czechia, +34,9°C /INFOMET | Informační web ČHMÚ | Český hydrometeorologický ústav | meteorologie, klimatologie, hydrologie, čistota ovzduší, předpověď počasí/ and in Innsbruck, Austria, +34,5°C was measured, so far /Nach 34,5 Grad: Jetzt ziehen Gewitter in Teilen Österreichs auf (oe24.at)/.
From Swinoujscie, Poland, +33,4°C is known highest temperature for the country and in Milhostov, Slovakia, +32,4°C, was measured. Zahony, Hungary, reported +32,6°C In Bad Ragaz, Switzerland, +33,4°C, in Brandelev, Denmark, +30,9°C was measured, but national records, so far should be 1-2°C higher and at the weekend +35/+37°C temperatures are forecasted, in Hungary on Monday, yet.
Heatwave will be bothering Italy, Balkan and Eastern Europe before an arrival of mentioned cold front during the next week, but the second round of heatwaves should be little stronger, if not historically, with regional all-time national records.
In Germany, the second heatwave should be in eastern parts of the country similar such as the first, with preliminary estimates of maximum temperature up to +37/+38°C.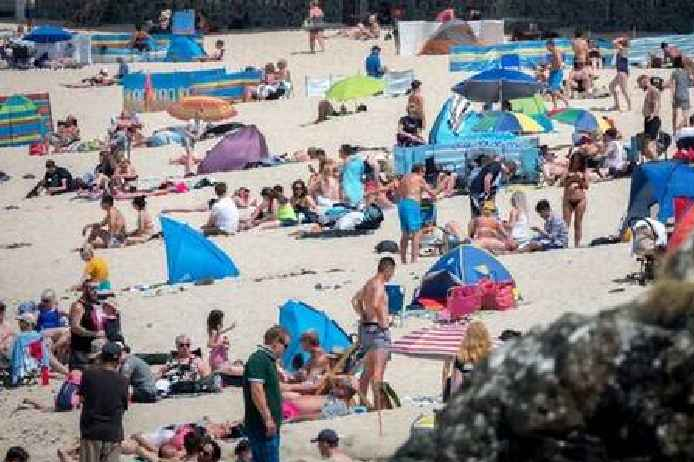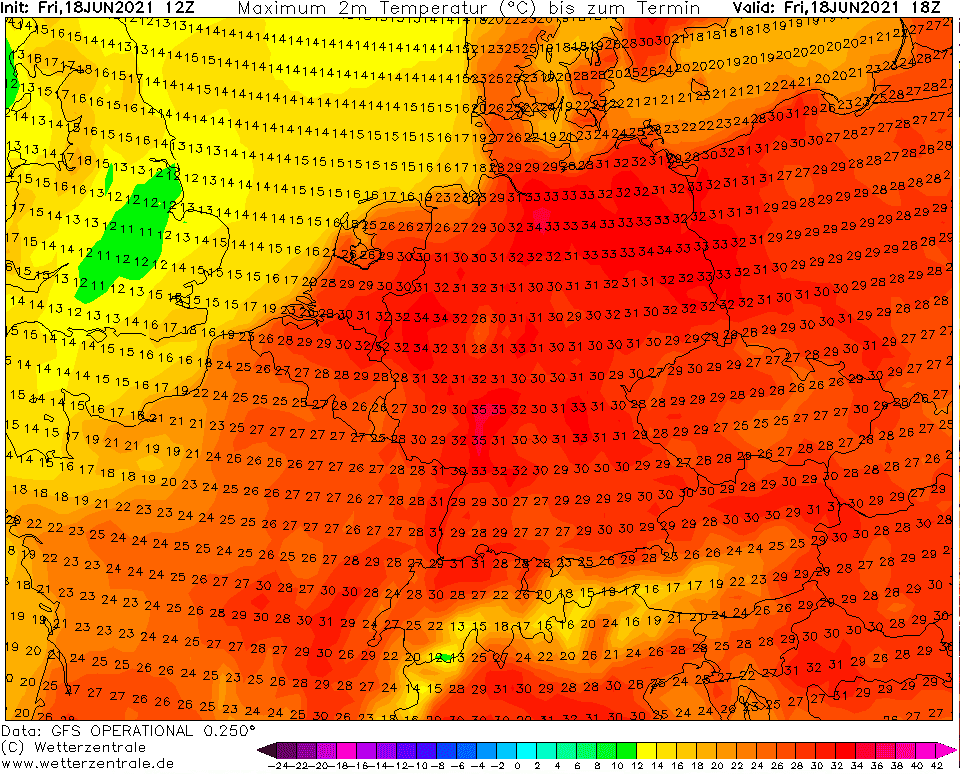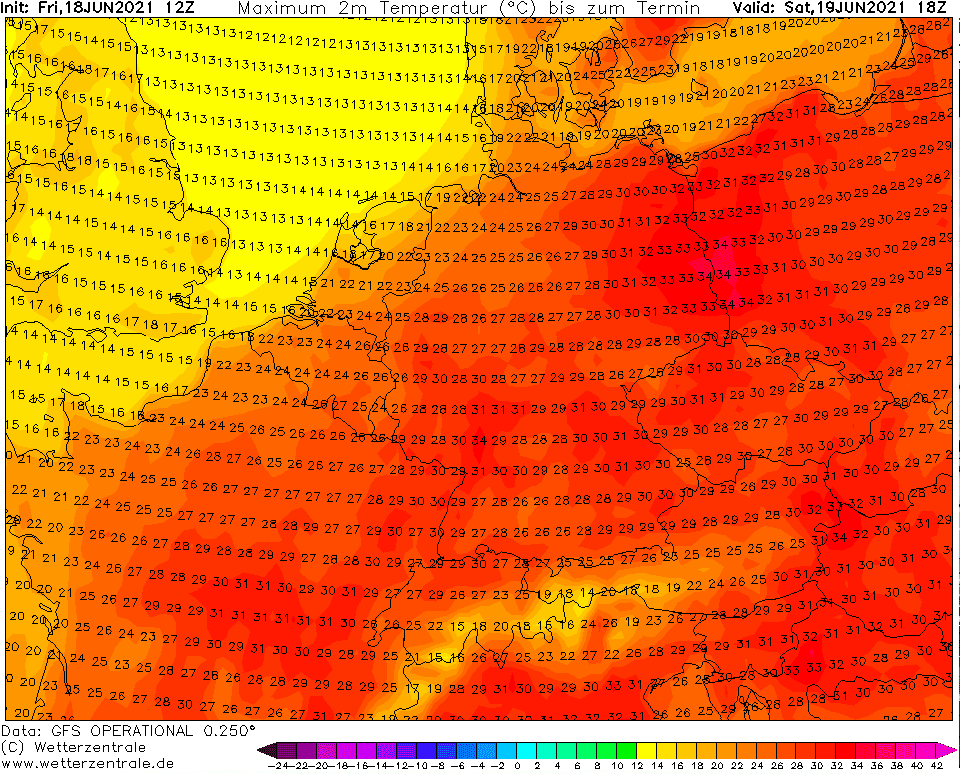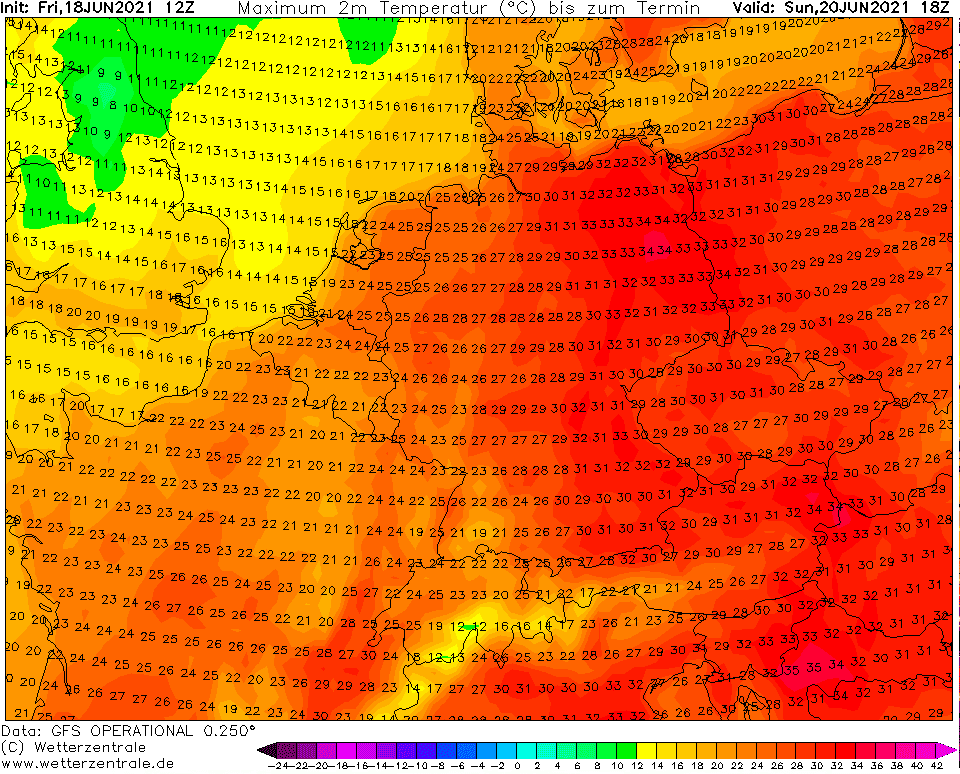 Source: wetterznetrale.de
(Visited 35 times, 2 visits today)