Grenoble, France (384 MASL): -10,0°C! The coldest November temperatures in the region minimally in the last 50 years!
MK
November 30, 2021
2 min read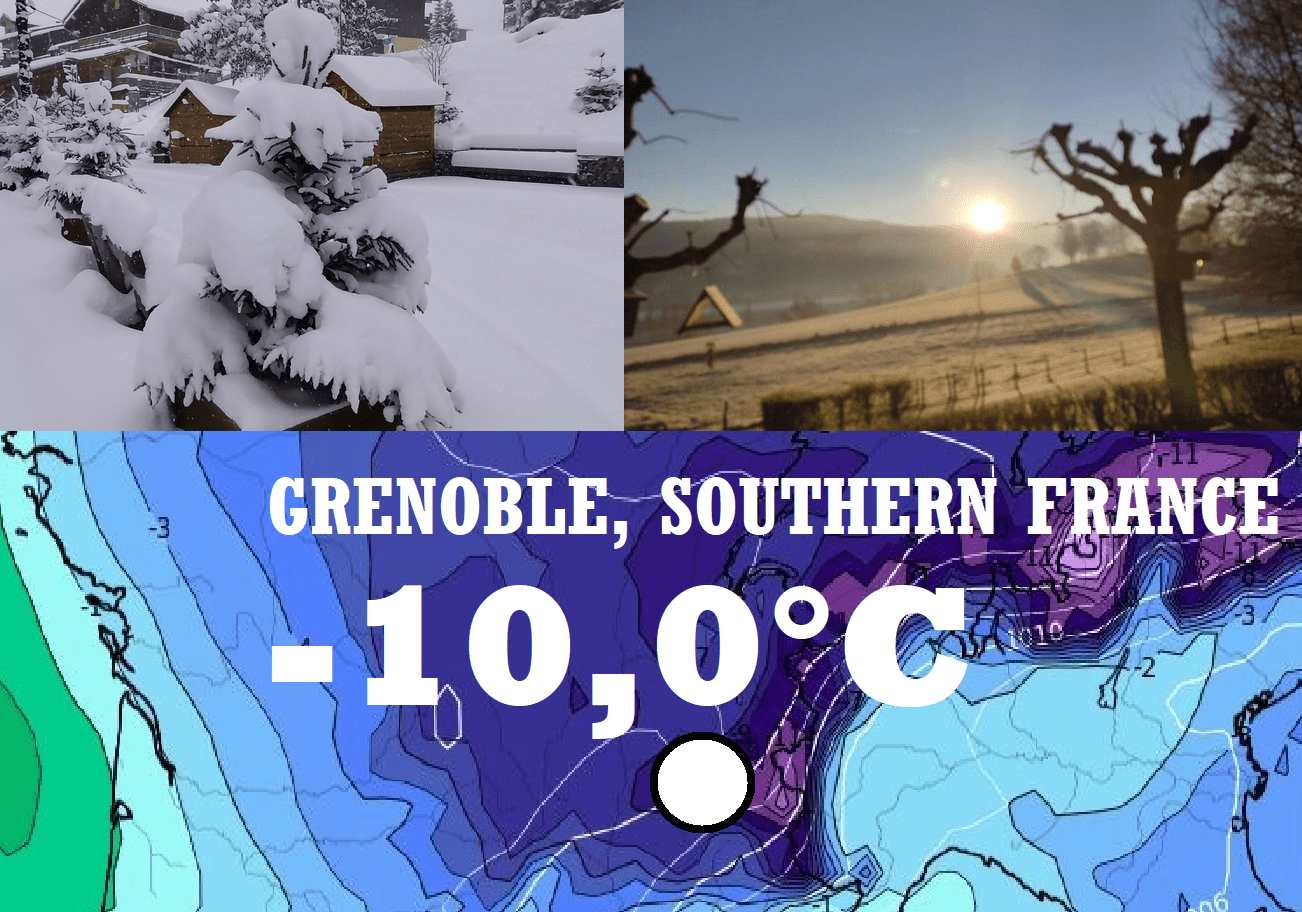 According to coolwx.com weather tool, in the region, all-time monthly records were broken.
Grenoble in southeastern France is already after a blizzard, with 12 cm snowfall and historically cold night from 29. to 30. November 2021.
In the city elevated only 384 MASL, -10,0°C was according to Météo France on Tuesday, 30. November 2021, measured.
It´s very possibly the lowest temperature in the city since 1971 when -10,9°C (a November record) was on 27. November measured.
Currently, extremely cold air is shifting after a blizzard into Central Europe /https://mkweather.com/europe-hit-severe-snowstorm-10-30-rarely-up-to-50-cm-of-snow-is-reported-from-eastern-france-central-europe-baltic-region-and-balkan// and too above Italy, where already on 30. November, some daily records were broken.
In Sardinia and Sicily, rare snowfall is in the next few days expected.
The strongest frosts are however in European mid-latitudes forecasted in the second December pentad, when extremely cold air from Scandinavia, where -40°C and lower temperatures are expected, will shift above continental Europe and later Mediterranean /https://mkweather.com/brutally-cold-weather-in-scandinavia-legendary-frosts-in-sweden-375c-norway-369c-and-finland-340c-and-below-40c-is-forecasted-the-coldest-seasonal-temperatures-in-50//.
In Alpine basins and valleys below 1000 MASL or in Central Massif, France, or in the wider Central-European region, frosts in the wider interval from -20°C to -30°C are rarely possible.
A warmer period is forecasted excluding the first 2 December days in France mainly between 10.-15. December 2021, maybe until 20. December 2021. Christmas are promising the next severe frosts for Europe, so far.