Severe storms in Austria and Slovakia: 1 dead, 11 injured, St. Poelten 123 mm of rain, Sliač 110 km/h wind gusts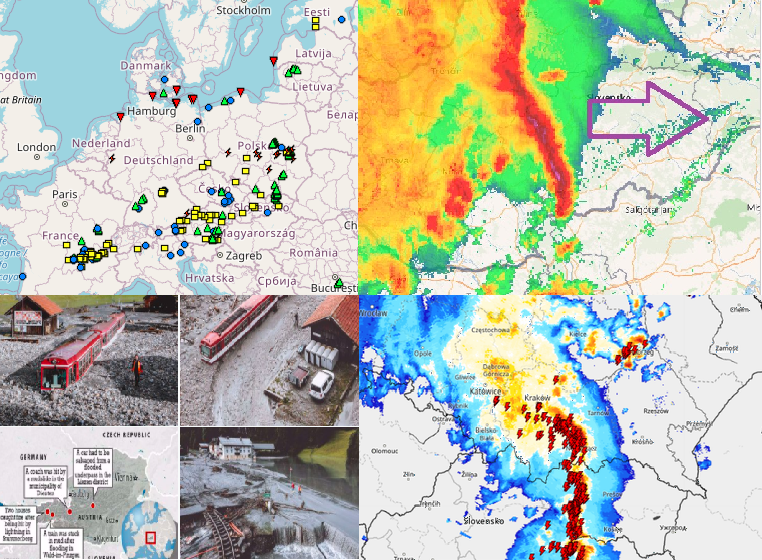 Severe storms early this week hit almost all Central Europe, including eastern parts of Poland, Czechia, Austria, or Slovakia.
Meanwhile, in Germany, an EF2 tornado was reported /https://mkweather.com/tornado-in-slovakia-4-villages-report-damages// and in Sweden, severe floods and 117,1 mm rains appeared /https://mkweather.com/floods-in-sweden-1171-mm-in-a-short-time//, in Central Europe was the most dangerous situation during supercell storms in Austria and Slovakia.
In Austria, storms brought heavy rains up to 123 mm in St. Poelten and floods, which caused 4 injuries.
In Slovakia, a cold front was accompanied by gusting winds and hails – in populated basins in central Slovakia wind gusts near storms reached rare 110 km/h (there are barrier basins with a very weak circulation of air masses throughout the year) and in children´s camp near Turčianske Teplice near Banská Bystrica, 7 children were injured and 1 case of death was confirmed.
From Poland and Czechia, damages of lower magnitude were reported, from Poland mainly hailstorms and from Czechia (Moravia) heavy rains.
The region experienced with a powerful cooldown, in some parts, e.g. in Hungary around 17°C in a few hours.
According to the newest forecasts, the heatwave above Italy and Balkan is expected to regenerate and hit full power again between 22.-28. August and the region of Central Europe will be partially hit by tropical days (above +30°C), again.
Mkweather soon will bring a 6-week forecast from ECMWF, but for now, it appears, that September will be warmer, and the worsening of weather will be more significant in October 2021. At the end of August and in early September 2021 however, a powerful cooldown is forecasted for Eastern Europe, with a possibility of the first ground frosts or rare frosts in northern regions. East-Central Europe will be partially hit by this cooldown, too.