EF2 Tornado in Slovakia! 4 villages report damages!
About severe storms with tornado FB pages Meteo Východ, A Pocasie, and imeteo.sk. According to updated information (ECAD), it was a tornado with EF2 intensity on the Fujita scale!
Tornado hit region eastward from Slovakian the 3rd biggest city – Prešov. Lowlands with only very low monticules are giving relatively good conditions for tornadoes of lower intensity.
Damages are however very impressive – an event should hit 4 villages – Skrabské, Čierne nad Topľou, Petkovce a Bystré, located on a crossroad between 4 bigger cities – Prešov, Vranov nad Topľou, Humenné and Stropkov.
The most extensive damages, with many damaged roofs are reported from villages of Petkovce and Skrabské.
Among the most serious damages were documented torn roofs. Many trees were uprooted and crops damaged.
"The intensity rating was based on a damage survey by a severe weather expert, an eyewitness report of the damage, photograph(s) and/or video footage of the inflicted damage. Impacts: Road(s) impassable or closed, Power transmission damaged or destroyed, Telecommunication infrastructure damaged or destroyed, Damage to roof or chimney, Roof(s) destroyed, Damage to window(s) or insulation layer(s), Car(s) damaged (unspecified), Car window(s) or windshield(s) broken, Large tree branch(es) broken, Tree(s) uprooted or snapped. A brief tornado hit villages Petkovce and Skrabské causing structural damage to local housing. Several roofs were torn off." contains a description on ESWD.
A tornado event on ESWD was reported in Rzeszow, southeastern Poland around 15:00, too and in northwestern Poland, EF1 tornado occurred, a few hours later.
During the next hours, damages and strength of a tornado were more documented, fortunately, it appears, that vortex wasn´t deadly.
It´s the first serious tornado event in the region after the deadliest tornado in Europe in the last 20 years, EF3 – EF4 tornado in Czechia on 24. July 2021 /https://mkweather.com/czechia-hit-ef3-tornado-150-people-injured-7-villages-destroyed-if-is-something-apocalyptic-so-scenes-captured-from-hit-areas-june-2021/; https://mkweather.com/deadliest-tornado-ef3-4-in-europe-in-20-years-czechia-after-natural-disaster-footages-day-after/; https://mkweather.com/tornado-in-czechia-has-the-6th-victim-only-2-year-baby-2021/; https://mkweather.com/swamps-in-dyje-morava-confluence-such-as-a-factor-of-deadly-ef3-4-tornado-in-czechia//.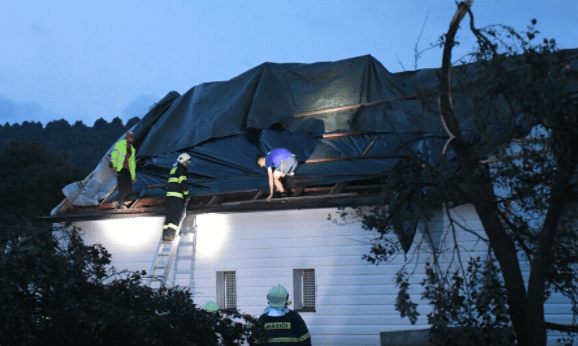 (Visited 10 times, 1 visits today)