Slovakia with the next night below -20°C (Podolínec -20,5°C, Poprad -20,3°C)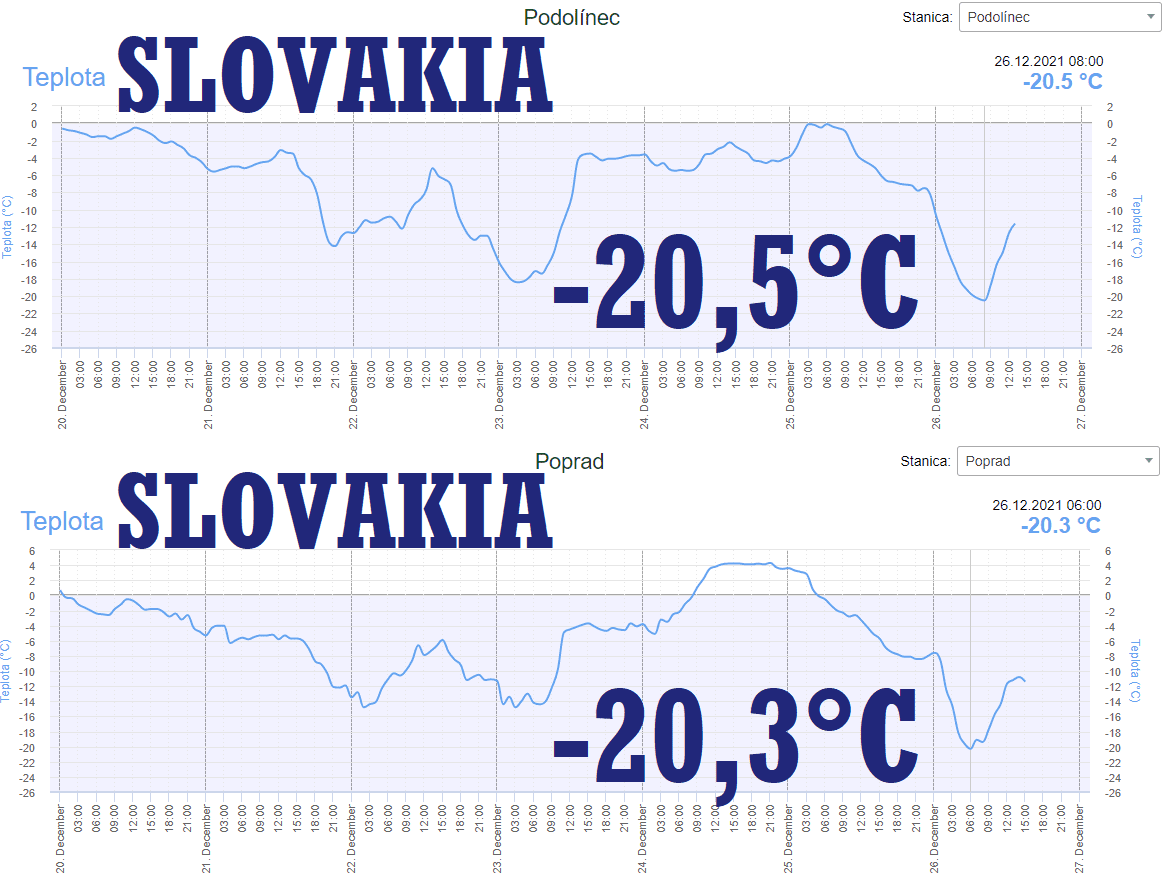 While around 24. December 2021, extremely cold air was moving above Denmark, where one of the TOP3 coldest Christmas since 1874 was measured (-17,5°C: https://mkweather.com/extremely-cold-and-white-christmas-in-denmark-skrydstrup-175c-top3-coldest-christmas-since-1874/), on 25.-26. December 2021, extremely cold air has shifted southeastward, above Poland and the Carpathians, with a result of the next very cold morning in Poland and Slovakia.
While in Poland, 2 mornings before Christmas Eve appeared frosts up to -21,4°C /https://mkweather.com/poland-with-an-even-colder-record-orawa-region-with-214c-czechia-21-22c-slovakia-18-19c/; https://mkweather.com/poland-with-the-first-20c-of-the-winter-stuposiany-21c-suwalki-in-lowlands-163c-forecasts-expect-23c//, in Slovakia, surprised frosts up of to -22,2°C /https://mkweather.com/samelova-luka-slovakia-222c//, in Czechia around -24°C /https://mkweather.com/czechian-valleys-very-close-to-25c-30c-possibility-on-23-and-34-december-2021// and extremely cold Christmas Eve were reported subsequently from Kharkiv, Ukraine (-21,1°C) /https://mkweather.com/kharkiv-region-ukraine-hit-severe-frosts-velykyi-burluk-211c-izium-210c-kharkiv-188c-dnipropetrovsk-177c-zaporizhzhia-168c//.
On 26. December 2021, in the Central-European region still counted as Christmas, the minimum temperature in Poland and Slovakia dropped again extremely low (Poland in the next article, Silniczce, -18,2°C).
In Podolínec, northeastern Slovakia, only -20,5°C was measured.
Poprad, the largest city below the High Tatras – the highest peaks of the Carpathians, reported extremely low -20,3°C.
It´s unseasonably low temperatures for Christmas, but during January or February in some winters, frosts below -30,0°C are in these localities possible.
Extreme coldwave for Europe for New Year 2022 period was in the last outputs limited and it's possible, that it hits mainly Scandinavia, Baltic region, Eastern Europe or Poland and Slovakia, so far, but we will update outputs, soon.
In January 2022, still, chances for frosts below -20°C will be possible, but long-term seasonal forecasts are still forecasting NAO+ in February and March 2022, with early spring conditions in Europe (will be updated gradually).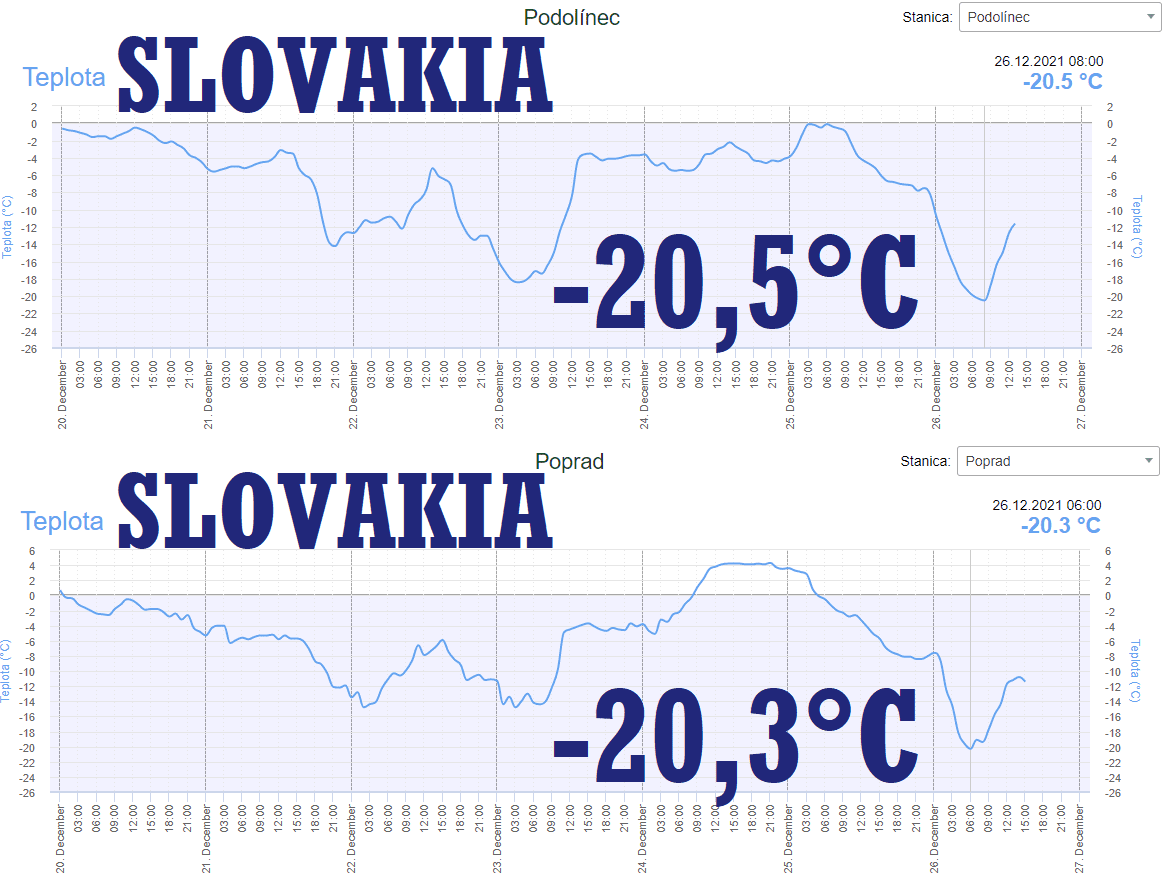 Source: https://www.shmu.sk/sk/?page=1&id=meteo_apocasie_sk#tab