Snow records in Kansas City (daily highest snowfall in history) and Denver (the snowiest year on record, so far). In the next 10 days, the USA hits the next powerful Arctic blast!
While winter in Europe has literally ended, in the USA, Canada, or even Mexico, still cold conditions have in the last period persisted and several cold weeks is predicted until the half of March 2022 /https://mkweather.com/rcmwf-6-week-forecast-for-the-usa-until-4-april-2022-winter-until-the-half-of-march-then-very-warm-spring//.
While in Alaska, -91°F / -68°C real-feel temperatures were measured in February 2022, so far /https://mkweather.com/winter-in-alaska-real-feel-temperature-91f-68c// and temperatures in Quebec dropped to -47,2°C / -47,8°C /https://mkweather.com/lac-benoit-quebec-canada-472c-53f//, from more southern parts of the USA, very interesting snowfall records were observed.
Kansas City, Missouri broke the daily snow record set in 1893. A winter storm dropped 7 inches / 18 cm of snow across parts of Kansas and Missouri around 17. February 2022. It caused multiple accidents and delays on interstates.
A severe snowstorm affected more than 100 million people from Midwest to East Coast last week, and the next Arctic blasts are on their way in the following 3 weeks.
Parts of I-35 were closed just north of Kansas City after they broke the daily record for snowfall.
Another snow record appeared in Denver, Colorado, where a period between 1. January to 16. February 2022 was the snowiest start to a calendar year on record in history
With 28.4″ / 72,2 cm of snow at Central Park broke all-time records from the last around 150-year period.
The previous record from 1912 had a value of 22,1 inches.
According to current forecasts, a long-lasting and strong Arctic blast hit central and eastern USA already in the next 10 days (22.2.-1.3. 2022), gradually from Northern Plains, Rocky Mountains, trough Midwest to Northeast, Mid-Atlantic and Southeast and even Florida (maps below).
More precipitation is however expected mainly in the Kentucky region (possible tornadoes in the next days, during the arrival of the cold front?) and many parts of the country will stay drier.
If you live in the region, will be prepared for late-season cold blasts, warm weather is predicted to come only in the second half of March 2022 /link above/.
Spring and Summer 2022 forecasts for the USA (North America) you will find here: https://mkweather.com/spring-2022-forecast-for-north-america/; https://mkweather.com/summer-2022-forecast-for-north-america-strong-wildfire-season-and-early-hurricane-season-are-predicted/.
Illustration picture: 1Weather – Widgets & Radar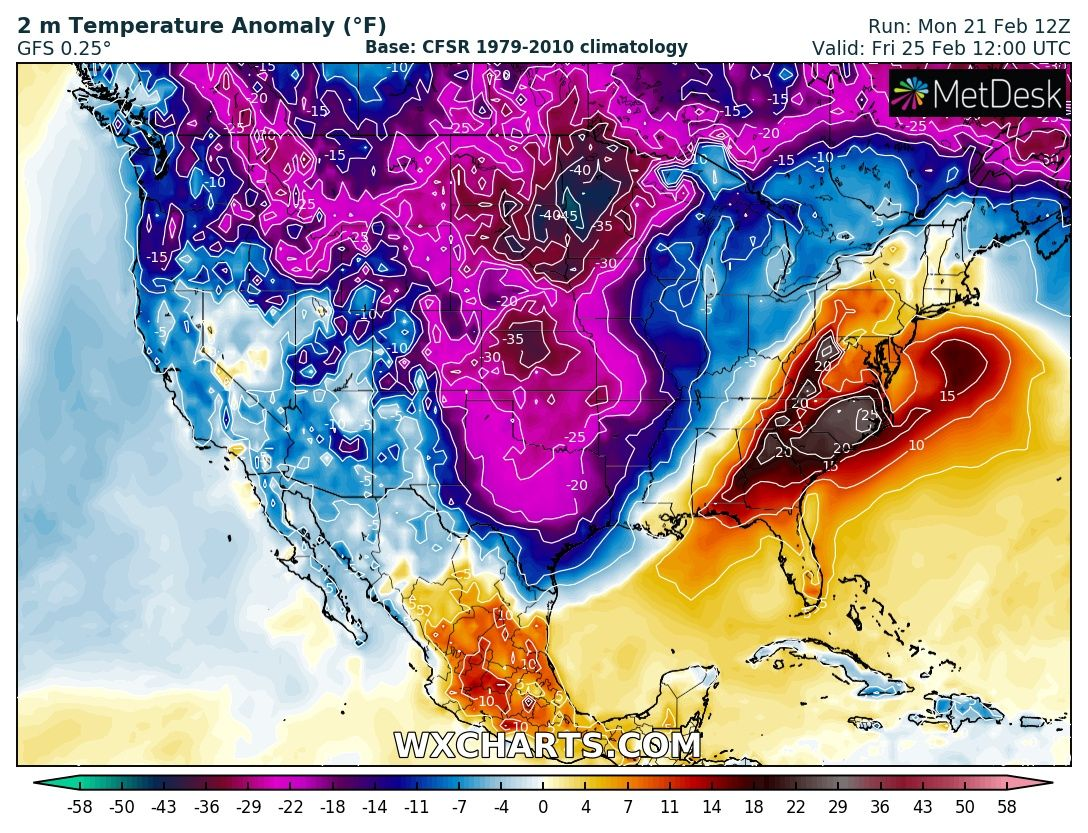 Source: wxcharts.com