The hottest Christmas in Perth, Australia, in history: +43,5°C! Wildfires are spreading!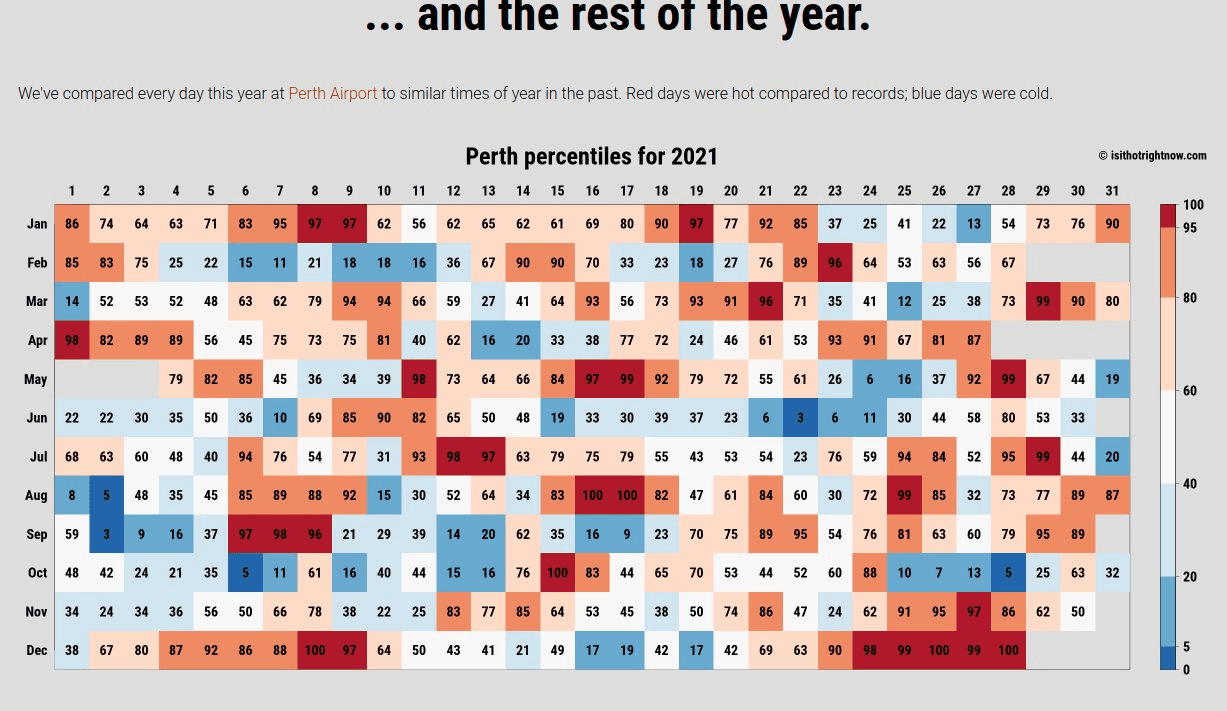 An extreme 5-day Christmas heatwave hit Western Australia, including Perth, which reported the hottest Christmas in all-time history!
On 24. December, the first day of the heatwave, +38,6°C was measured, on 25. December, +42,8°C, on 26. December +43,5°C, on 27. December, +41,0°C and on 28. December, +40,0°C.
Christmas record from the year 1968 was broken.
Another new December record for Perth – 4 consecutive days of 40°C or higher– were measured between 25.-28. December 2021.
The previous December record was 3 consecutive days in 2019 & 2020.
A few days earlier, +47,9°C was measured in northwestern Australia, such as the hottest value of Summer 2021/2022, so far /https://mkweather.com/australia-with-christmas-heatwaves-479c-and-40c-in-perth-on-christmas-day-the-tropical-system-is-coming//.
In Geraldton, northward from Perth, +47,3°C was measured, which is a new December all-time record and only 0,4°C from all-time record for the city!
Interesting was according to /https://twitter.com/extremetemps/ all-time record in Rottnest Island, +42,5°C.
Eastward from Perth, wildfires have already started to burn and firefighters are fighting with many wildfires across the province, e.g. in the Margaret River region.
Overall, however, stormy, rainy, and flood character of Summer 2021/2022 is forecast /Summer 2021/2022 forecast for Australia and Oceania here: https://mkweather.com/summer-2021-2022-forecast-for-australia-and-oceania-stormy-colder-la-nina-pattern-above-the-continent//, but extreme heatwaves in the region were possible mainly in the second half of the season, thanks to the transition from negative to positive IOD and the weakening of MJO, in combination with changes of still relatively powerful La Nina.