Summer 2021 forecast for North America: Hot, stormy East and dry West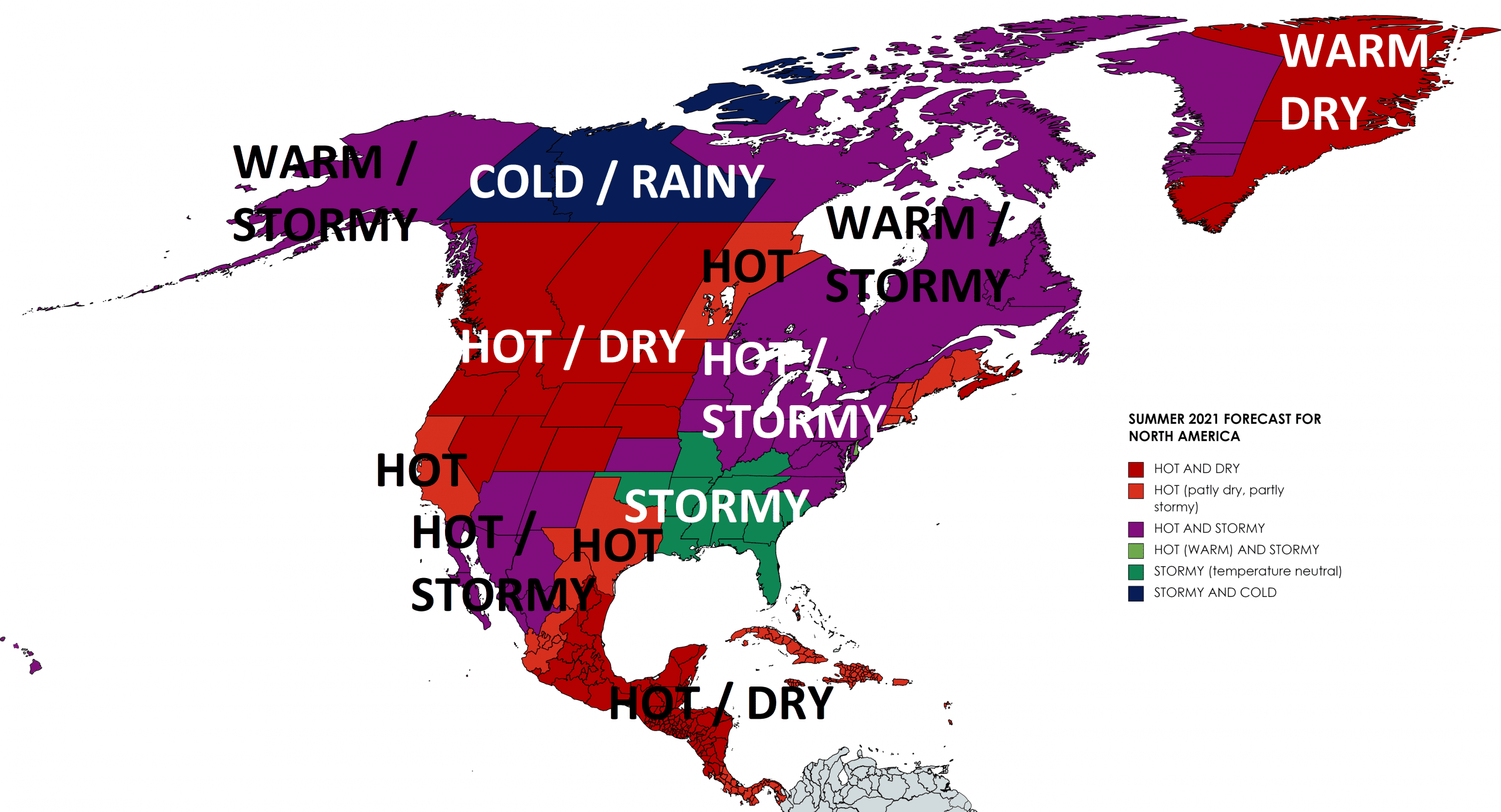 After Mkweather Summer 2021 forecast for Europe /https://mkweather.com/summer-2021-forecast-for-europe-hot-and-dry-pattern-as-leading-heatwaves-drought// we have created Summer 2021 forecast for North America. Mkweather Spring 2021 forecast you will find here: https://mkweather.com/spring-2021-forecast-for-north-america-2021-mk/.
Main dominant circulation pattern (La nina) brings to the USA in 2021 above average hurricane and tornado season /https://mkweather.com/hurricane-and-tornado-season-2021-in-the-usa-above-average-expected-thanks-to-la-nina-forecast//, what will be associated with possibly more stormy June 2021 (according to CF22, too) in Southeast and in parts of eastern half of the USA, with increased tornado risk, while late Summer 2021 should bring the first hurricanes, it appears, that mainly into Caribbean and Florida.
Whereas La nina will be during summer weakening, hot and dry belt in southern USA isn´t already forecasted, but Southeast should be stormy and temperature neutral and storms should surprise too in northwestern Mexico, New Mexico, Arizona and southern California.
Other parts of Southwest and mainly all western half of the USA, central Canada and British Columbia however appear very hot and extremely dry, with possible severe drought and wildfires.
Hot and dry weather is forecasted too in southern Mexico, Central America and southern Caribbean.
Stormy pattern, partly thanks to possible AO+/NAO+ around July, should persist over eastern and northern Canada, too, with negative air pressure anomaly above Arctic and possible negative temperature anomalies on Arctic Ocean coast.
Negative PNA phase should contribute to large heatwaves in western USA and Canada.
Easterly QBO phase means less western flow from Pacific Ocean, what should be associated with more persisting and blocking circulation above the continent.
In the second half of Summer 2021, important parameter for initiating of the first serious hurricanes will be MJO – in case of wet MJO, conditions will be favorable. Spring 2021 brings better MJO conditions only very shortly around 7.-12. April and 7.-12. May, mainly into southern Caribbean, where the first tropical depressions of the season should appear.
Conclusions: Another hot, in eastern parts of North America stormy, in western parts predominantly dry Summer 2021 is forecasted. Some parts of Arctic should be cyclonic and colder, southern Mexico and Central America appear hot and dry. Interesting is neutral temperature, but very stormy Southeast, USA. Storms should surprise in NW Mexico and its border region in Southwest, USA, but in other parts of Southwest, in Rocky Mountains, central Canada and British Columbia, hot and dry summer, with widespread wildfires, is expected. Northeast and Great Lakes region appear hot and stormy.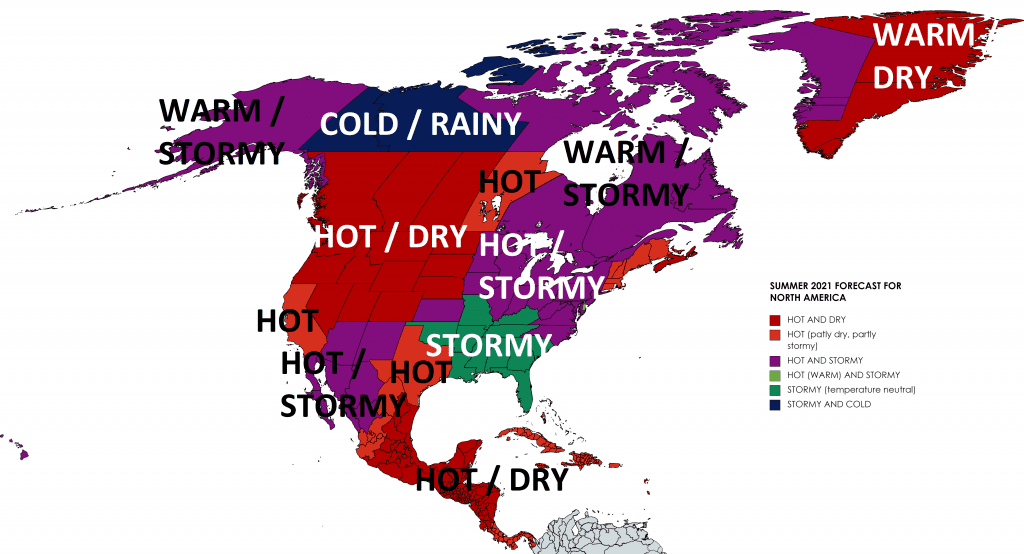 Infographics – Sources:
CFSv2 Seasonal Climate Forecasts (noaa.gov)
CPC – Climate Weather Linkage: Madden – Julian Oscillation (noaa.gov)
The Quasi-biennial Oscillation (QBO) (nasa.gov)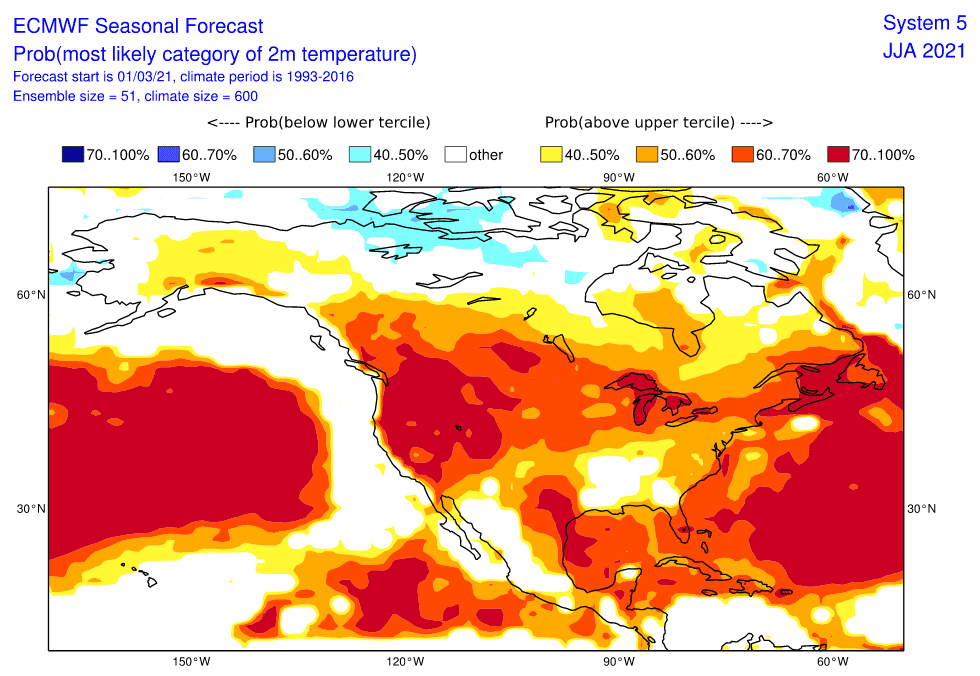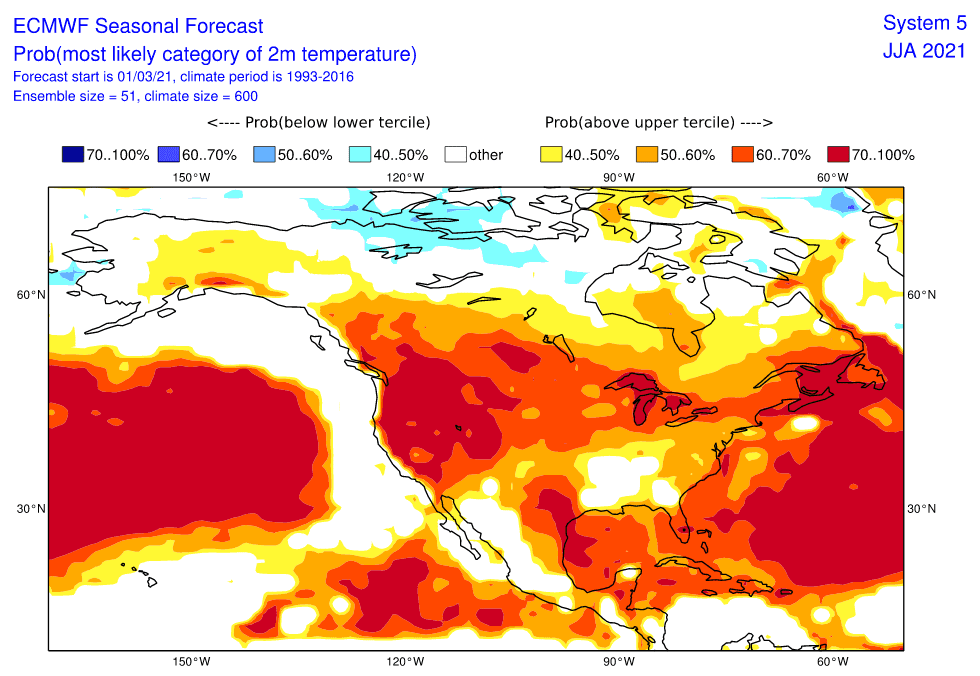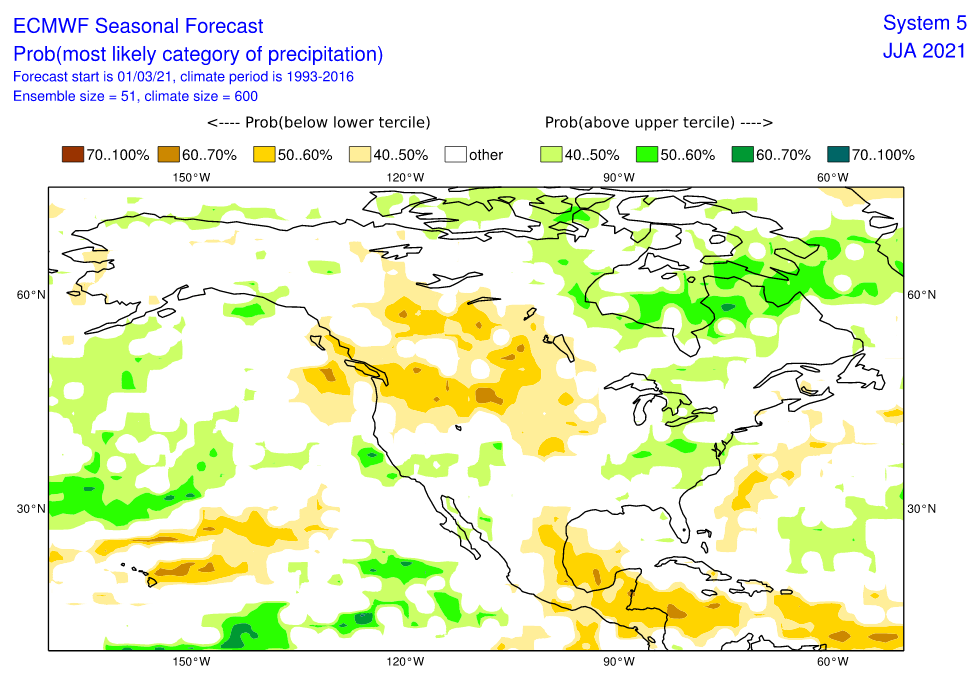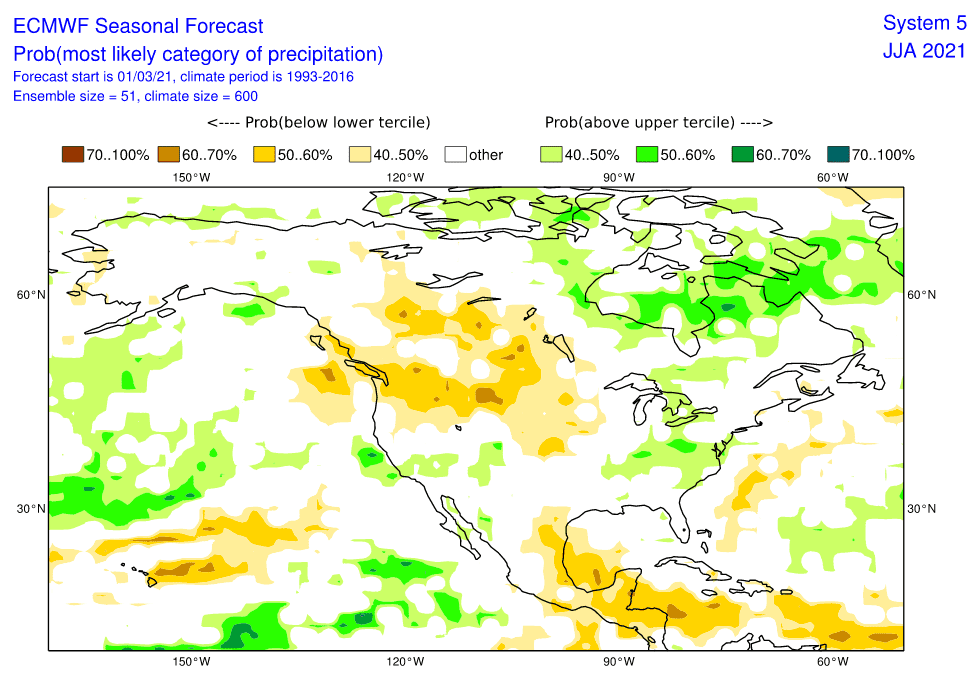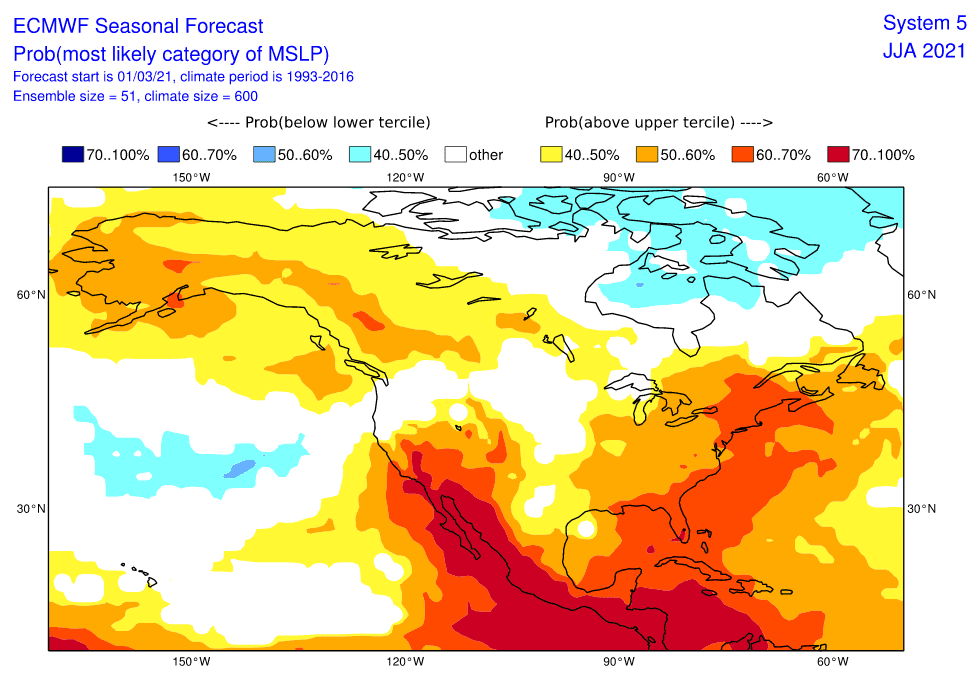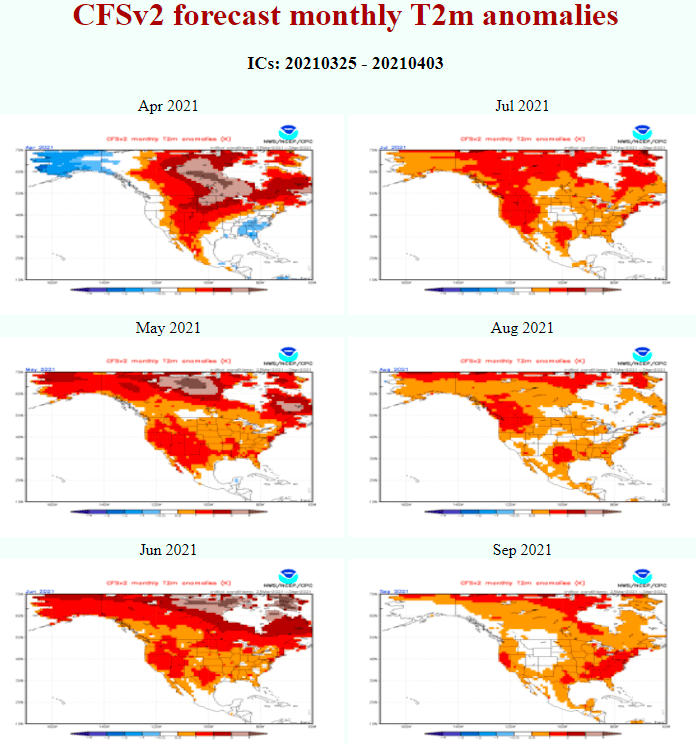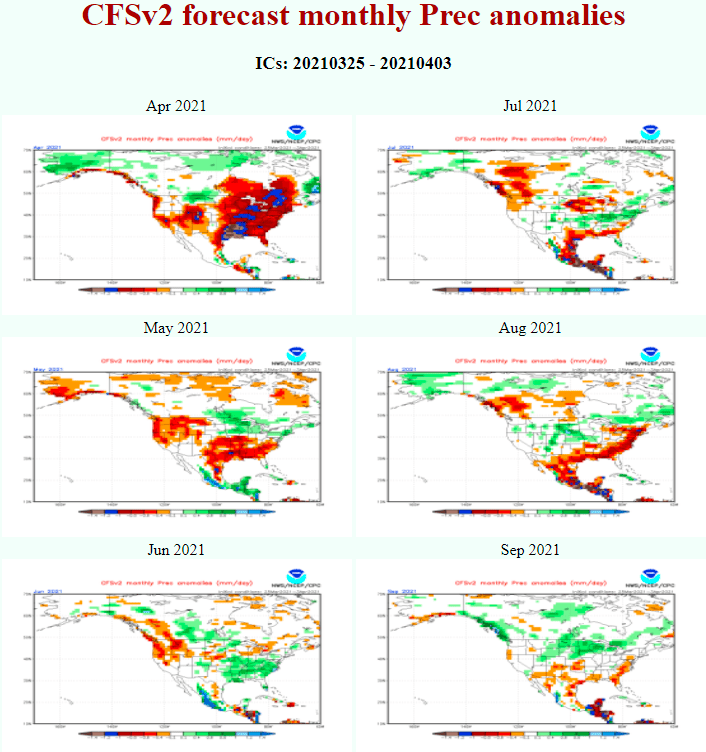 Read more: