Summer 2021 forecast for Europe: Hot and dry pattern as leading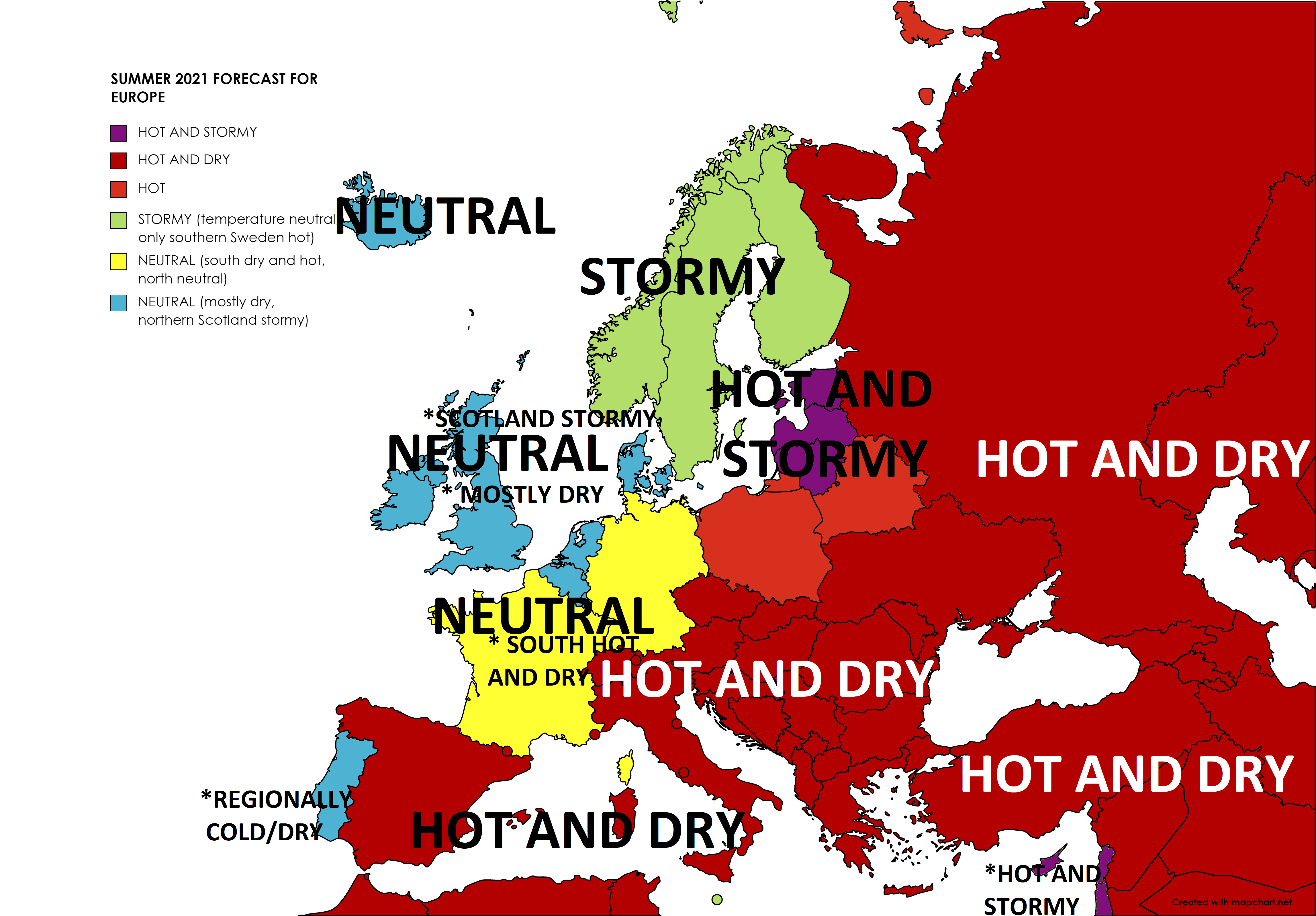 The newest outputs of forecast models mostly agree with Mkweather preliminary estimations for Summer 2021 /https://mkweather.com/first-forecast-for-summer-2021-in-europe-la-nina-and-nao-hot-summer-is-probable// and while southern and eastern Europe should be very hot, northwestern and western Europe should end with neutral temperature anomalies from long-term average.
During Summer 2021, La nina pattern will be ending and AO/NAO character should surprise with AO-/NAO- and stormy May and August 2021 and AO+/NAO+ dry June and July 2021 across large parts of the continent.
Hurricane season 2021 is expected to be above average /https://mkweather.com/hurricane-and-tornado-season-2021-in-the-usa-above-average-expected-thanks-to-la-nina-forecast//, what means more possible AO-/NAO- and cold blasts from Atlantic during late Summer 2021.
Neutral temperature anomaly along northwestern coasts of Europe is long-term phenomena, associated too with a Global Warming Hole anomaly in northern Atlantic /https://mkweather.com/little-ice-age-terrifying-predictions-of-gulf-stream-collapse-until-2030//. This anomaly is result of melting Arctic sea ice in the Arctic.
At all, easterly, continental phase of QBO is during the next months expected, what should make Eurasian continental parts very hot compared with long-term averages.
Similarly such as in many La nina years, heatwaves should in 2021 come not only from south, but too from east into Europe.
Moreover, Russia, Ukraine, Turkey, Greece, Balkan, Italy, the Spain, the Alps and the Carpathians should be very dry, with a possibility of wildfires.
Thanks to weakened cyclonic action centers worldwide, except of Scandinavia (stormy), almost all Europe should end very hot and dry (northwestern Europe only dry).
Hot and stormy enclaves should appear mainly in Baltic countries or Eastern Mediterranean, but these anomalies are so little, that we should neglect them.
Parts of northwestern Europe should end drier thanks to contribution of NAO+ in June/July (Azores high close to British Islands).
However, in circulation such this, Scandinavia, mainly northern and central parts, should be temperature neutral, or even colder than average, and mainly very stormy and rainy. Stormtrack in this circulation will be shifted during summer months into northern latitudes, only Central European monsoon in May and late summer (August) should surprise with predominate southern situated stormtracks of cyclones.
Infographics – Sources:
CFSv2 Seasonal Climate Forecasts (noaa.gov)
CPC – Climate Weather Linkage: Madden – Julian Oscillation (noaa.gov)
The Quasi-biennial Oscillation (QBO) (nasa.gov)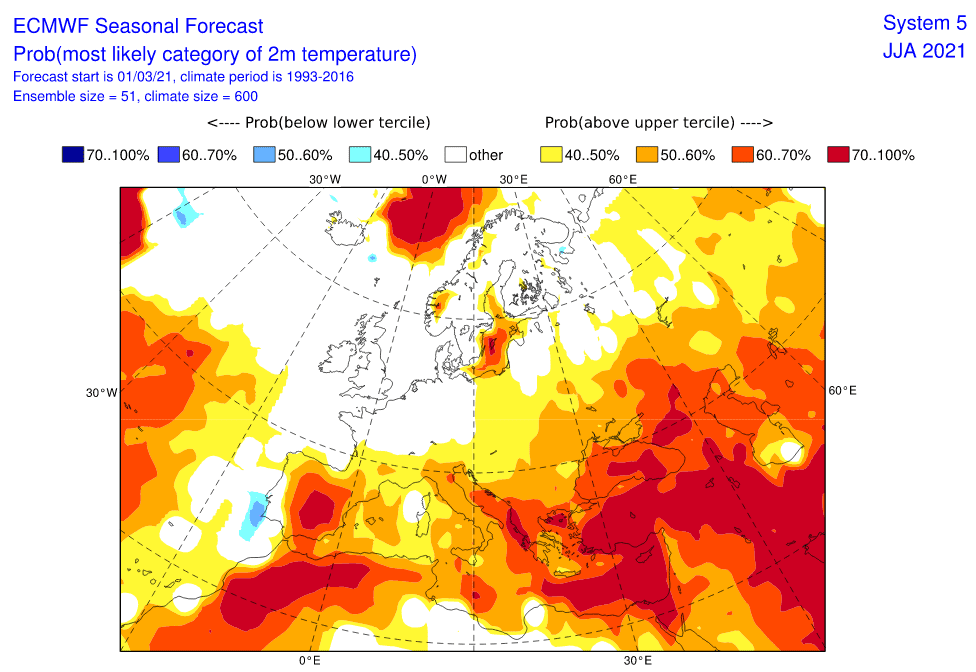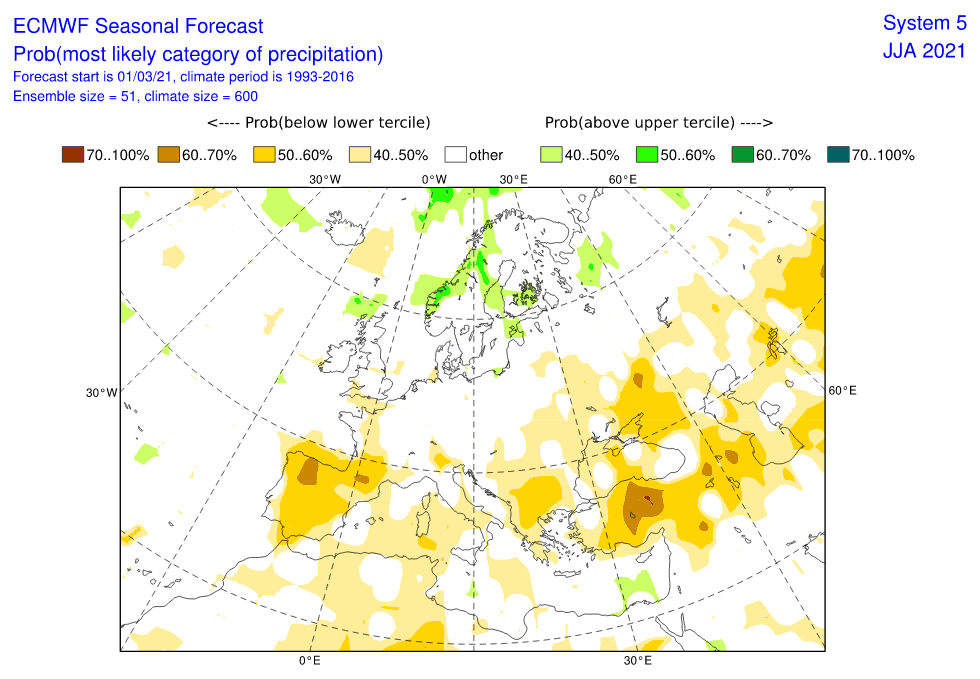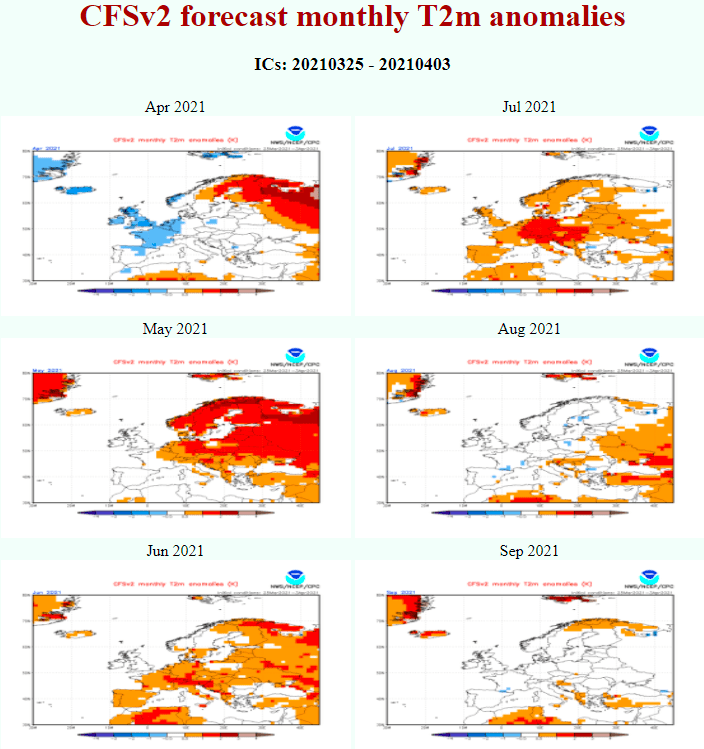 Read more:
Man in High Tatras was hit by lighting! Heavy storms in the Alps and Carpathians after another hot day! | mkweather
Wednesday brings summer: Paris +27°C, Frankfurt aM +26°C, London +25°C, Wroclaw +24°C | mkweather
Canada under the snow, spring is coming very slowly | mkweather
India and Pakistan with heatwave, after floods and snow in the mountains | mkweather
Middle East almost +45°C, its very early, Central Asia +38°C already | mkweather
The UK -10°C, Greece +35°C? Extreme temperature differences across Europe after an Easter? | mkweather