Summer forecast for Asia: Hot, but strong Indian monsoon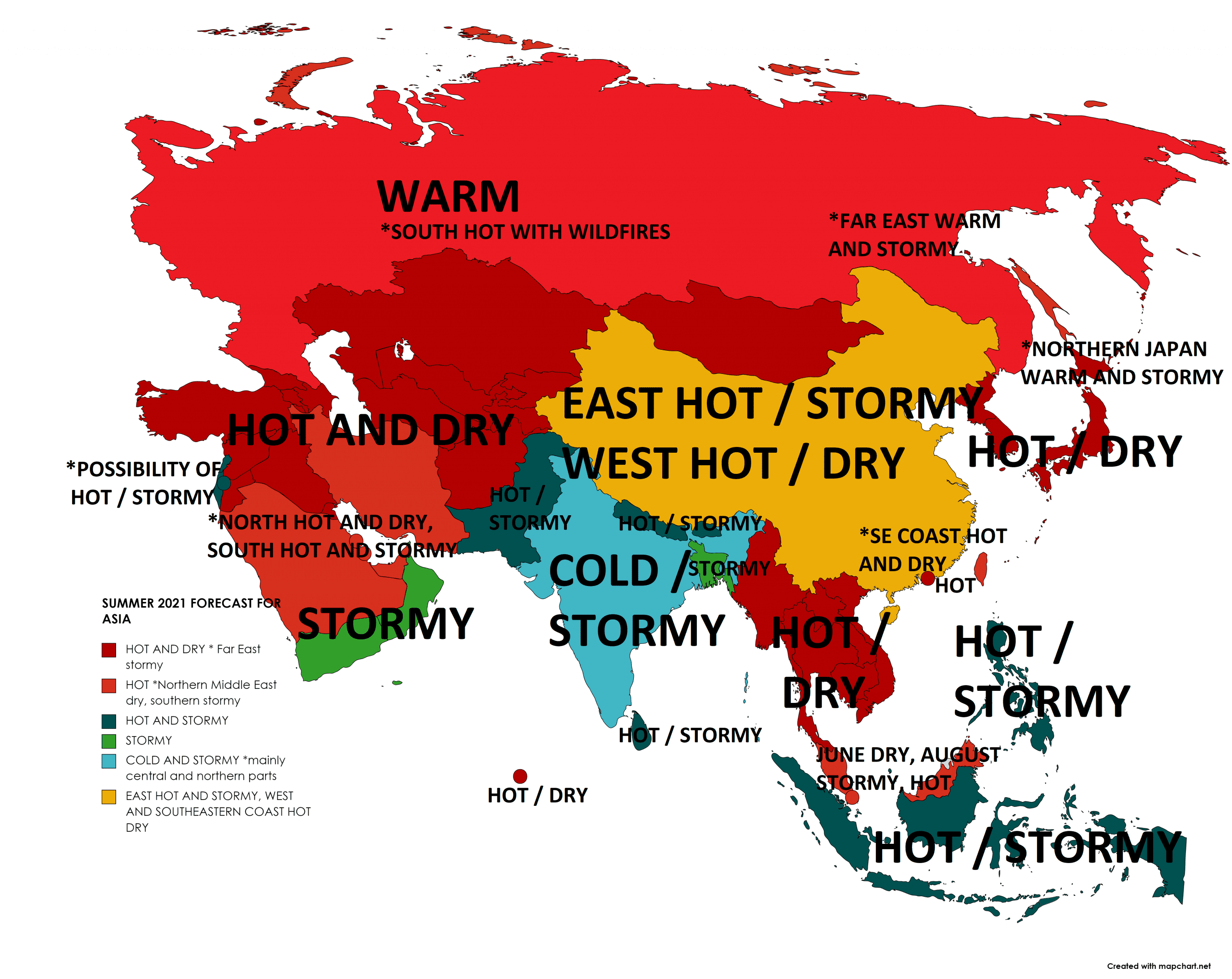 After Mkweather Summer 2021 forecasts for Europe /https://mkweather.com/summer-2021-forecast-for-europe-hot-and-dry-pattern-as-leading-heatwaves-drought// and North America /https://mkweather.com/summer-2021-forecast-for-north-america-hot-stormy-east-and-dry-west// we should now look at predicting materials for Asia.
Spring 2021 forecast for Asia you will find here: /https://mkweather.com/spring-2021-forecast-for-asia-2021//.
It looks for very hot Summer 2021, only central India and coasts of Oman and Yemen should be thanks to strong activity of cyclones colder than long-term average.
While northern and central parts of the continent plus northern Middle East and Southeastern Asia should be dry, India, Pakistan, southern Iran, southern Middle East, northern China, Far East, northern Japan, Philippines and parts of Indonesia should be stormy.
Above average typhoon and cyclone activity in monsoon Asia stay strong while La nina will be weakening during summer months.
The strongest monsoon rains with floods are forecasted mainly for central and northern India, where even below average temperatures are projected.
Important factor for Indian rainfall will be too wet MJO and favorable phase of IOD above Indian ocean.
La nina will be still strong to bring severe typhoons in Philippines, but Thailand, Myanmar, Laos, Cambodia and Vietnam appear drier, maybe thanks to weakening La nina pattern.
Malaysia and Indonesia appear with dry start, but stormy end of Summer 2021, thanks to shift of monsoon rains southward. This shift should be associated with transition from La nina to neutral ENSO phase.
Expected AO+ in June and July 2021 should bring hot and dry weather with possible wildfires across Siberia, but regional strong storm systems should appear, mainly in Far East.
Very stormy will be the most densely part of China and northern Japan, too, but southern Japan, Korea and southern China appear dry. Tibet and eastern Mongolia will be very warm and dry.
Very hot and dry Central Asia should be a result of more circulation patterns, not only anticyclonic AO+, but too easterly QBO phase, blocking westerlies from Atlantic above the continent or Eurasian circulation modes of both types.
In the Arctic, the next temperature records, similar as in Verkhoyansk, 2020, should appear /https://mkweather.com/38c-101f-behind-polar-circle-in-siberia-5-years-after-unprecedent-event-with-40c-104f-in-nunavut-northern-canada//.
Very hot weather is expected in Persian Gulf, where again temperatures around +54°C should appear.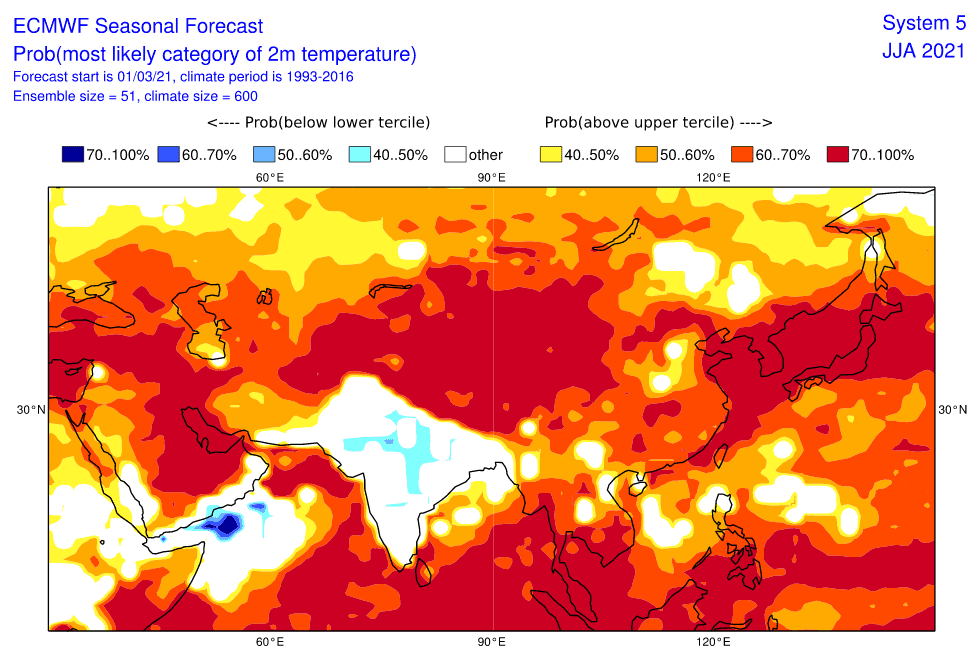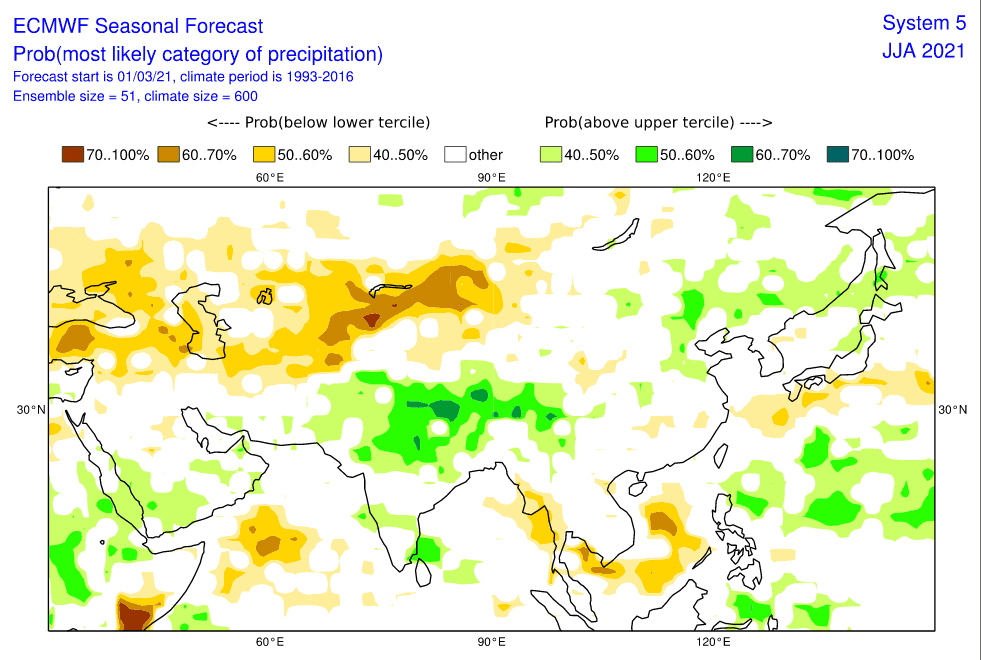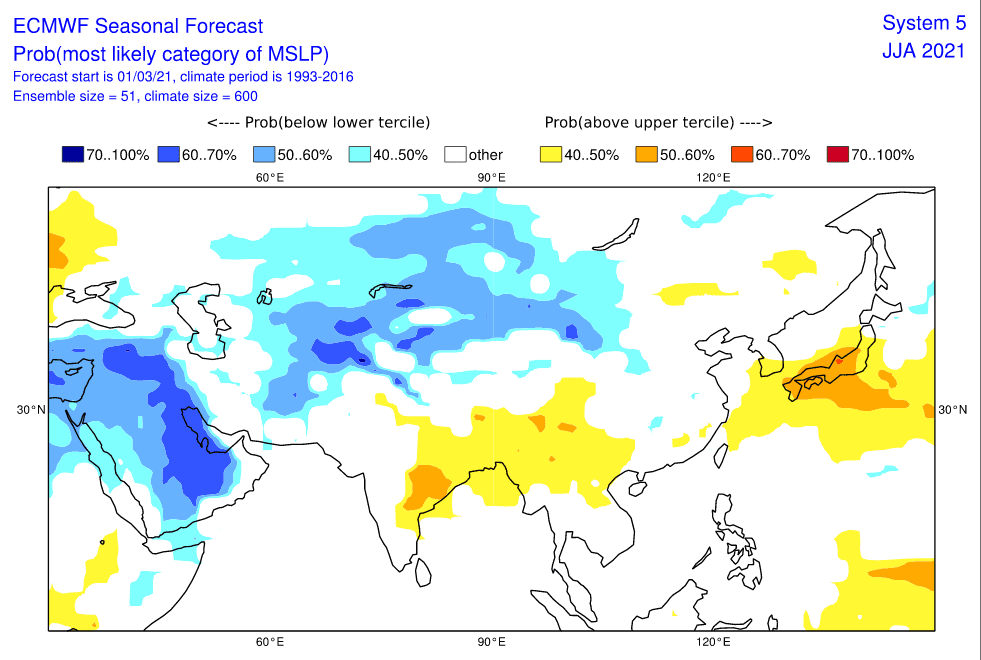 Infographics – Sources:
CFSv2 Seasonal Climate Forecasts (noaa.gov)
CPC – Climate Weather Linkage: Madden – Julian Oscillation (noaa.gov)
The Quasi-biennial Oscillation (QBO) (nasa.gov)
Read more: