Already in previous articles we have informed about untraditionally powerful early-seasonal tropical activity above northern Atlantic /Ex-tropical storm Bill hits British Islands, brings storms and strong cooldown – mkweather; The first hurricane of the Atlantic hurricane season 2021? 3 tropical storms should hit the USA (Bill, Claudette and Danny), the 1st one aims towards Europe, the 3rd should be a hurricane! – mkweather; Tropical storm Bill? Disturbance hits Gulf Coast already next week! – mkweather/.
The second named tropical storm of the Atlantic hurricane season has become Bill, which is shifting from eastern US coast and Newfoundland towards Europe, now (links above).
2 tropical storms in the middle of June 2021 – so strong early tropical activity has appeared over northern Atlantic really very rarely, only in 7 years of measurements.
Moreover, possible Tropical storm Claudette, which will bring extreme rainfall to Louisiana, Mississippi and Alabama coast should become the third tropical storm of the season and over Atlantic, westward from African coast, the next tropical system is developing.
Isn´t fully clear, if Claudette will reach a status of tropical storm, but it is relatively clear, that it will bring extreme rainfall along Gulf coast, almost from Texas to Florida and then, heavy storms will be continuing above the continent.
Together 20 inches (500 mm) of rain is locally possible, mainly along Louisiana and Mississippi coast, with result of devastating and possible deadly floods.
System will be continuing on its way towards Carolinas during next week, still with possible flooding potential.
Wind gusts above 100 km/h should appear along the coast during an arrival of the system.
NOAA already updated warnings before the system – you should look at it below this article.
Gulf Coast will be hit by the storm already on Saturday, 19. June 2021, therefore we strongly recommend you to watch current weather warnings, advisories, watches, news and forecasts.
Atlantic hurricane season 2021 is starting with extreme powerful activity, thanks to La nina, one of TOP3 hurricane seasons is in 2021 possible.
All tropical storms and hurricanes will be topics of Mkweather articles.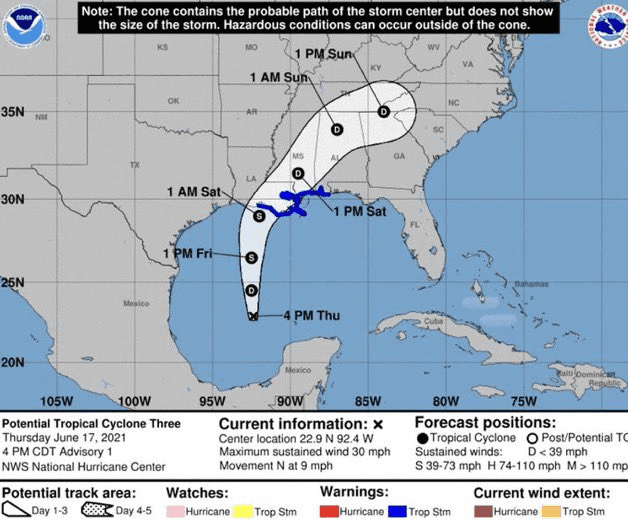 (Visited 18 times, 1 visits today)