Tete, Mozambique +45,5°C (has never been so hot in the Southern Hemisphere so early), hailstorms in South Africa killed 450 ostriches!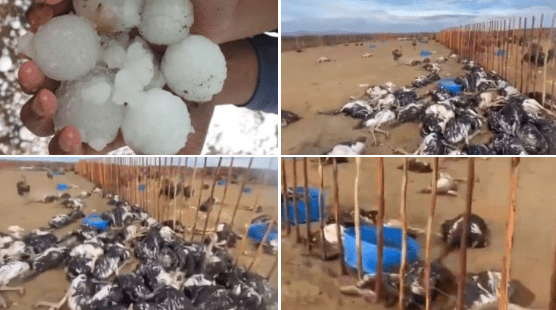 Extreme heatwaves and hailstorms hit southern parts of Africa very early – in the first decade of November 2021.
At the start of the month, severe heatwave brought +44,2°C to South Africa, +42,7°C in Botswana or +35,5°C in Comoros (islands), Mozambique and Malawi reported almost +45°C!
In many countries already during this heatwave, all-time November national records were almost overcome.
After extreme heatwave, a powerful cold front brought hour-lasting hailstorms in the Aberdeen region, South Africa.
One of the most reported damages were 450 killed ostriches and other livestock on a farm in the Aberdeen region.
In the last days, extreme heatwaves have returned and in Tete, Mozambique, an unbelievable +45,5°C was measured, which is the highest measured temperature in Southern Hemisphere so early in the season in history and only 0,5°C below the all-time national Mozambique record from summer months (1917).
Extreme spring heatwaves and thunderstorms hit the region despite relatively temperature neutral forecasts for Summer 2021/2022 according to Mkweather Summer 2021/2022 forecast for Africa /https://mkweather.com/winter-and-summer-2021-2022-forecast-for-africa//.
Thanks to negative IOD, summer in many African states – mainly in southern and eastern Africa, summer should be peaking in November and the first half of the season, while positive IOD in the second half of the summer should bring many dangerous cyclones from the Indian Ocean – mainly along eastern shores of the continent, Madagascar, Reunion, Mauritius, Comoros or Seychelles.
If you live in the region, will be furthermore prepared for extreme heatwaves and severe storms in the next weeks, with a possibility of the next similar events.