Eastern Australia expects catastrophic floods, Alice Springs has already received 100mm+ rainfall, the most in 20 years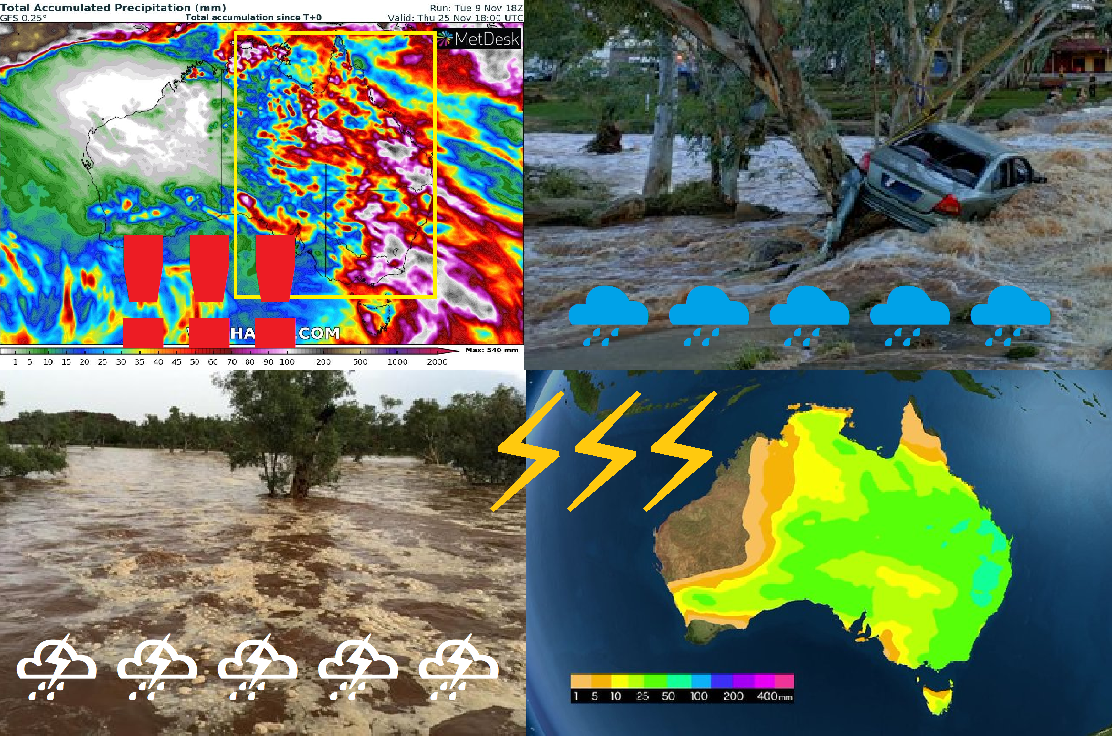 A typical La Nina pattern is bringing to Australia heavy rainfall and floods – in continental, desert parts, the worst in 20 years, while storm activity in Eastern Australia should bring already in the next days catastrophic situation.
The low-pressure system brought record spring rainfall in the Northern Territory on Wednesday, 10. November 2021, with more than 100 mm recorded in Alice Springs – it's the heaviest rainfall in 20 years!
North Rockhampton recorded 341 mm of rain up to 9 AM Wednesday, while Bundaberg south saw falls of 68mm, according to Guardian.
Very cold and stormy weather is forecasted to shift from South Australia and Northern Territory above Eastern parts of Australia – mainly Queensland, Victoria, and New South Wales, with a regional rainfall of around 200 mm.
In many parts of the eastern half of the continent, rainfall 50 – 100 mm is forecasted only in a very short time.
Floods in the next few days should be therefore widespread, and regionally catastrophic.
Summer forecast for Australia counts with a stormier period in November and the first half of Summer 2021/2022, thanks to the so-called negative phase of Indian Ocean Dipole /https://mkweather.com/summer-2021-2022-forecast-for-australia-and-oceania-stormy-colder-la-nina-pattern-above-the-continent//
This weather pattern should be linked with many flood events or even stronger spider season or mice plague.
On the other hand, a positive phase of the Indian Ocean Dipole in the second half of Summer 2021/2022 should bring more heatwaves, drought, or wildfires.
Thanks to persisting La Nina patterns, however, peaks of heatwaves, drought, and wildfires will be quite limited and won´t be so extreme and devastating, such as during the El-Nino phases.
A powerful El Nino is forecasted only from Autumn 2022, maybe until 2025 /https://mkweather.com/2022-2023-forecast-chances-for-el-nino// and floods and severe storms in Australia should be replaced with described weather manifestations already in the next 3 summers.
Meanwhile, Cyclone season 2021/2022 in Oceania and New Zealand is forecasted to be stronger, too, but with mostly warm conditions, in comparison with neutral or regional colder Summer 2021/2022 in Australia.
If you live in the eastern half of Australia, we recommend you to watch current weather news, forecasts, storm warnings, and advisories.