From Tuesday to Wednesday, 29.-30. June 2021, the second significant heatwave in Europe in Summer 2021 is peaking, with measured temperatures up to +45°C in Italy (+44,5°C in Caltagirone on Tuesday, but local Tmax near sirocco should be even higher, around +46°C).
From stations within the International Exchange Site (national TOPs are often 2-3°C higher), on Tuesday, 29. June 2021, +42,2°C was measured in Mezzo Gregorio, Italy, +40,9°C in Antalya, Turkey, +40,9°C in Nicosia, Cyprus, +40,6°C in Konitsa, Greece, +39,8°C in Furmanovo, Kazakhstan, +39,8°C in Ozinki, Russia, +39,0°C in Gjirokastra, Albania, +38,9°C in Geokchay, Azerbaijan, +38,8°C in Zenica, Bosnia and Herzegovina, +38,8°C in Smederevska Palanka, Serbia, +38,5°C in Skopje, North Macedonia, +37,7°C in Podgorica, Montenegro, +37,5°C in Tbilisi, Georgia, +37,5°C in Yerevan, Armenia, +37,3°C in Gradiste, Croatia, +37,2°C in Paks, Hungary, +36,0°C in Cerklje Ob Krki, Slovenia, +35,7°C in Gudja, Malta, +35,8°C in Hurbanovo, Slovakia, +35,6°C in Sandanski, Bulgaria, +35,3°C in Drobeta, Romania.
In some regions is the second heatwave only tightly colder than the first heatwave, which was peaking around Thursday, 24. June 2021.
Such we forecasted earlier, after heatwave, storm system will be shifting across Europe during the next cca 10 days /https://mkweather.com/severe-storms-suffer-europe-storm-forecast-until-10-july-balkan-and-the-alps-heavily-flooded-pozega-croatia-sliven-bulgaria-galati-romania-neuchatel-switzerland//.
After the transition of this system, the 3rd powerful heatwave for Europe in Summer 2021 is forecasted, with a peak in parts of Europe between 6.-14. July 2021!
Extremely hot weather should surprise not only Italy, Balkan, and SE Central Europe, such as during the first 2 heatwaves (with similar potential for breaking temperature records), but anomalous +49°C is forecasted for Andalusia, Spain, or +42°C for southern France.
+37°C should be measured in SW Ukraine, more than +30°C in Scandinavia and Benelux, but northwestern Europe will be unhappily very cold, with the hottest day on GFS outputs with the maximum temperature in British Islands only +24°C.
This evolution of weather agrees with Mkweather Summer forecasts for Europe /https://mkweather.com/summer-2021-forecast-for-europe-hot-and-dry-pattern-as-leading-heatwaves-drought/; https://mkweather.com/first-forecast-for-summer-2021-in-europe-la-nina-and-nao-hot-summer-is-probable//, when during Spring 2021, hot Summer 2021 for southern and eastern Europe, but colder for NW Europe, was forecasted.
Mkweather new Experimental forecast for Europe for the next 3 months promises the next peaks of heatwaves around 30. July and 15. and 25. August /https://mkweather.com/experimental-3-month-forecast-cfs-for-europe-the-next-peaks-of-summer-2021-around-10-7-30-7-15-8-and-25-8-september-colder-with-short-returns-of-summer//, but GFS is very hot for parts of Europe until 15. July 2021, therefore, the colder period between 15.-25. July, after the next, the 3rd heatwave, shouldn´t be so dramatic, such is described by CFS.
Measured temperatures from Wednesday, 30. June (2nd day of the peaking of current heatwave) and between the period 6.-14. July 2021, such as severe storms on a frontal boundary between heatwaves, will be topics of interest of Mkweather in the next period.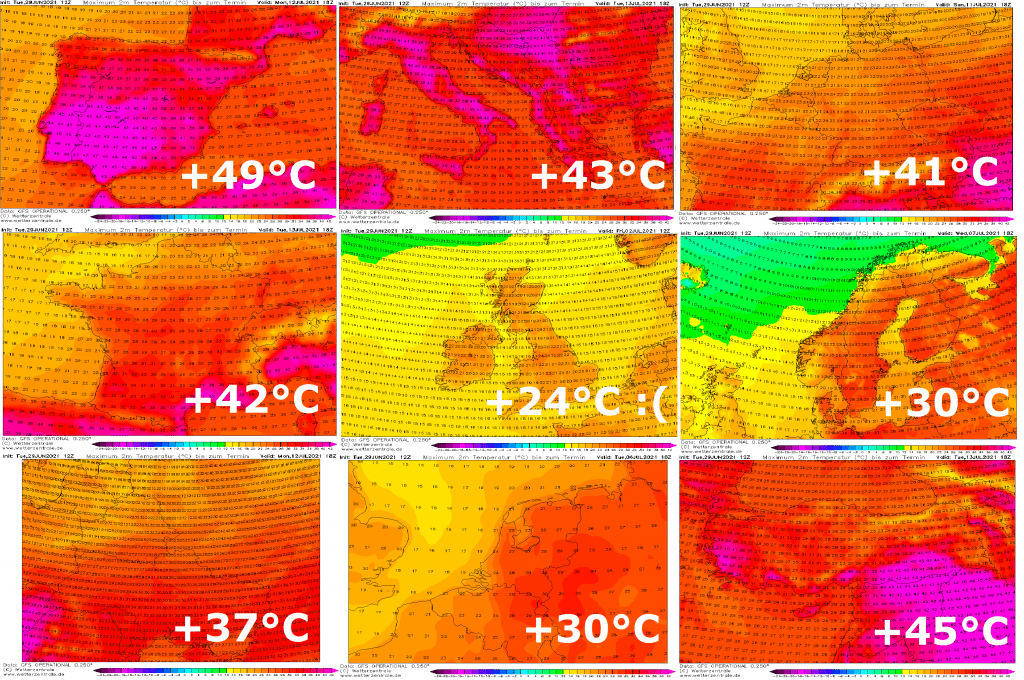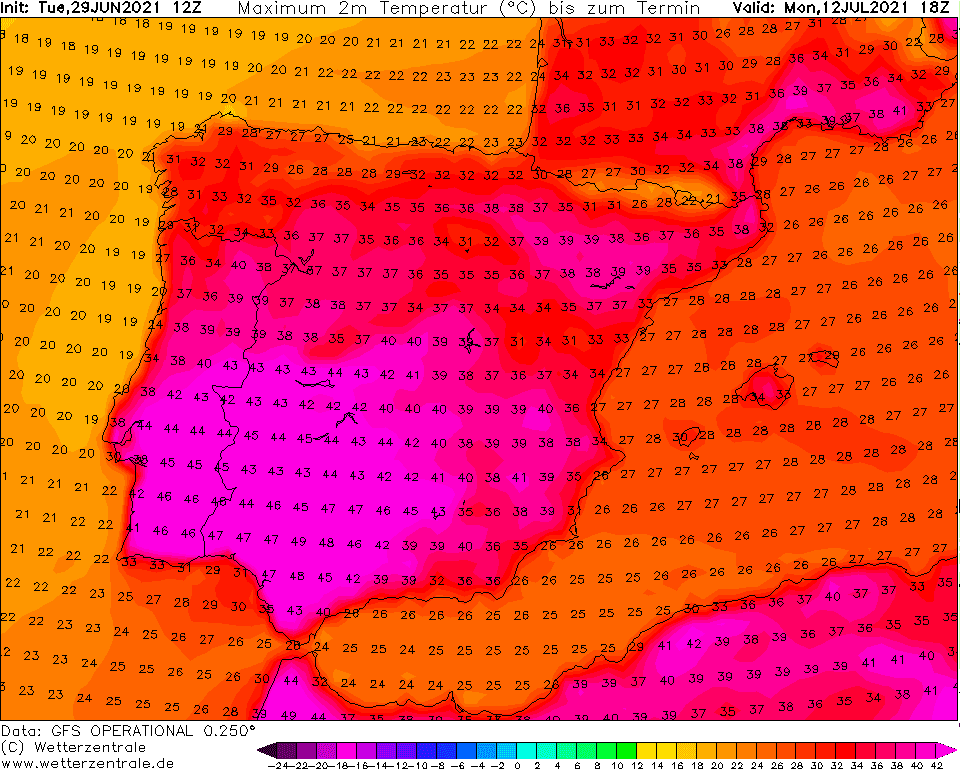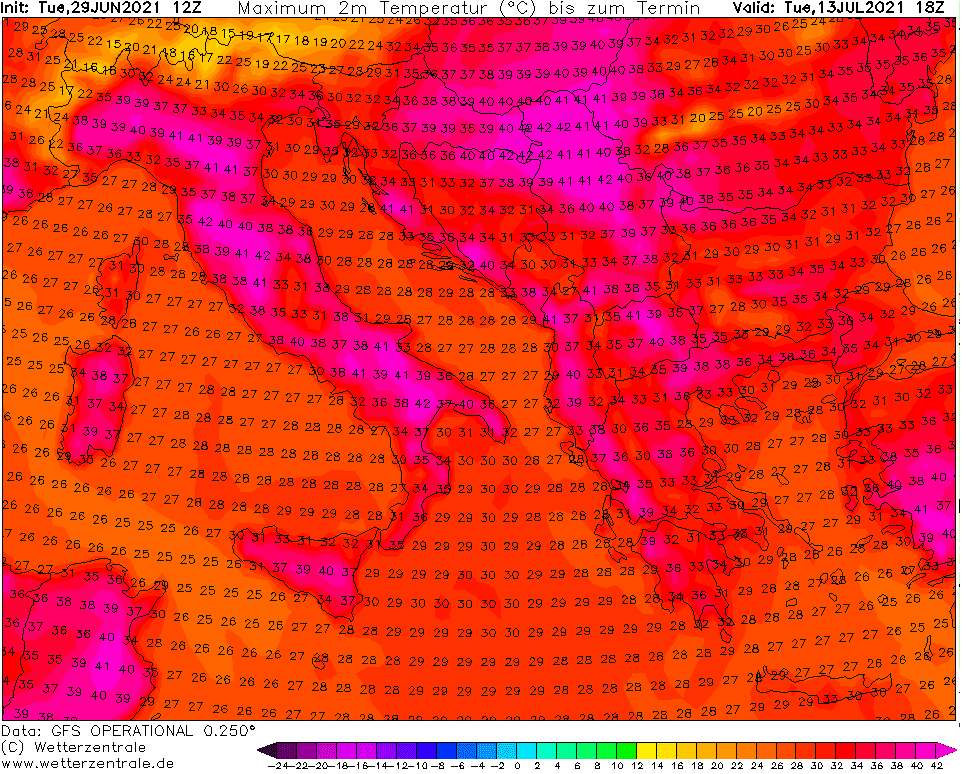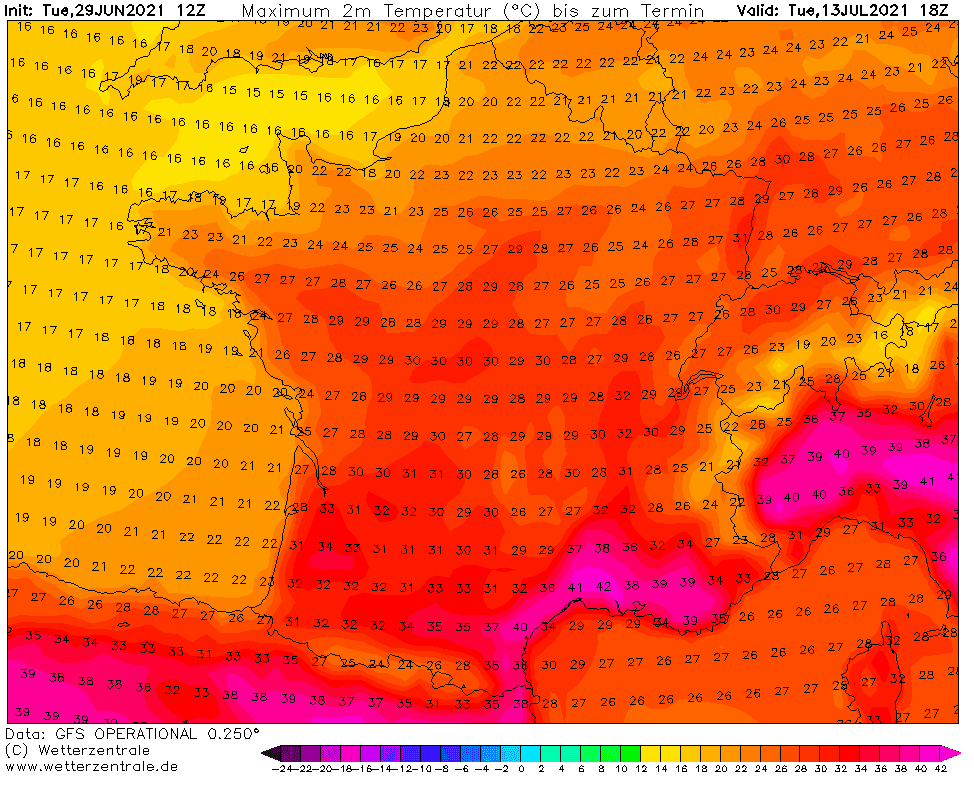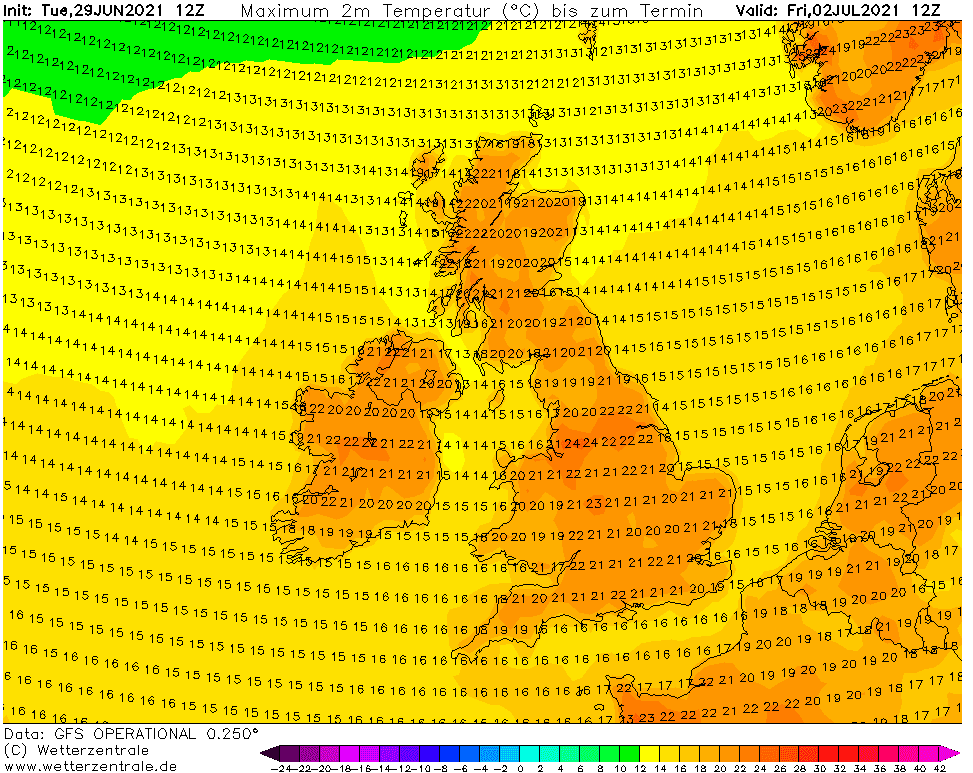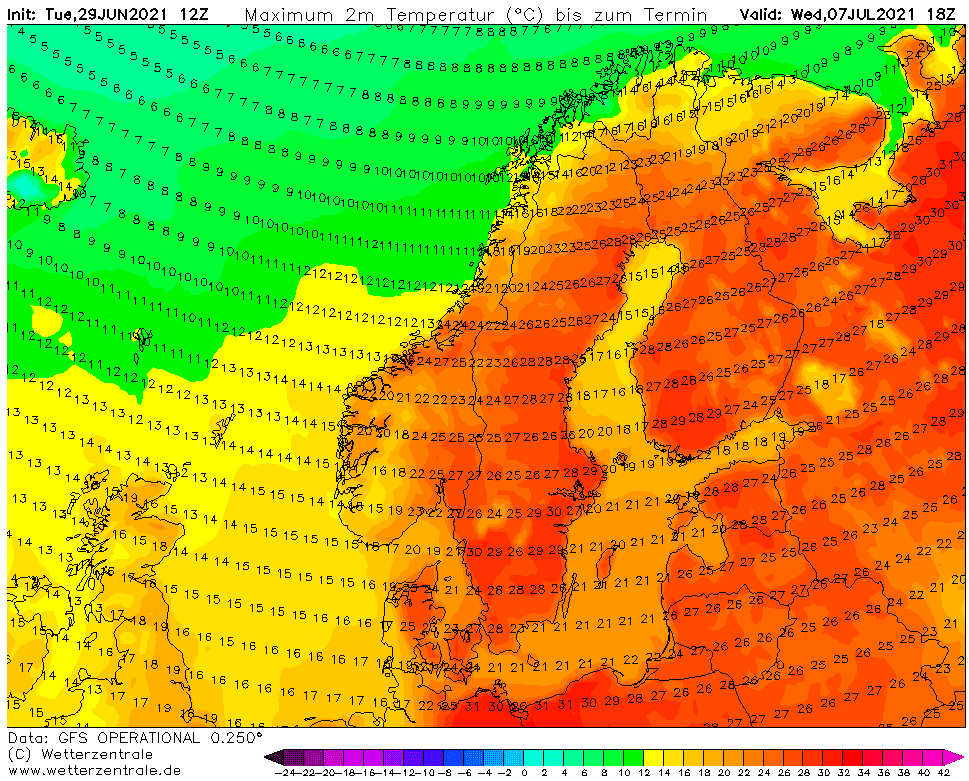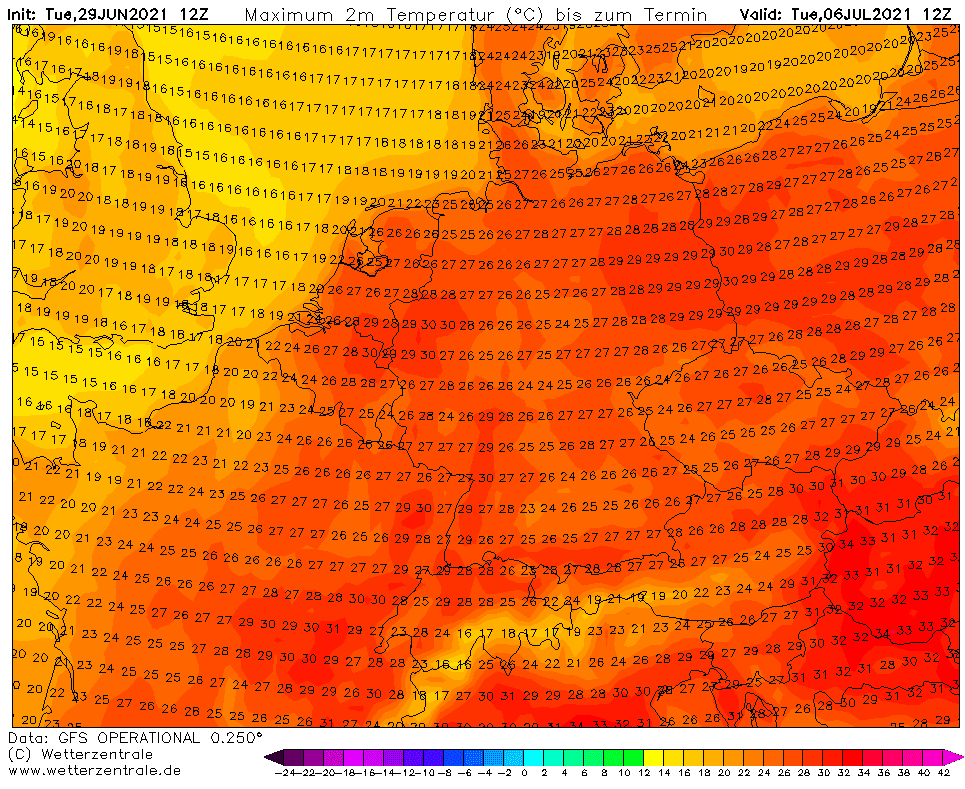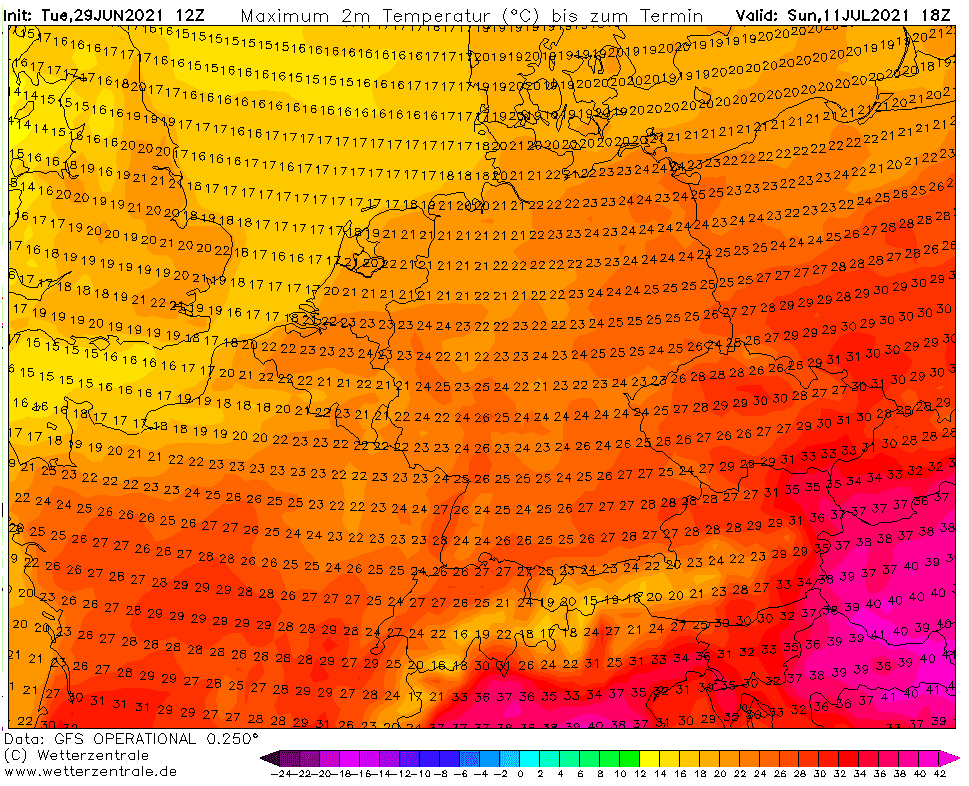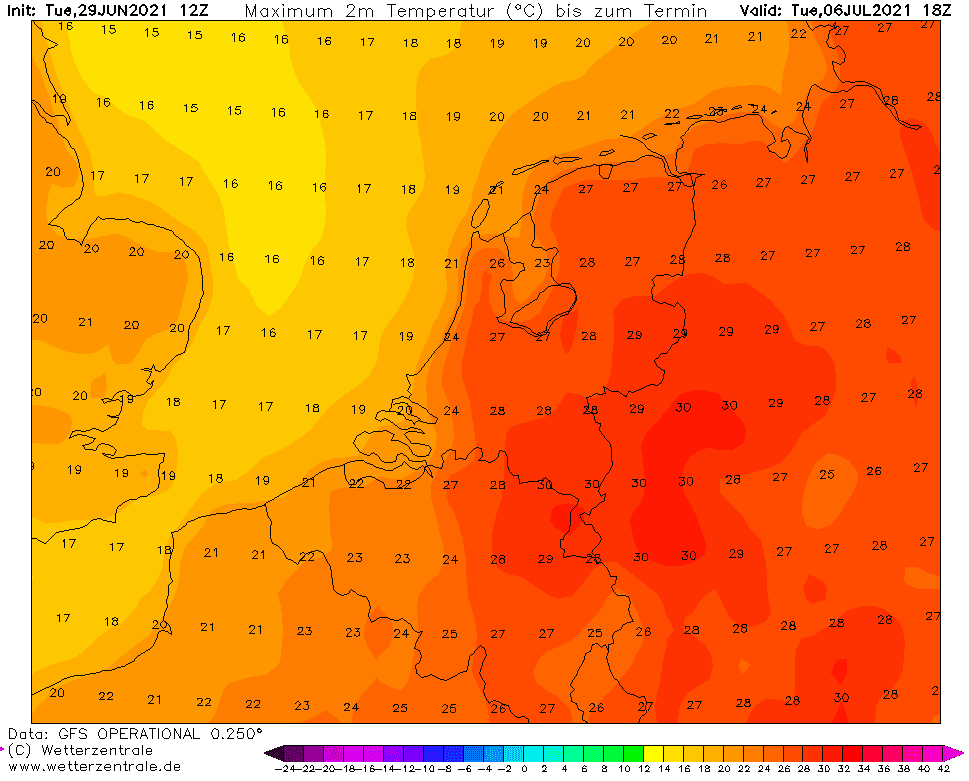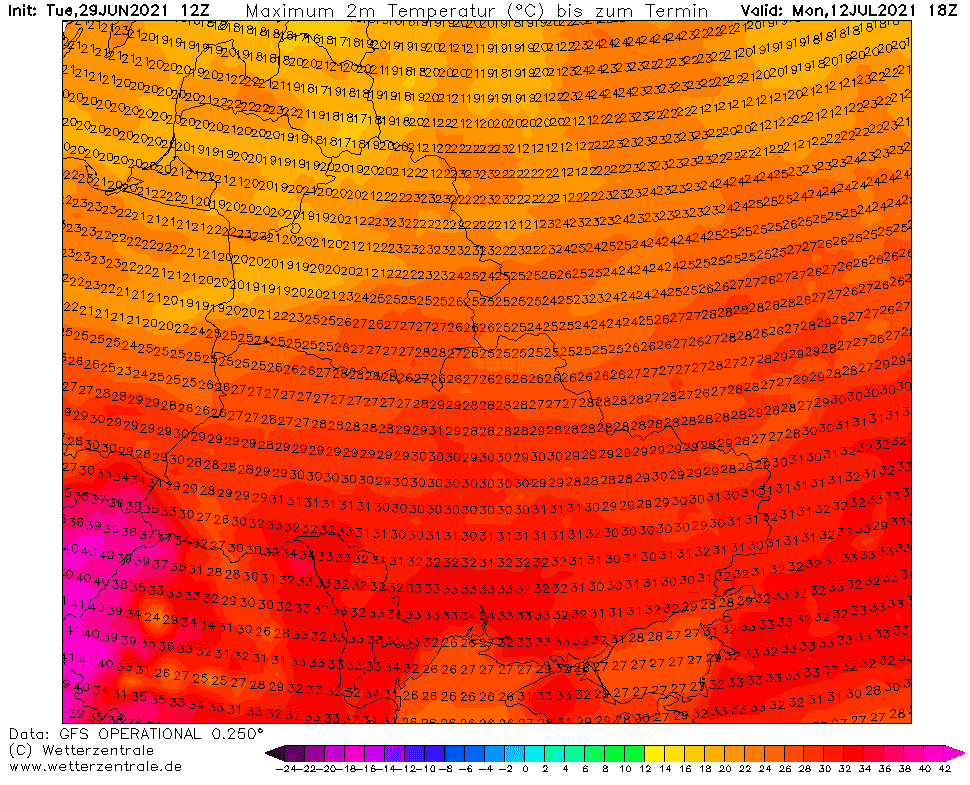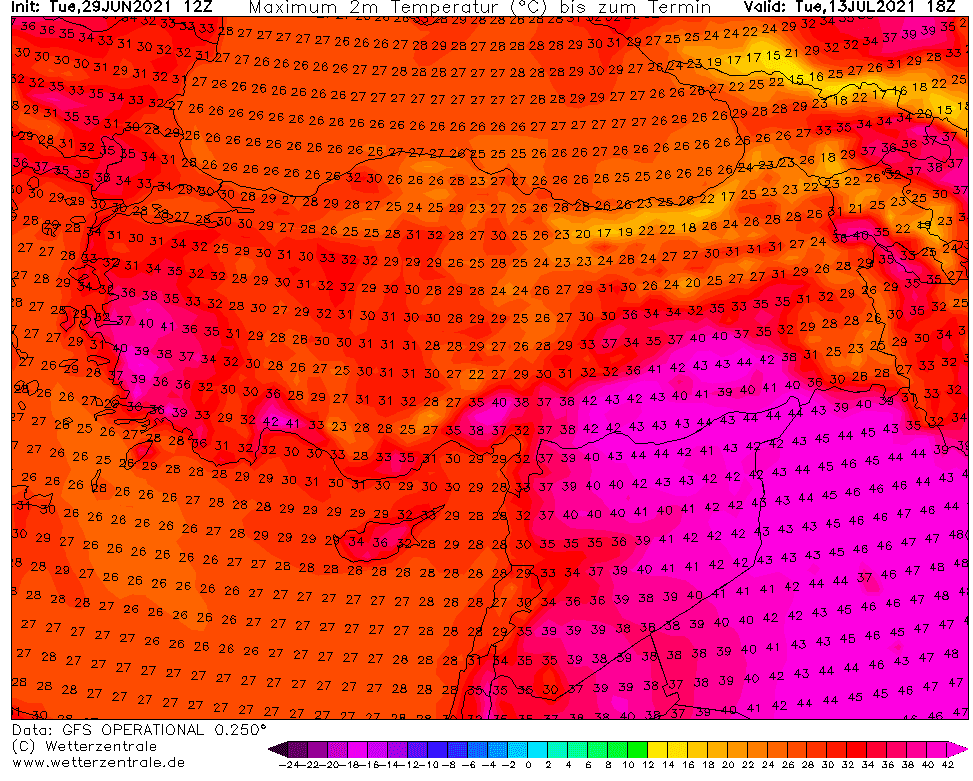 Source: wetterzentrale.de
(Visited 29 times, 1 visits today)