The coldest temperature of Winter 2021/2022 in Europe? -40/-45°C for Scandinavia around 7. January 2022!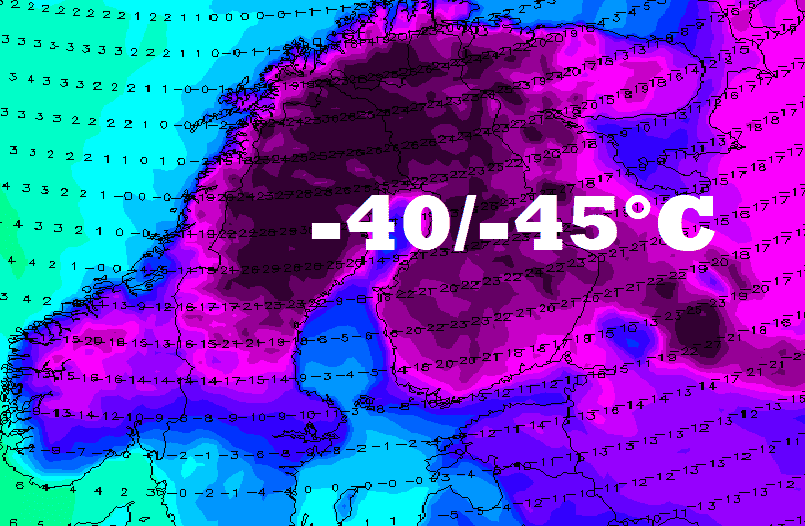 While Europe will be during the upcoming Arctic blasts warmer, and -20°C in basins and valleys in continental Europe probably won´t be reached, extremely cold air masses hit Scandinavia, where temperatures at levels of historic early-winter blasts from the start of December 2021 (European record of the winter -43,8°C, so far) /https://mkweather.com/the-worst-predictions-came-true-sweden-427c-the-lowest-temperature-in-naimakka-in-december-in-all-time-history// should be measured.
The worst situation should be again in Sweden – mainly the northern half of the country, neighboring Norway and northern Finland already around Friday, 7. January 2022.
Arctic air masses up to -20°C in 850 hPa are forecast to shift above the region, with a possibility of extreme -40/-45°C in the coldest areas.
The cold blast should hit partially Baltic countries, especially Estonia, where -20°C should be measured.
Extreme winter should hit Iceland, too, with frosts below -25°C, maybe -30°C.
Scotland should reach around -12°C and forecast frosts in England were weakened (within weather forecasts).
Continental Europe very probably reaches -15°C and lower temperatures below 1000 MASL but isn´t clear if some stations with below -20°C will appear.
Winter 2021/2022 temperature minimum for mid-latitudes, therefore, is staying a value of -24,9°C from Czarny Dunajec, Poland /https://mkweather.com/the-lowest-temperature-of-the-winter-2021-2022-in-europe-in-poland-czarny-dunajec-249c-so-far-mid-latitudes-below-1000-masl//.
Extremely cold mid-winter weather in Scandinavia should be associated with health problems, power outages, or difficulties within travel, therefore stay safe and warm.
The coldest Europan temperature of Winter 2021/2022 is still possible and Mkweather will be watching it.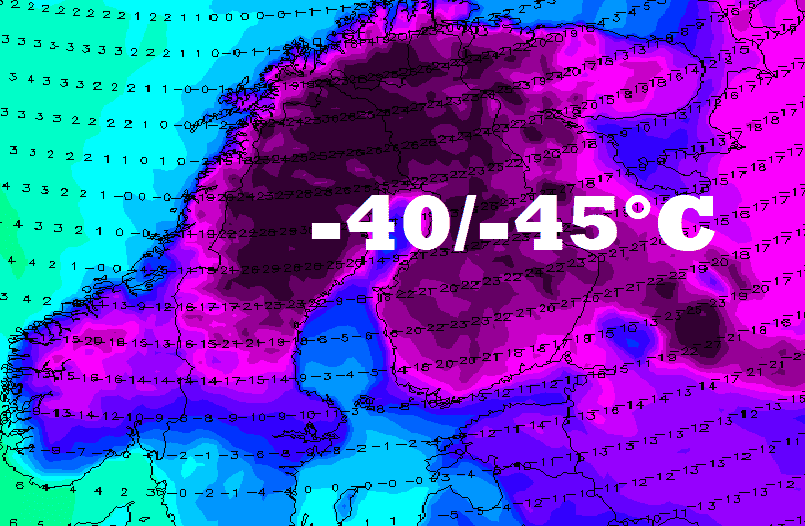 Source: wetterzentrale.de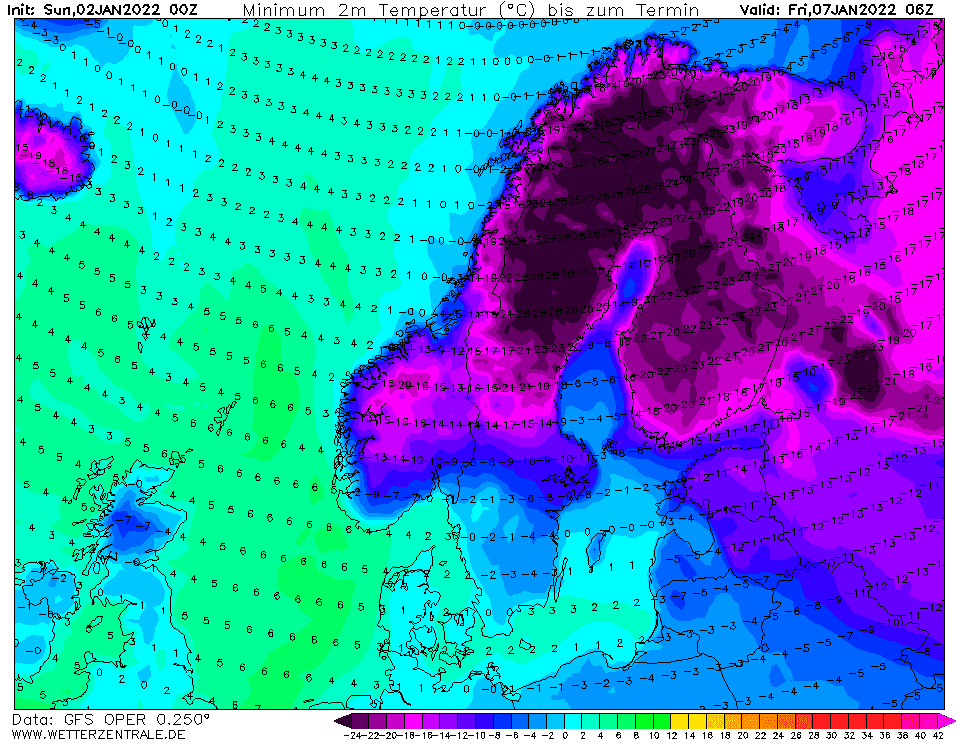 Source: wetterzentrale.de
Source: wxcharts.com