The worst predictions came true: Sweden -43,8°C – the strongest frosts in Sweden so early in the season since 1945!
MK
December 6, 2021
3 min read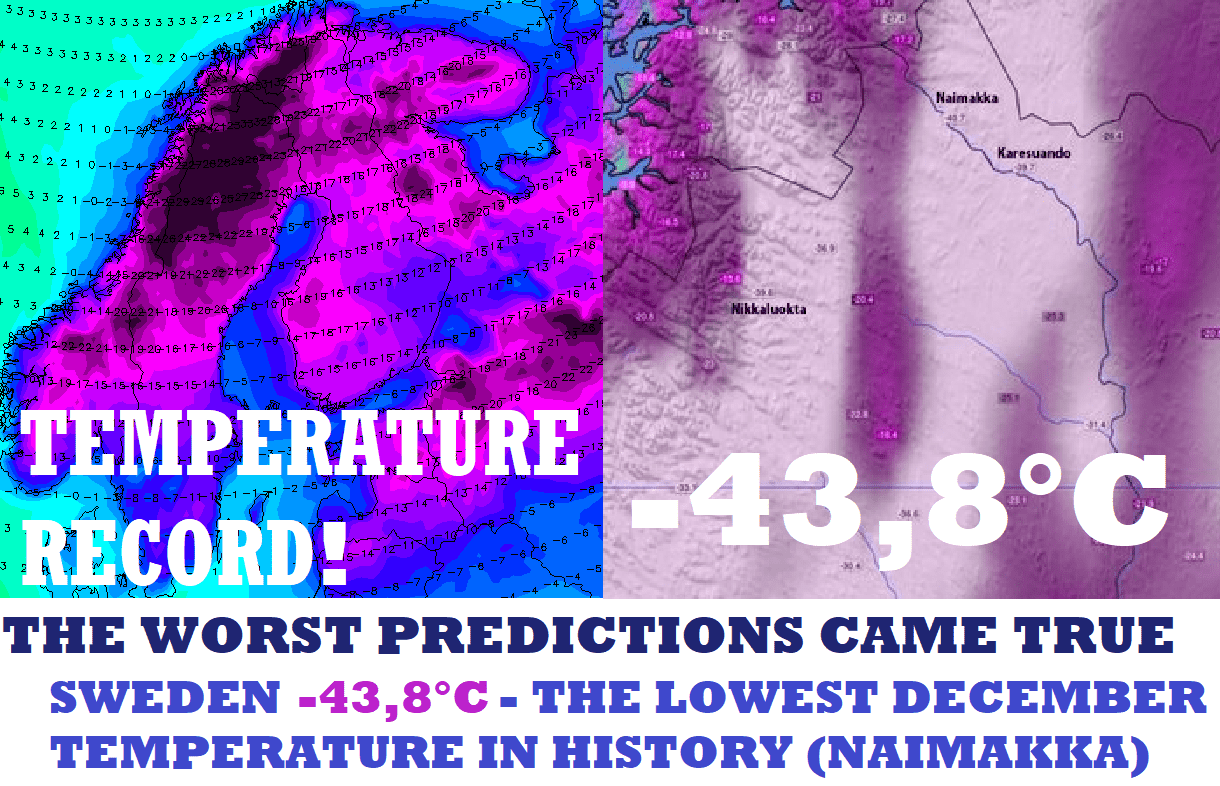 In the last period, we were informed about extreme frosts, which persist in Scandinavia since 23. November 2021.
-29,0°C was measured in Kevo, Finland already on Tuesday, 23. November 2021, the same station on Thursday, 25. November reported -32,2°C /https://mkweather.com/finland-hit-the-coldest-november-temperatures-since-legendary-2010-and-will-be-even-worse-kevo-322c-fi-karasjok-310c-no-38c-around-28-29-november-is-possible//. It was the coldest November times in Finland since the legendary year 2010.
Then winter surprised on Saturday, 27. November in north-central Sweden, where -34,7°C in Buresjön was measured /https://mkweather.com/347c-not-so-far-from-stockholm-sweden//.
The first historically cold morning has already appeared on Sunday, when -37,3°C in Nikkaluakta, Sweden. These temperatures were the coldest November times in the region since 1970-1980 – for the last 40 – 50 years! /https://mkweather.com/nikkaluokta-sweden-with-legendary-373c-the-coldest-temperatures-in-november-in-the-last-50-years//.
On 29. November, -37,5°C was in Nikkaluokta measured (update of 40-50 year temperature record), while Kaukoteino, Norway reported -36,9°C. Kevo in Finland reported -34,0°C a day earlier, on 28. November, yet /https://mkweather.com/brutally-cold-weather-in-scandinavia-legendary-frosts-in-sweden-375c-norway-369c-and-finland-340c-and-below-40c-is-forecasted-the-coldest-seasonal-temperatures-in-50//.
Already in the last article for Scandinavia, we warned before a possibility of temperatures below -40°C in the region.
The worst forecast came true and on Monday, 6. December 2021, only -43,8°C was in Naimakka, Sweden measured, which is the lowest December temperature in the city in all-time history and simultaneously the lowest temperature in Sweden so early in the season since 1945!
According to information from Sweden, it´s the lowest temperature in December in Sweden minimally since the legendary year 1996, when -42,6°C was measured in Gielas.
Nikkaluokta reported -40,3°C, Rensjon -38,1°C or Kaukoteino, Norway, -37,9°C.
Extremely cold air has shifted already above Baltic countries, where -24,9°C in Narva, Estonia was measured /the next Mkweather article/.
Extreme frosts will persist above the region almost until the half of December 2021 /https://mkweather.com/natioanl-tops-nights-below-20c-purple-15c-dark-blue-and-10c-light-blue-in-frost-basins-valleys-or-lowlands-below-1000-masl-in-europe-until-21-december-2021//, with a possible return of extremely cold conditions around Christmas and New Year 2021-2022 /https://mkweather.com/winter-in-europe-will-return-around-christmas-and-new-year-2022-especially-in-the-central-and-eastern-sector-long-term-forecast-until-10-january-2022/; https://mkweather.com/white-christmas-2021-a-big-snow-forecast-for-europe-until-10-january-2022//.
Frosts below -40,0°C should appear until the end of the current week, practically and temperature records should be even lower.
Cold weather has a bad impact on the virological situation, heart attack rates, many kinds of cancer, or should cause hypothermia.
Blizzards should cause widespread problems on roads, highways, or railways and power outages, including metropolitan areas.
If you live in /not only northern/ Europe, we highly recommend you to watch current weather news, forecasts, warnings, and advisories.