Already in the last article, we were informed about 3 Arctic blasts, which are prepared to hit the USA territory in the next 2 weeks /https://mkweather.com/the-usa-hit-3-arctic-blasts-25-10-1-11-30-10-5-11-and-4-11-10-11-2021-the-first-snow-in-many-regions-forecasted//.
An anomalously cold weather pattern is forecasted around Sunday, 31. October 2021, too, with regionally very cold Halloween conditions, mainly in central parts of the USA.
According to climate data (Source Tweet below), Halloween should in some (the coldest) years bring snowfall in many parts of the USA, including central or southern regions.
The highest probability of snow cover or snow sleets during Halloween night will be in the Rocky Mountains and Alaska – almost 100%.
Many parts of West and Southwest, including large parts of Washington state, Oregon, Utah, Nevada, Arizona, and New Mexico should surprise Arctic air with snow showers, too, during the coldest years.
Snowing or snow cover is similarly possible across the Midwest, wider Great Lakes region and Northeast, and in the mountains of Mid-Atlantic, but with relatively low probability.
Only Southeast, Texas, Florida, and California are staying mostly or fully without the snow with warmer Halloween nights, which should be paradoxically favorable for many costumes, outside activities, or parties.
On 31. October 2021, snow on Halloween is forecasted mainly for the Rocky Mountains region and cold temperature anomalies mainly above the Rocky Mountains. Northern Plains and Midwest, such as for many parts of Canada.
Very, regionally extremely cold weather is forecasted to persist in parts of the USA during the next 2 weeks, therefore will be prepared – dress warm, drive carefully and watch current forecasts, weather and virological news, weather warnings, and advisories.
Very cold or snowy weather should persist during the next period in parts of Canada, too.
Mkweather will monitor the situation and in the case of temperature or snowfall records, we will write about them on our homepage.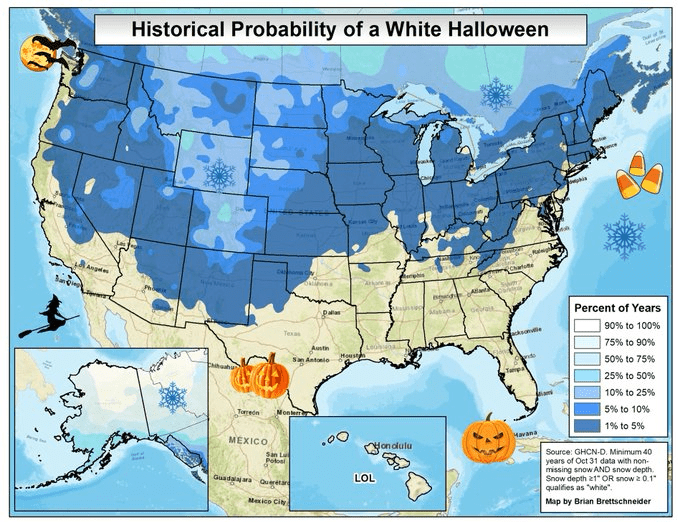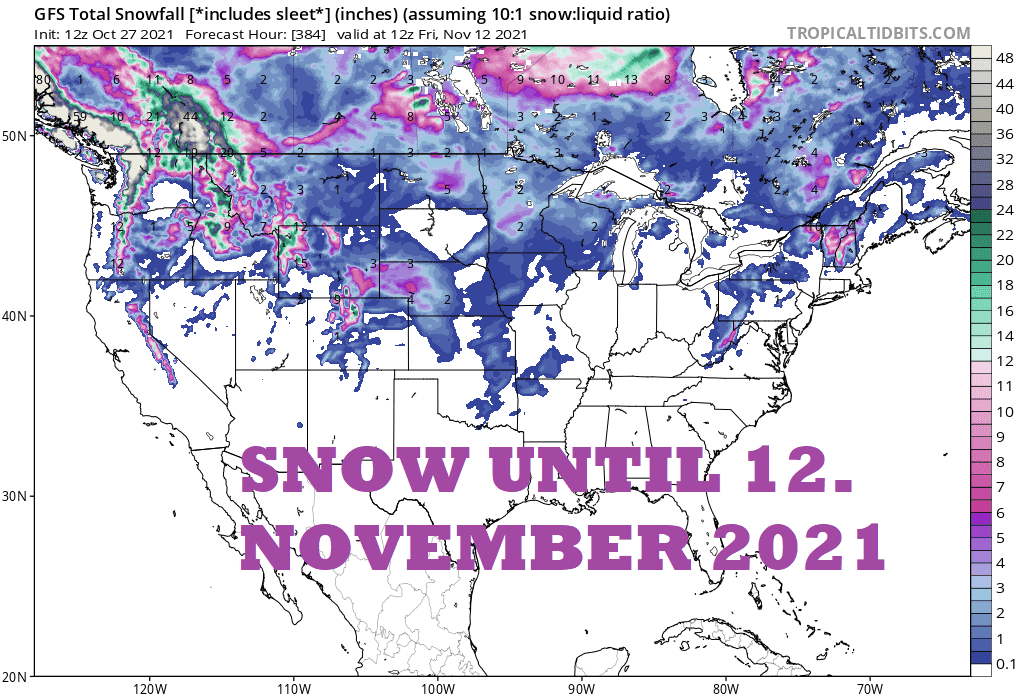 Source: https://www.tropicaltidbits.com/analysis/models/?model=gfs&region=us&pkg=asnow&runtime=2021102712&fh=384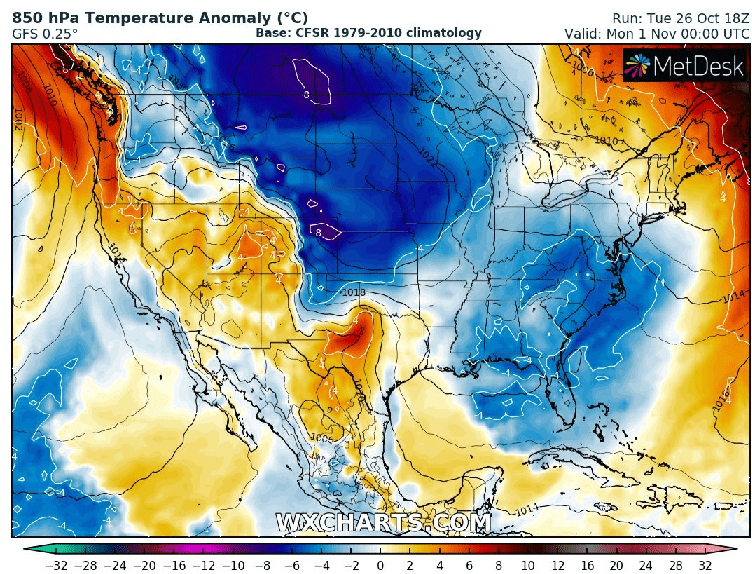 (Visited 92 times, 1 visits today)