-20°C in England and Benelux around Sylvester (31.12.) 2021?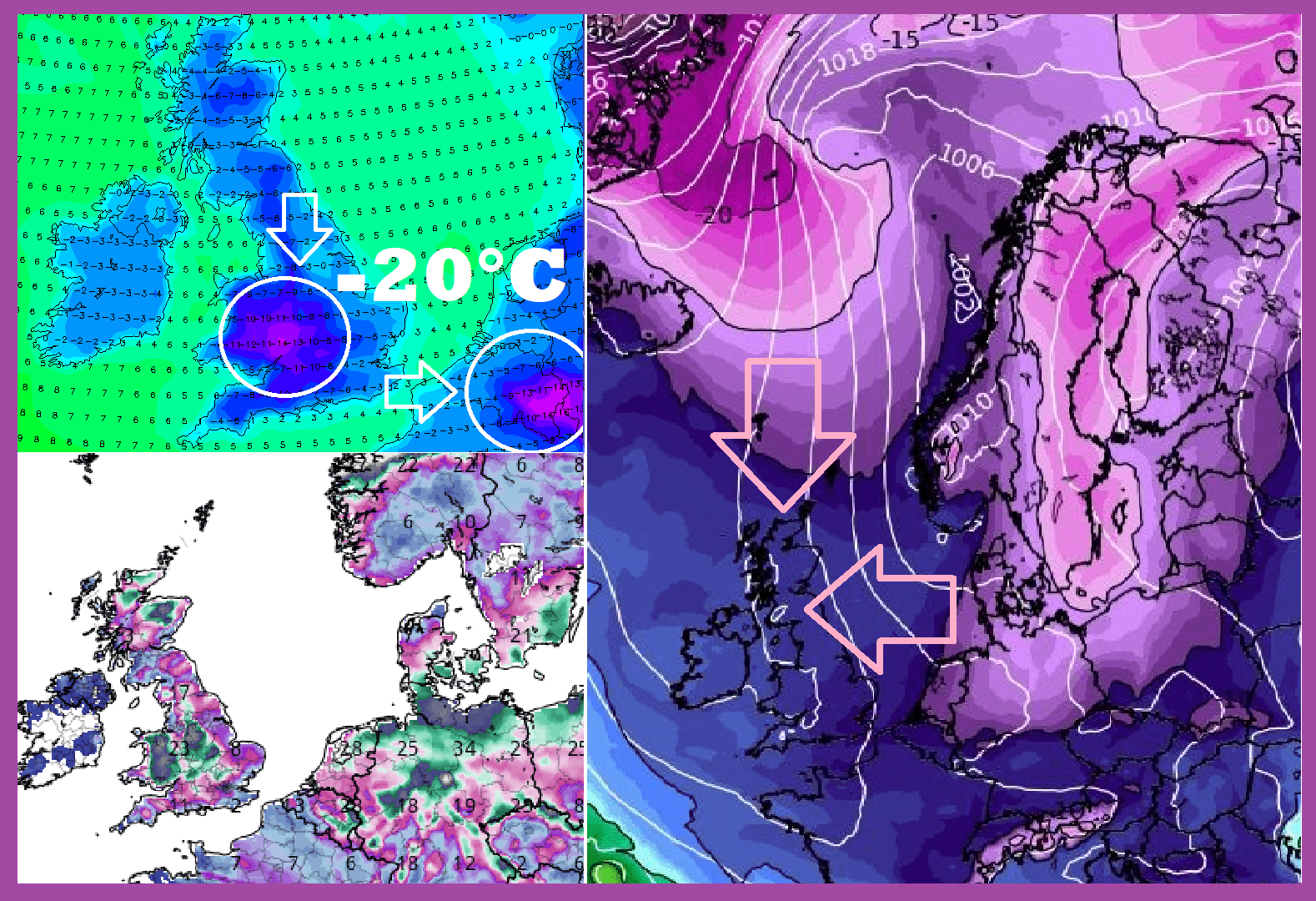 Although, Sunday´s, 19. December 2021 outputs are milder, with weaker winter conditions in Europe during a possible peak around Christmas and New Year 2021-2022, only Saturday´s, 18. December 2021 runs surprised with anomalously cold temperatures for parts of western England (and eastern Wales).
According to these outputs, with up to -15°C values on the forecast map eastward from Bristol and Cardiff, the UK, really extremely cold times should surprise regions with heavy snowfall, including western, oceanic areas in the UK.
The 12-day forecast for morning 31. December 2021 according to Mkweather estimates for a mentioned region should bring frosts up to -20°C, which is a historically low value.
A record minimum temperature for England from 13. December 1981 has a value of -25,2°C from Shawbury (Shropshire), an all-time record for England from 10. January 1982, a value of -26,2°C from Newport (Shropshire) /https://www.metoffice.gov.uk/research/climate/maps-and-data/uk-climate-extremes/.
All-time December, January, and February records of minimum temperature for Scotland have values of -27,2°C (all 3 months).
Little lower temperatures these runs of GFS returned for Belgium and Luxembourg, where below -20°C should be around the last day of 2021, measured.
Winter conditions around Christmas and New Year 2021-2022 should come in several waves – between these waves, a shorter warm period should appear.
If -20°C frosts for England or Benelux will be confirmed, we will see only in the next days, and already around Christmas, it should be clear, when a possible extreme winter blast will be peaking.
The temperature in 850 hPa should fall close to -10°C above the British Islands.
Temperature anomalies from the long-term average should regionally reach -15/-20°C – especially during the strong frosts on a deep snow cover.
Classic warnings before a worsening of health problems such as hypothermia, virological situation, heart attacks, such as power outages, uprooted trees ar problems in travel are expected.
According to ECMWF, anomalous winter is forecasted to continue maximally until 10. January 2022 /https://mkweather.com/a-long-term-forecast-for-europe-until-31-january-2022//, then, relatively warmer = temperature neutral or warmer period above the British Islands until the end of the month is possible.
An expected peak of Winter 2021/2022 around New Year was forecasted in our Winter 2021/2022 forecasts for Europe and North Hemisphere /https://mkweather.com/winter-2021-2022-forecast-for-northern-hemisphere/; https://mkweather.com/winter-2021-2022-forecast-for-europe-early-extreme-arctic-and-siberian-blasts-and-blizzards-late-dry-and-very-warm-conditions//.