An imagination of weather regimes in Europe between 5.2.-20.3.2022: NAO+, European Blocking, Remnants of the winter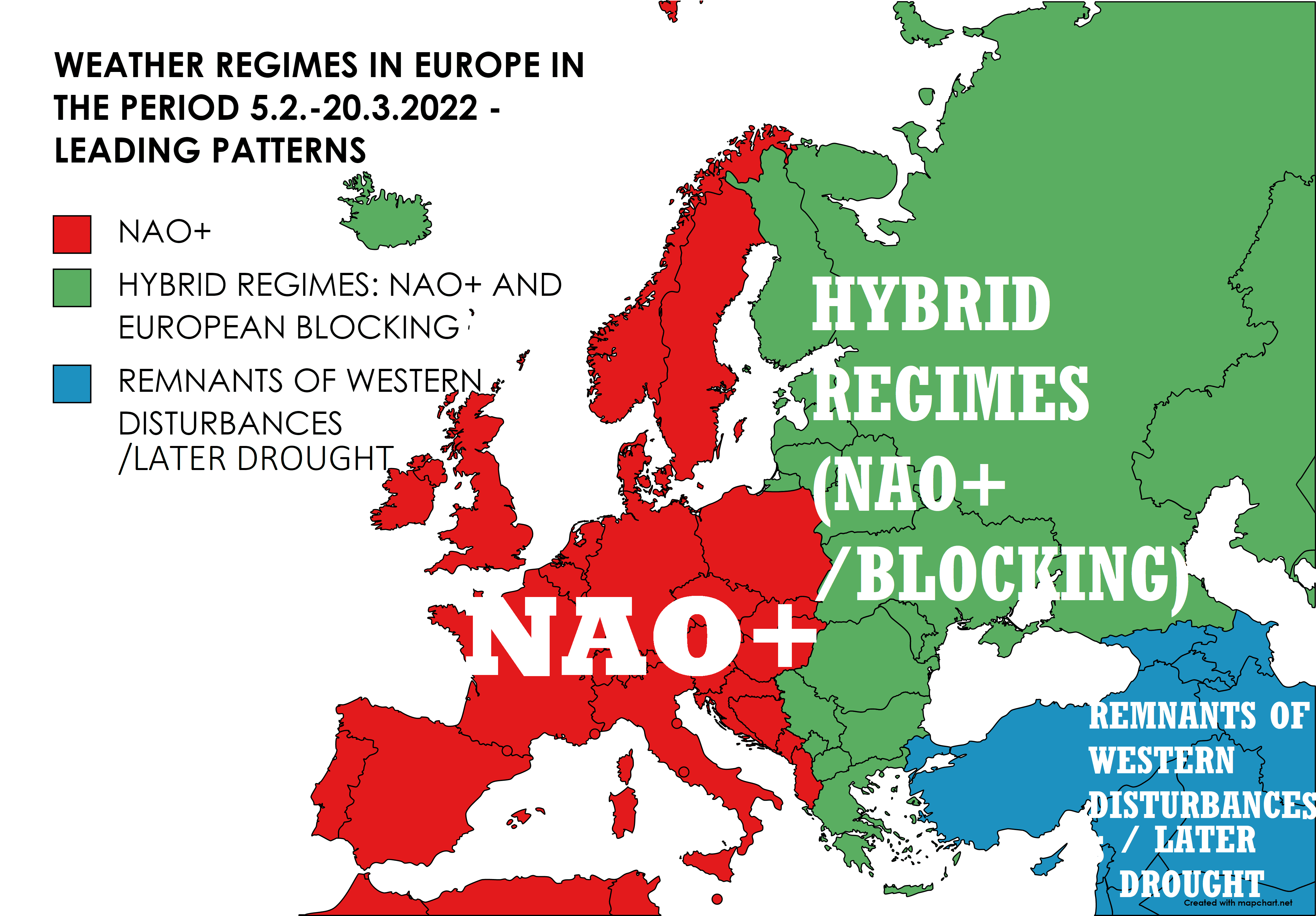 We have already written more articles about the possible effects of NAO+ phases in February and March 2022 we have written already more articles /e.g. https://mkweather.com/early-spring-is-coming-nao-with-blocking-admixtures-will-bring-very-warm-february-and-march-2022-in-europe/; https://mkweather.com/ecmwf-6-week-forecast-for-europe-temperatures-up-to-22c-in-mid-latitudes-and-28c-in-the-mediterranean-in-february-and-25c-30c-in-march//.
What is however important is, that although NAO- will be totally limited, leading NAO+ (blue columns on the graph below) will be alternating with blocking admixtures (red columns in the graph below), which should mean temporary coldwaves mainly for the eastern half of Europe.
NAO+ leading pattern is represented by the powerful Azores high with widespread effects mainly in the western half of Europe, while its effect into eastern parts is more limited.
Above eastern parts of the continent, pressure troughs with Arctic blasts on their backsides are often possible, although Azores highs are temporarily shifting far above the continent.
Therefore, while the western half of Europe should experience long-term early-spring weather, the eastern half should reports something such as hybrid regimes, with alternating warm spells from the west and cold blasts from the north.
The preliminary ratio of NAO+ and Blocking leading pattern appears to be close to 4:3 in favor for NAO+ until 20. March 2022, so far.
Colder periods are more probably in February 2022 and in March, longer NAO+ times, with a possible first summer days (+25°C) in European mid-latitudes.
Strengthening Atlantic ridge is in outlook, too, NAO- will stay in anomalously limited probability.
In the northern Middle East and Turkey, remnants of the previous NAO- and blocking regimes will be continuing, with some Western Disturbances, later drought.
If NAO- would appear in the next period, Arctic blasts would be a reality in western Europe, too, NAO- is favorable for extreme winter across almost all continent.
On the map below, leading patterns of weather regimes in Europe are described – note: hybrid regimes should temporarily reach more westward, but their strength will be in western regions more limited.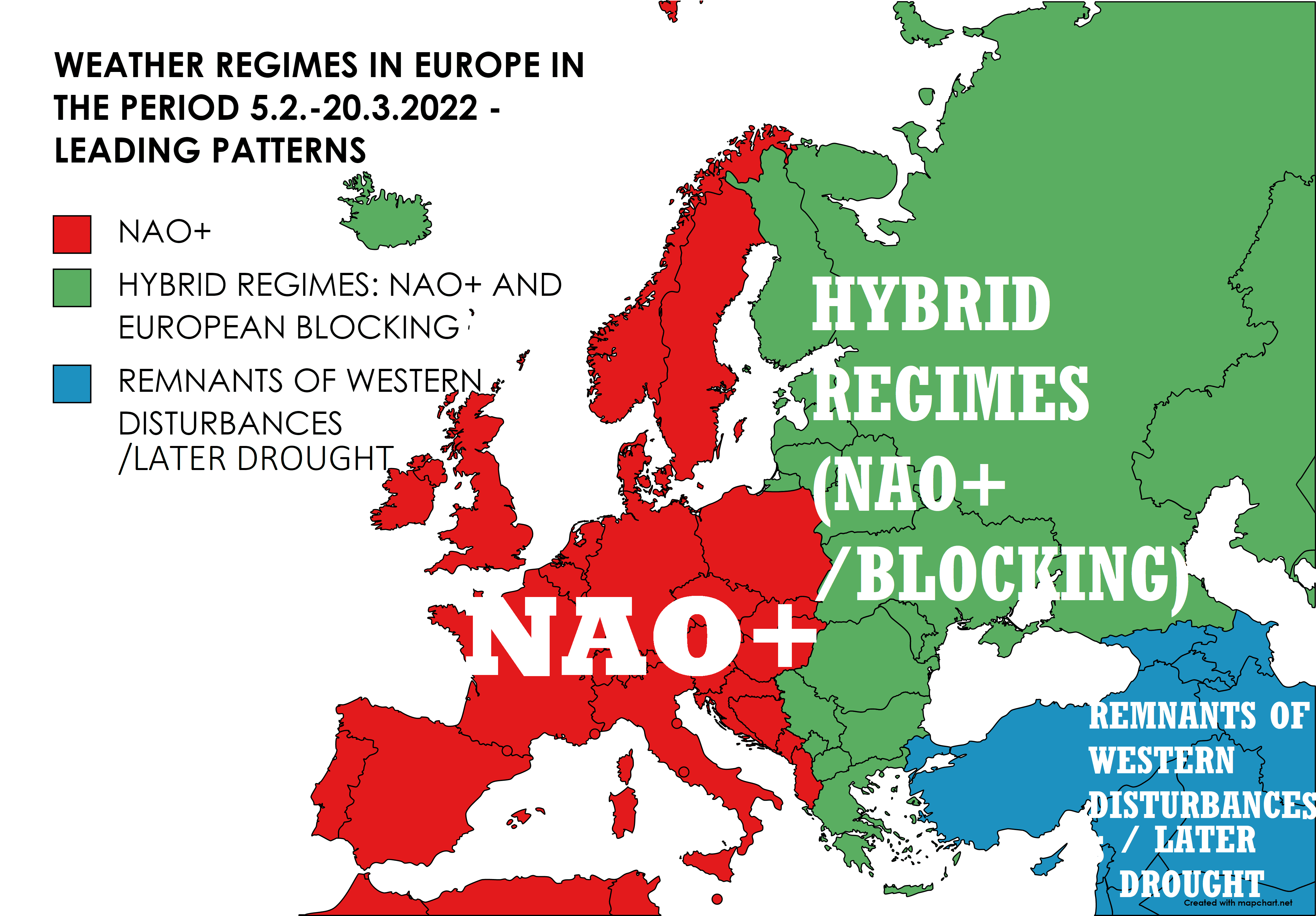 A possible imagination of weather regimes in Europe between 5.2.-20.3.2022 in Europe /Basemap: mapchart.net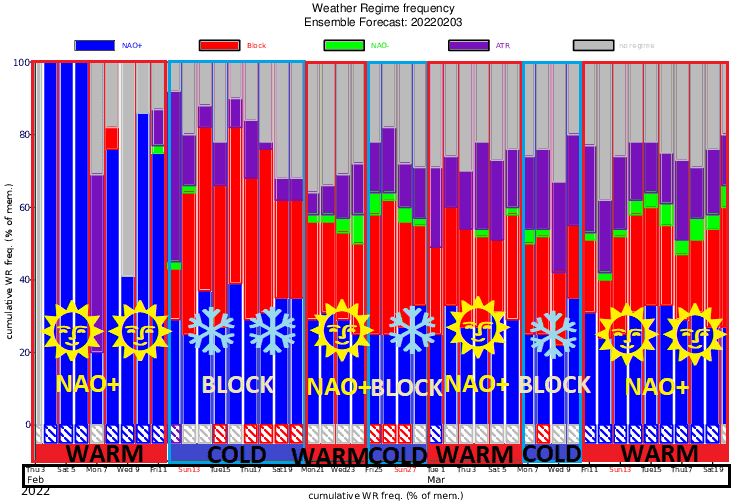 A preliminary estimate of warm/relatively colder regimes (lack of NAO-) in Europe until 20. March 2022. Source: https://apps.ecmwf.int/webapps/opencharts/products/extended-regime-probabilities?forecast_from=latest