A historic Siberian winter in Balkan! Montenegro with an all-time national record, Kosanica, -33,4°C!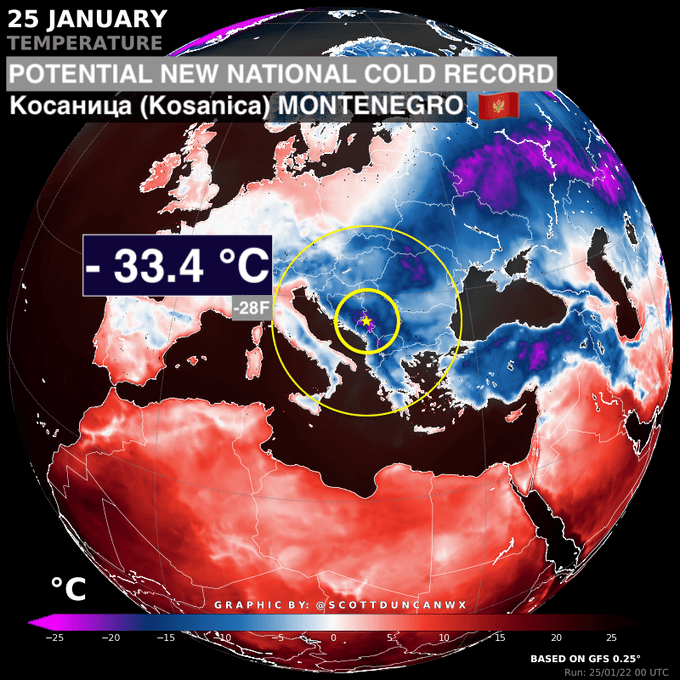 In a series of the next around 7 articles, we will look into a peak of Winter 2021/2022 in parts of Balkan, Greece, Turkey, Ukraine, and East-Central Europe.
The worst frosts across the continent hit according to the newest information untraditional Montenegro.
In Kosanica village, 1320 MASL, the minimum temperature dropped to only -33,4°C, which is the new potential national record of the lowest temperature in history in the country!
A previous record, -32,0°C was measured in January 1985 in Rožaje.
From bigger cities, Plevlja, 784 MASL, reported only -19,7°C, which is 12°C temperature lower than January long-term average.
Extreme frosts up to -31,1°C were reported from Serbia, too /the next Mkweather article/, below -20°C reported almost all Balkan, Ukraine, East-Central Europe, Greece and Turkey (here up to -39,7°C: https://mkweather.com/extreme-frosts-hit-kurdistan-397c-in-turkey-and-274c-in-iran-gaziantep-with-05-meters-of-snow-3000-vehicles-stuck-in-a-blizzard/) in the last days, especially on Monday and Tuesday, 24.-25. January 2022, in valleys.
Moreover, Greece and Turkey hit historic blizzards /the next Mkweather articles/, the worst in more than 50 years (Greece) or ever (Turkey).
According to estimates from forecast models, temperatures in 850 hPa above Montenegro dropped at the night from 24. to 25. January up to -21°C, which is an exceptionally low temperature for western Balkan.
Extremely cold air masses are in the next period forecast to shift further to the east and southeast, with powerful winter conditions in Ukraine, Turkey, the Caucasian region, NE Africa, and the Middle East.
On 26. January 2022, the coldest air masses will shift above southeastern Serbia, Romania, Moldova, Ukraine, Bulgaria, North Macedonia, Greece, and Turkey, on 27. January 2022 above Ukraine, European Russia, and Turkey, on 28. January 2022 above Caucasian region, Turkey and European Russia, and on 29. January 2022, the next cold blast will start from the Carpathian region, shifting eastward and southeastward.
Then, cold blasts will be continuing minimally until 3. February 2022 and should return after 7. February 2022 in the mentioned wider region.
In Turkey and Middle East, extremely cold conditions should persist until March 2022 /https://mkweather.com/300c-in-iraq-children-in-refugee-camps-are-crying-from-extreme-winter/; https://mkweather.com/6-week-ecmwf-forecast-for-europe-until-7-march-2022-early-spring-is-coming//.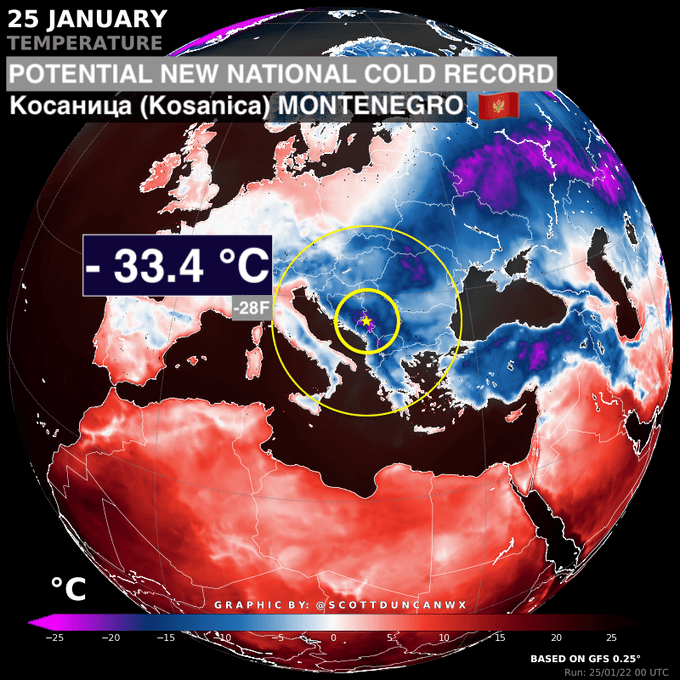 Illustration picture: Scott Duncan (Scott DuncanWX) Twitter, Capital Weather Gang Twitter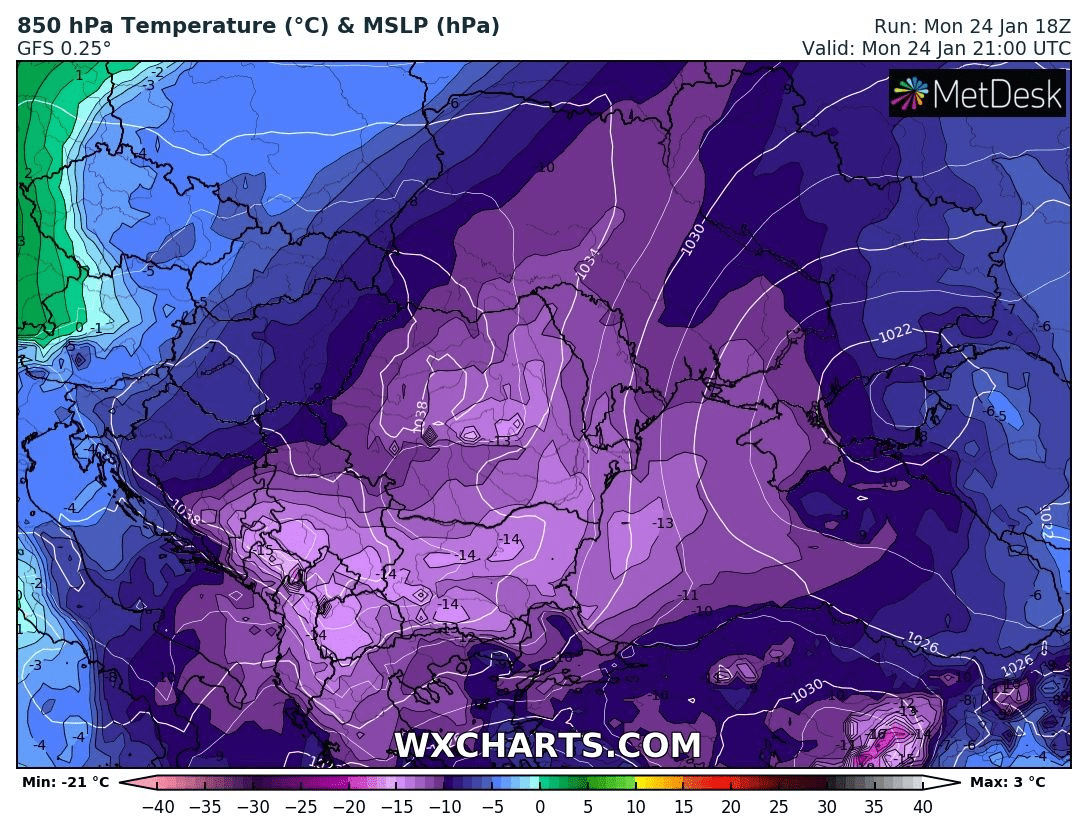 T850 hPa above the region on 24.1.2022 in the evening /wxcharts.com