An EF1 tornado in Kiel, Germany, 7 injured!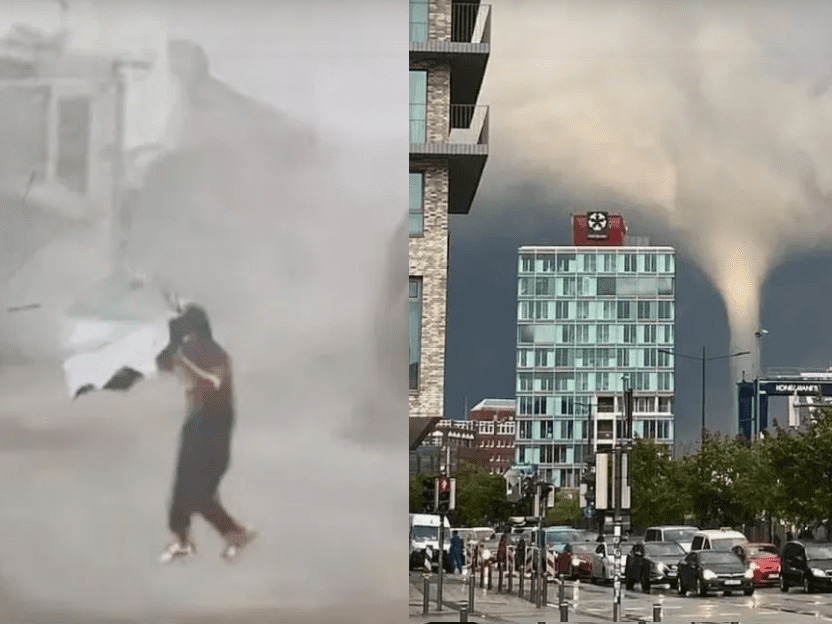 Wednesday, 29. September around 15:40 – 15:45 hit Kiel, the northern coast of Germany devastating tornado – firstly waterspout, which reach the land.
A vortex blown away 7 people (injured), swept them into the water and 3 people are seriously injured.
Tornado was in the ESWD database /https://eswd.eu// recognized such as EF1 with impacts: ": Road(s) impassable or closed, Damage to roof or chimney, Large tree branch(es) broken, Tree(s) uprooted or snapped".
The second, short-lived tornado over water parallel to the first tornado in the port area of ​​Kiel, near Holtenau appeared approximately 5 minutes after the first whirl.
In reports on ESWD is further wrote: "Tornado originated in Kiel-Meimersdorf, causing damage to trees and roofs. Several people were thrown into the water at the Kiel port area. After that, the tornado moved ashore again causing more damage in Düsternbrook. Ground contact was also observed near Holtenau (over water). 7 people were injured, 3 seriously."
ESWD offers several sources (links) referring to an event, too /https://eswd.eu//.
Central Europe is experiencing a relatively powerful cooldown these days, associated with a shift of cold front eastward, regional heavy rains and this, surprising, late-season tornado.
In previous days, Germany reported summer days up to +27,1°C /https://mkweather.com/from-10c-in-greece-to-352c-in-france-after-extreme-temperature-changes-floods//, which should be a reason of accumulated energy above coastal, warmer seas.
After a cooldown, maximum temperatures only +5/+10°C are during some days in the first decade of October 2021 forecasted /https://mkweather.com/the-1st-half-of-october-2021-in-europe-any-indian-summer-but-without-snow-rains-will-be-shifting-from-nw-to-se-sector-days-with-daily-temperatures-only-5-10c-in-some-regions//.
Tornado risk is now shifting mainly to Mediterranean countries, where cold weather will come later, during the first 2 weeks of October 2021 – mainly in Italy and the Adriatic region, or later, Greece or Turkey.