BREAKING! Catastrophic floods hit Spain! Toledo, Valencia, Barcelona, Majorca regions are completely flooded! Tourists in a danger!
Cold Arctic air has shifted already into Southern Europe and while Balkan and Greece reported in the last days extremely cold mornings /https://mkweather.com/the-extremely-cold-air-is-already-in-southern-europe-greece-61c-north-macedonia-48c-romania-slovenia-34c-croatia-30c-2-3c-above-all-time-august-records//, Spain hit only in the last hours extreme floods, however, flooding situation has started here before a few days.
Before floods in Southern Europe Mkweather warned early, a few days ago /https://mkweather.com/flood-risk-in-the-southern-half-of-europe-in-the-next-period-cooldown-already-brought-floods-in-marseille-and-barcelona-regions-france-spain//.
Many provinces in Spain are in struggle and warnings before heavy rain are valid almost for all northern and eastern parts of the country, including the Balearic Islands.
The worst situation is in Barcelona, Valencia, Zaragoza, Toledo and Majorca regions, where were captured breath-taking videos and photos in Tweets below.
In Freginals, Catalonia, 112 mm of rain fell only in 3 hours on 1. September 2021 according to ESWD.
Valencia in the last 3 days (31.8. – 1.9. 2021) reported 94,6 mm of rain, Castellon according to many sources received around 152 mm of rainfall (6 inches) in a short time. In Villafranca fell 78,4 mm in 4 days until 2. September 2021, Zaragoza received 40,6 mm so far and still is heavy raining, Navacerrada received 106,4 mm in the last 48 hours, Alto De Los Leones 86,7 mm in the last 48 hours.
From Alcanar, 77 mm / 30 min is reported!
In some lower situated regions, e.g. Bielsa (990 MASL), the maximum temperature dropped below +20°C already (+18,4°C at the mentioned station), and Madrid reports the coldest day since 21. June 2021, with the maximum temperature only +23,3°C. San Sebastian reported maximum temperature only +21,3°C, Burgos +23,9°C or Zaragoza +25,4°C.
From southern regions, Barcelona reached the maximum temperature only +26,0°C, in Valencia +28,3°C, Ibiza +29,0°C, Murcia +29,8°C, or Alicante +29,9°C was measured and in the next days, daily temperatures should be even lower, regionally below summer value +25°C in holiday destinations.
Until 18. September, heavy rains and storms are expected mainly in northern Spain, but downpours with flash floods in central parts will be still possible /map below/. Storms into northern provinces should bring after 12. September ex-hurricane Larry /https://mkweather.com/the-first-significant-ex-hurricane-in-europe-possible-hurricane-category-4-larry-should-bring-danger-to-america-then-should-aim-towards-the-uk-france-ireland-benelux-norway-spain-or-portugal// – forecasts will be soon updated on Mkweather.
If you live in the region, watch current news, forecasts, warnings, and advisories, because the flooding event is expected to continue on Thursday – Friday, 2.-3. September, yet.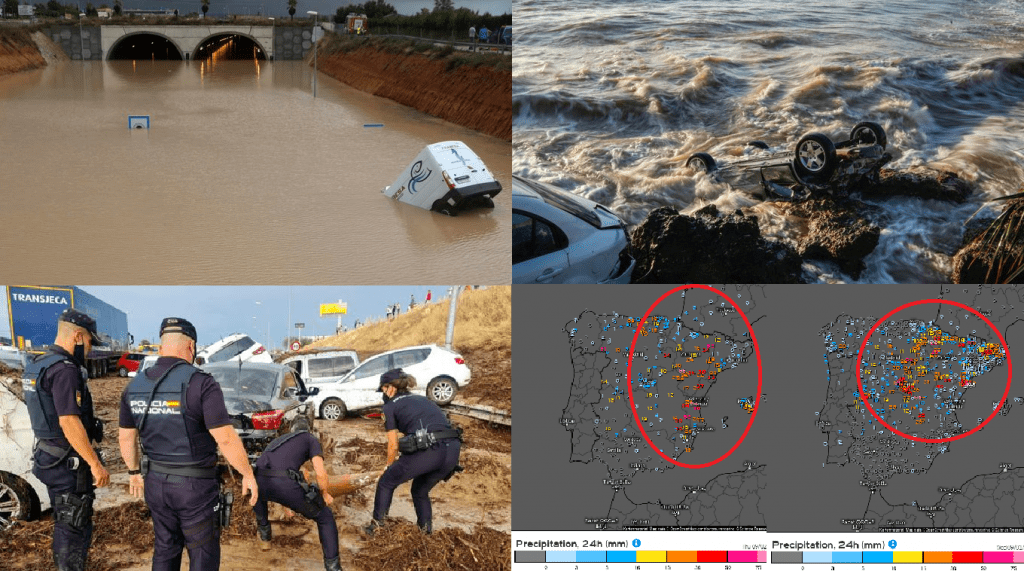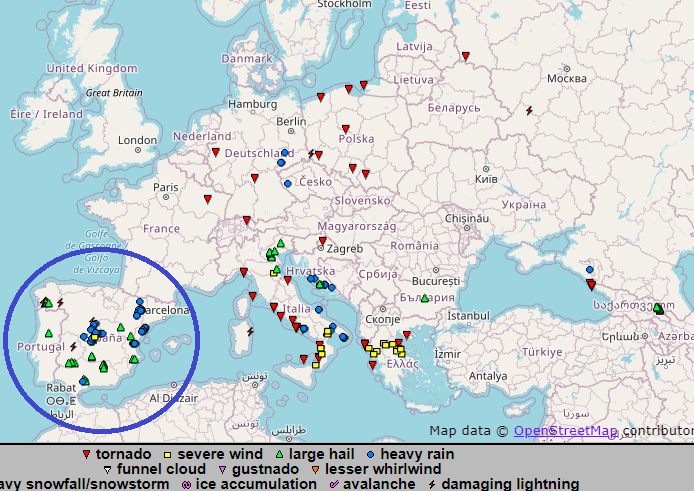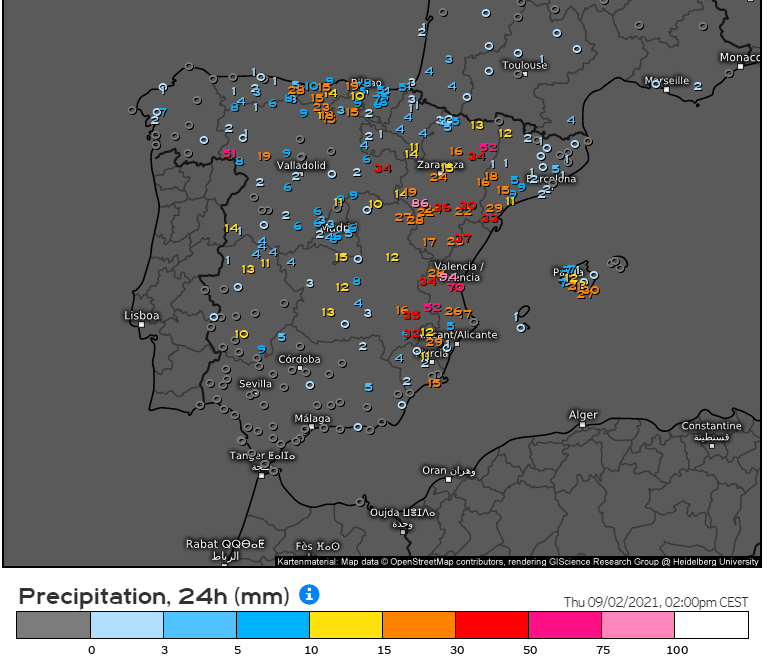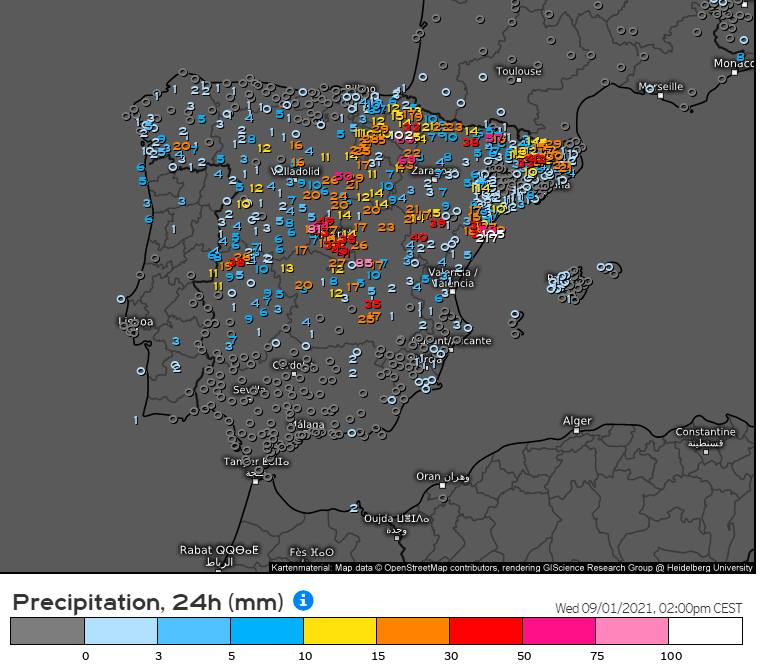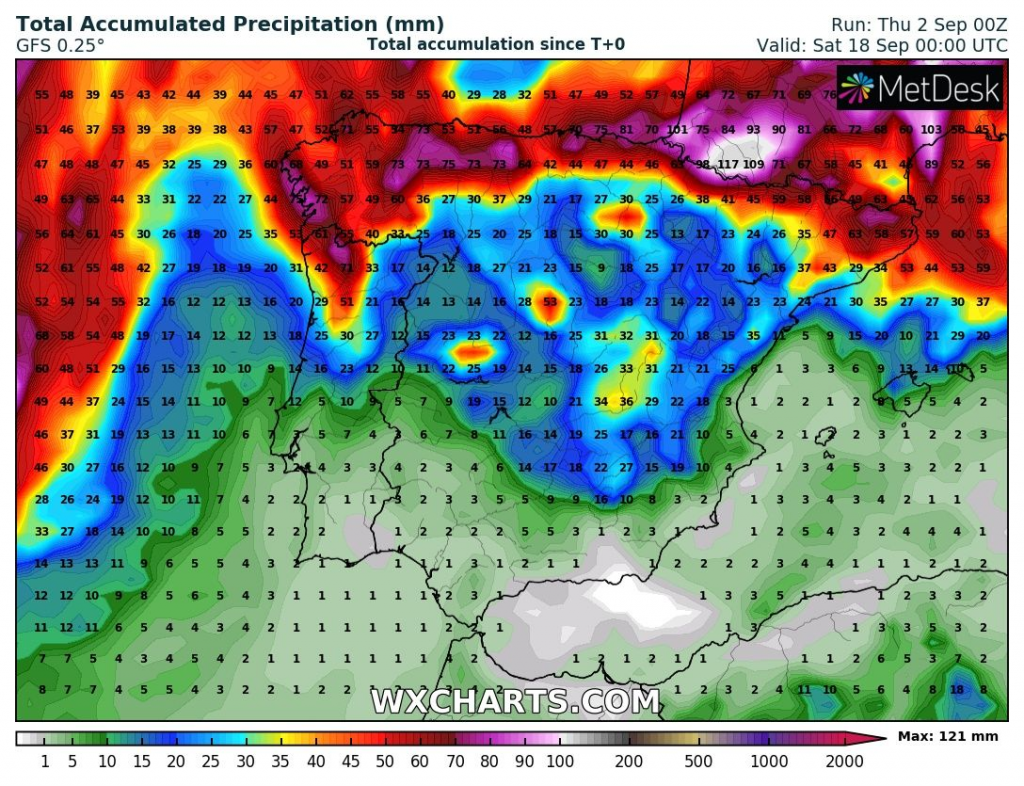 Source: wxcharts.com