Colombia and Venezuela with the next deadly floods, rain season and cold pattern soon above Amazon and northeastern Brazil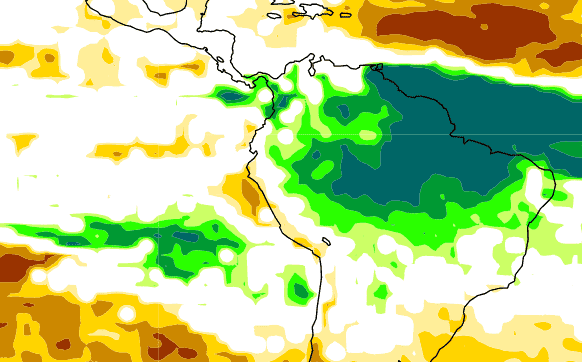 A short report from flood events in northern South America we are bringing in the next Mkweather article.
Floods at the end of August and at the start of September 2021 hit Taganga, Santa Marta, Colombia, with widespread damages.
Big problems were reported in the last period in Western Venezuela, too, with a result of 20 dead and 1200 destroyed homes.
According to the 16-day forecast, severe storms will continue in Colombia and Western Venezuela, such as parts of Ecuador, Peru, and northwestern Amazon, and too Central American countries until 23. September 2021.
However, according to Mkweather 6-week and Autumn 2021 / Winter (in Southern Hemisphere oppositely) 2021/2022 forecasts, rain season will gradually shift above northern Brazil, mainly eastern Amazon and northeastern Brazil, where below-average temperatures and strongly above rainfall is in the next months forecasted /https://mkweather.com/long-term-ecmwf-6-week-forecast-until-18-october-2021-europe-north-america-world/; https://mkweather.com/spring-2021-forecast-for-south-america-floods-and-drought-in-many-regions/; https://mkweather.com/winter-2021-2022-forecast-the-first-reliable-estimates-extreme-cold-blasts-from-canada-and-western-siberia-snow-in-western-europe-and-eastern-asia-la-nina-qbo-to-qbo-shift-sufficient-nao-ao//.
Meanwhile, the central and southern parts of South America should be in the next weeks and months very hot.
This behavior is typical for La Nina phases – La Nina is expected to persist until Summer 2022, then, El nino from Autumn 2022 is predicted /https://mkweather.com/2022-2023-forecast-chances-for-el-nino//.