An open data of ECMWF for the public sector offers a 6-week forecast for parts of the World and therefore, we should currently look at the last – the 6th forecasted week (ending by 20. December 2021) and then estimate the evolution of the move of predicted air masses a few days ahead, until 24.-25. December 2021.
The first estimates for Christmas 2021 from the previous outputs we were published here: https://mkweather.com/the-1st-forecast-for-christmas-2021-warm-christmas-in-europe-north-america-and-asia/.
The first preliminary forecast for Christmas 2021 for Europe we published here: https://mkweather.com/forecast-for-christmas-2021-in-europe-the-first-preliminary-estimates-a-possible-warm-weather-in-northern-and-western-and-colder-in-southern-and-eastern-europe/ (from the same outputs such as this forecast).
In North America, 2 warm sectors will be persisting before Christmas – one above the Rocky Mountains and northern Mexico and one above Eastern Canada, Great Lakes, and Northeast, while
Southeast and Northwest in the USA and Central and Western Canada such as Alaska should be approximately a week before the Christmas temperature neutral or colder.
Warm or very warm temperature anomalies should be until 24.-25. December according to our estimates shifting eastward or northeastward – above easternmost shores of Canada or Labrador and on the other hand, above Midwest, Texas or southward from Great Lakes / above Northeast.
Colder air masses from northwestern parts of the continent should shift more southward and westward – above Ontario on the east and above Southwest, the USA, or the western Rocky Mountains on the south.
It´s possible, that Alaska stays very cold before Christmas and during Christmas, too, but there is a little chance for warming.
The biggest probabilities for white Christmas will be therefore according to very preliminary estimates above Northwest, Rocky Mountains or along the border region of the USA with Canada, such as in Central and Western Canada and Alaska and mountainous regions in Southwest, the USA.
Midwest, Texas, Northeast, or easternmost Canada appear warmer, without significant winter surprises, so far.
The next update of the ECMWF 6-week forecast already brings temperature estimates for the period 21.-28. December 2021 – this forecast will be available already around 12. November 2021 and Mkweather then will update Christmas forecasts, again.
The last Winter 2021/2022 forecast for the Northern Hemisphere with a lot of interesting links you will find here: /links for all latest Mkweather winter forecasts here: https://mkweather.com/winter-2021-2022-forecast-for-northern-hemisphere-an-awakening-solar-activity-la-nina-neutral-nao-ao-wet-mjo-and-iod-to-drier-mjo-and-iod-qbo-ne-pacific-warm-blob-aao// – the upcoming winter is forecasted to peak in North America around February 2022.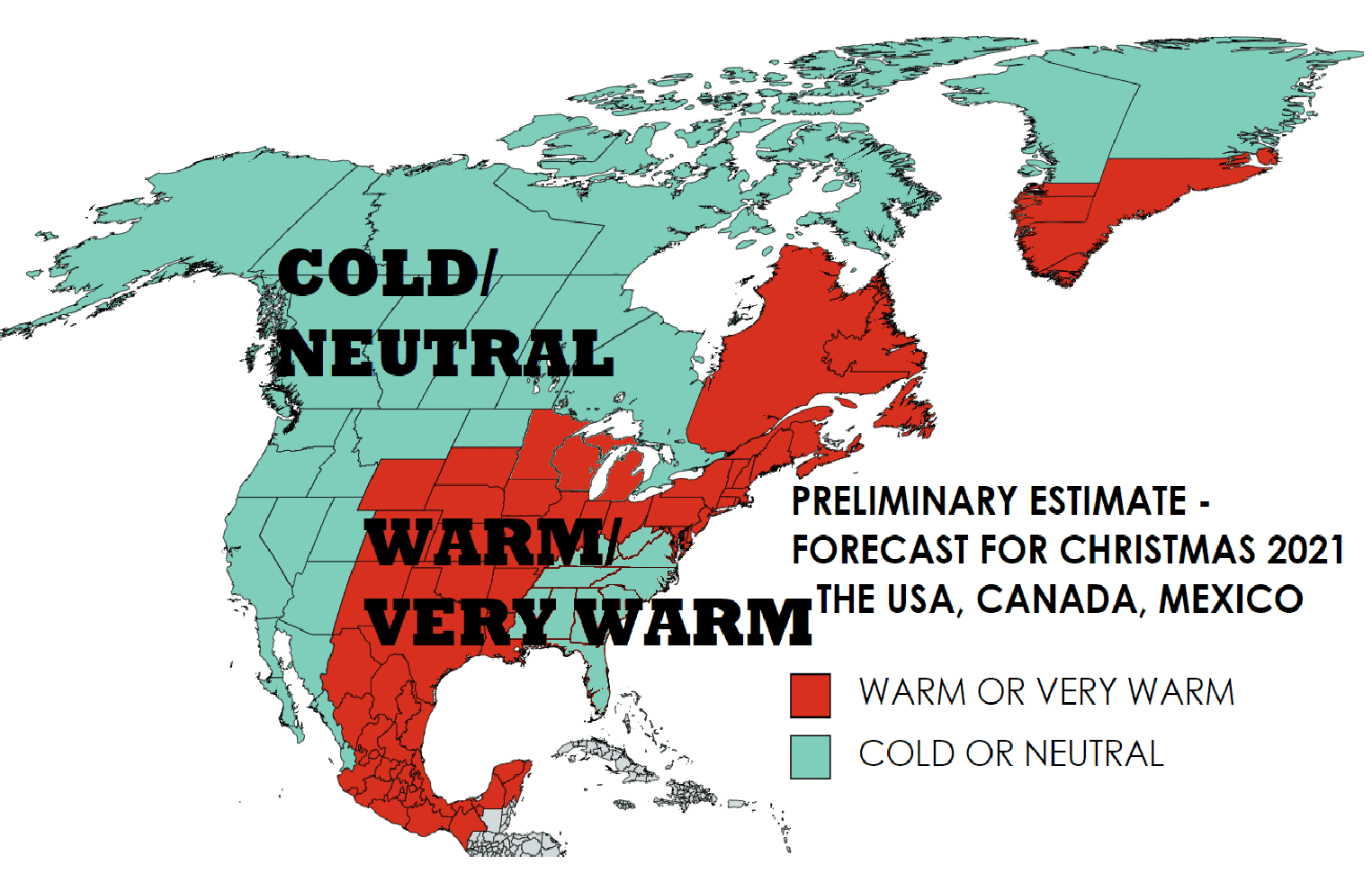 The very similar preliminary forecast for Christmas 2021 – the USA, Canada and Mexico
(Visited 156 times, 1 visits today)