While continental Europe is suffering very cold weather /https://mkweather.com/statistics-the-coldest-measured-temperatures-in-europe-during-the-august-2021-coldwave// and in Scandinavia, the next severe frosts are forecasted at the weekend /https://mkweather.com/record-frosts-in-scandinavia-10c-at-the-weekend-4-5-september//, southeasternmost parts of Europe in the East Black Sea region report hot temperature records.
Very interesting is reached minimum temperature on 30. August 2021 in Kutaisi, Georgia, unbelievable +31,4°C! Near temperatures like these are very hard to sleep and people, such as nature are suffering big heat stress.
Maximum temperature in the same city reached on 29. and 30. August 2021 +38,2°C.
Measured maximum temperatures are only 1,8°C below August's all-time record for the city and minimum temperature around 12°C above August's long-term average.
Extremely hot was in the Black Sea region in Ukraine, too – Chornomors´ke reported on 29. August +37,5°C, which is only 3,7°C below the all-time (August) record, but 4,8°C above the all-time September record for the city, therefore very probably record value for the end of August.
Even hotter was in in the last period thanks to this heatwave in Cizre, Turkey, record +47,5°C /https://mkweather.com/cizre-turkey-475c-it-has-never-been-so-hot-so-late-shush-iran-519c//.
Hot weather in Eastern Europe will be soon replaced with cold anomaly /https://mkweather.com/ecmwf-6-week-temperature-forecast-europe-north-america-world//.
Overall, colder and stormy Autumn 2021 is in this part of Black Sea coast forecasted /https://mkweather.com/autumn-2021-forecast-for-asia-strong-monsoon-for-s-se-e-asia-hot-and-dry-in-the-middle-east-late-siberian-cold-blasts-in-w-siberia-and-snow-calamities-in-e-siberia//.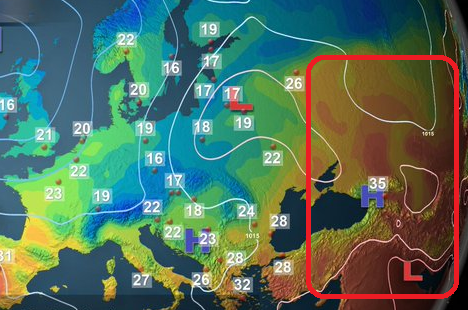 (Visited 25 times, 1 visits today)