Cizre, Turkey: +47,5°C! It has never been so hot so late! Shush, Iran, +51,9°C!
Extremely hot weather has already shifted from the Mediterranean above Turkey and the Middle East, where record hot temperatures are bothering inhabitants and people on vacations.
The most extreme temperatures were observed in the last days in Turkey and Iran, where never has been so hot so late in the summer season.
In Cizre, Turkey, on Saturday, 28. August, +47,5°C was measured, which is only 1,6°C below a new all-time national record for Turkey from this year /https://mkweather.com/all-time-record-in-turkey-491c-the-heatwave-is-deadly//.
In Shush, Iran, anomalous +51,9°C was in the last days measured, what is one of the highest temperatures measured on Earth in 2021.
All-time national records however were broken in many Mediterranean countries in the last weeks – Spain (+47,4°C) /https://mkweather.com/montoro-spain-474c-all-time-national-record-madrid-the-hottest-day-in-history-427c//, Italy (+48,8°C) /https://mkweather.com/siracusa-italy-488c-european-all-time-temperature-record-was-broken// or Tunisia (+50,3°C) /https://mkweather.com/tunisia-503c-the-highest-temperature-in-the-country-in-modern-history//, extremely hot was in Greece (+47,1°C) and Balkan, too /https://mkweather.com/greece-471c-only-09c-below-european-record-north-macedonia-441c-bulgaria-425c-and-tirana-albania-422c-all-time-record-while-wildfires-are-raging-across-all-mediterranean//.
Waves of abnormal heatwaves hit since Spring 2021 in many parts of North Africa, too, with a peak in the last weeks – now all this air has shifted above Turkey and the northern Middle East.
NAO+ conditions in the first half of Autumn 2021 should bring very hot and dry times in the Middle East and Turkey, only cold and stormy Black Sea region is in northern Turkey is expected /https://mkweather.com/autumn-2021-forecast-for-asia-strong-monsoon-for-s-se-e-asia-hot-and-dry-in-the-middle-east-late-siberian-cold-blasts-in-w-siberia-and-snow-calamities-in-e-siberia//. Hot and dry will stay above Saharan states, too /https://mkweather.com/spring-autumn-forecast-for-africa-mostly-hot-and-dry-parts-of-sahel-equatorial-africa-stormy-and-south-africa-stormy-and-cold//.
16-day precipitation outlook see storms for Turkey, coasts of Syria, Lebanon, Israel and Egypt, northern Iran, Yemen, Oman, and southwestern Saudi Arabia, but large parts of the Middle East stay very dry and hot until 15. September 2021.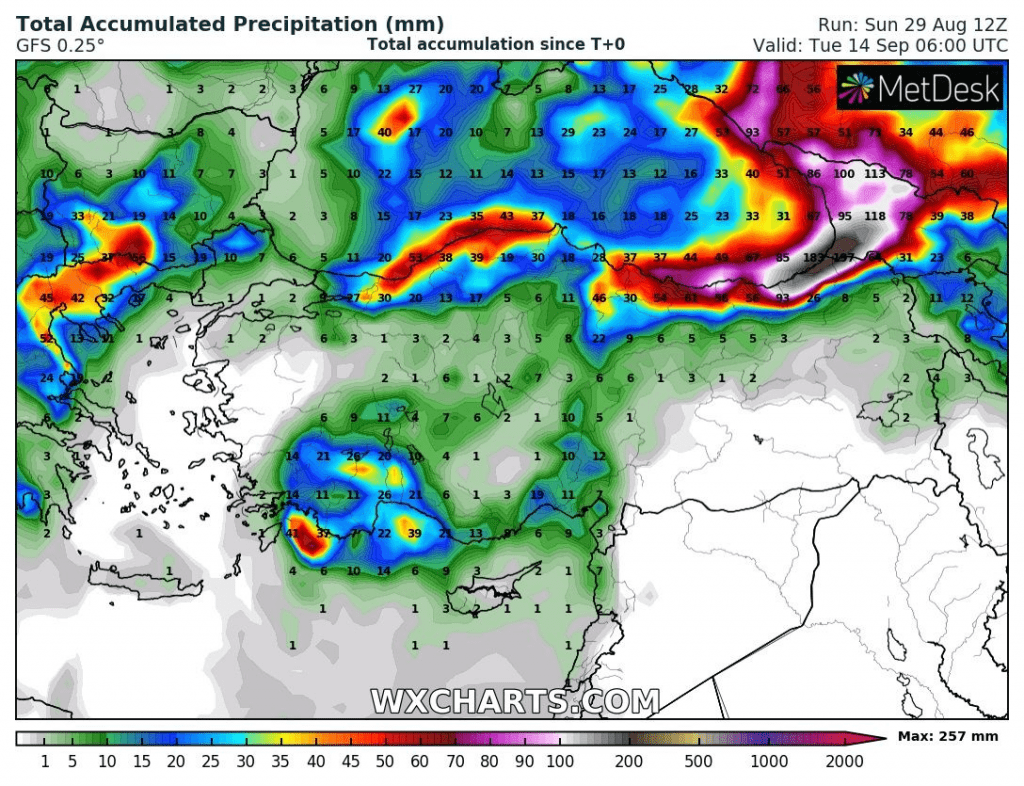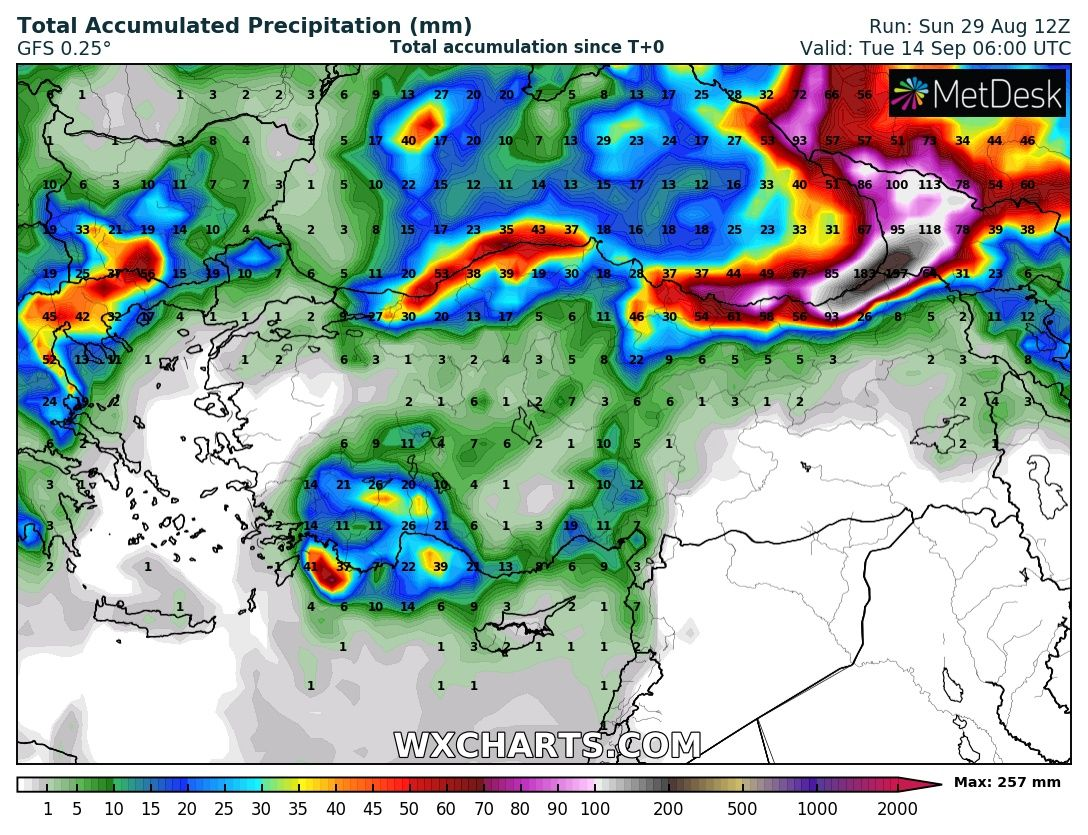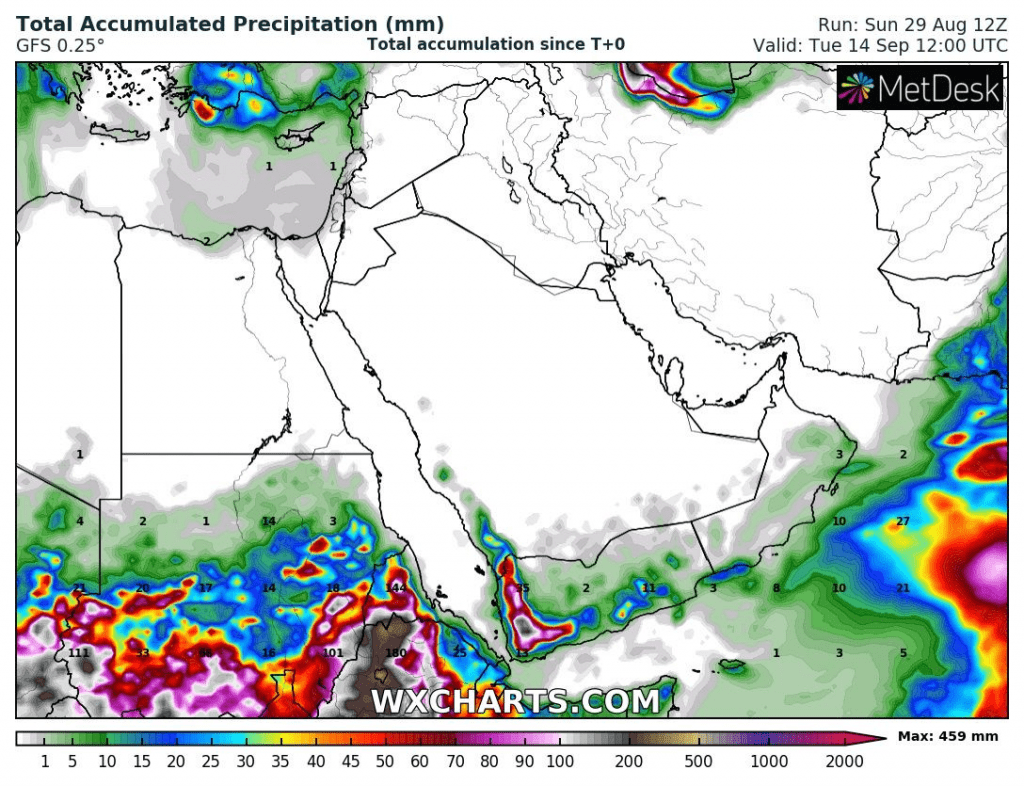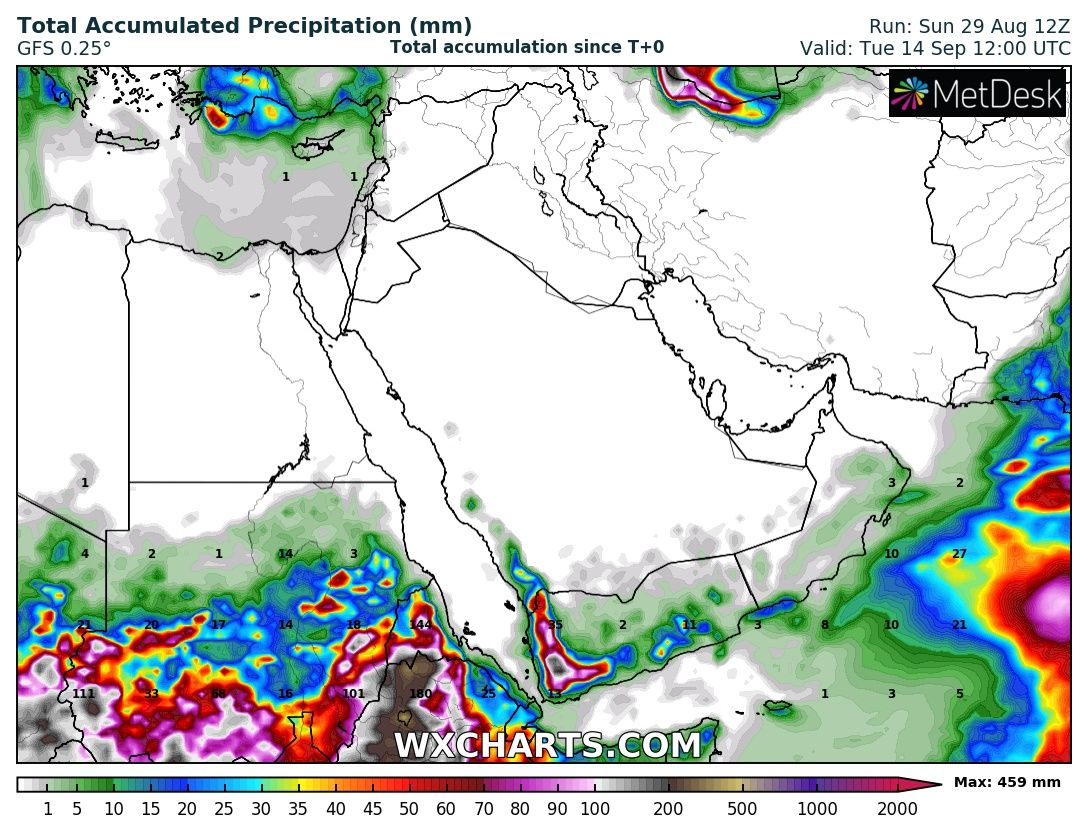 Source: wxcharts.com