Morocco with a new all-time October record, Agadir +43,5°C, Gran Canaria +38,3°C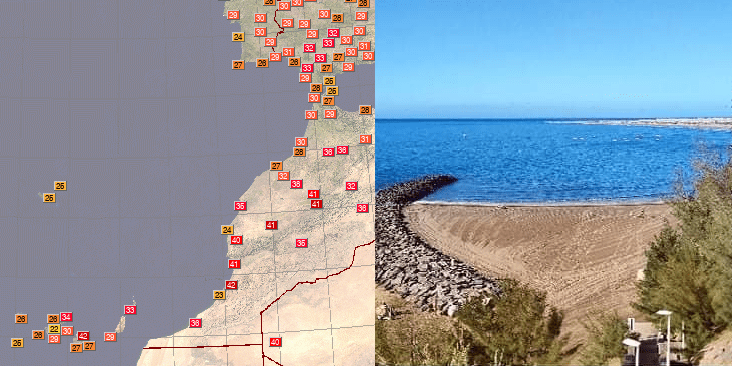 The next extreme heatwave in North Africa!
After series of record temperatures in Spring 2021, Summer 2021, and September 2021 has come another extremely hot period, with anomalous temperatures mainly in Morocco and Canary Islands.
While northern coasts of Algeria and Tunisia experienced in the first October 2021 days with relatively colder weather and storm activity, Morocco and Canary Islands hit record heatwave.
In Agadir, Morocco, the maximum temperature on 1. October 2021 reached +43,5°C, which is the highest temperature measured in the country in October in the all-time history of measurements.
Only on the previous day, on 30. September 2021, the maximum temperature reached +44,4°C in Agadir.
Extremely hot was in the Canary Islands – Gran Canaria island reported +38,3°C and Tenerife island +37,8°C.
Only before a short time, we warned about extremely high temperatures in late September 2021 in Algeria /https://mkweather.com/adrar-algeria-455c-at-the-end-of-september//.
Hot weather for northwestern Africa is forecasted during October 2021, with some colder periods only in the northern parts of Algeria and Tunisia.
Currently, the cooldown into Central Mediterranean is bringing Genoa cyclone /https://mkweather.com/a-severe-cold-front-from-portugal-to-norway-already-at-the-weekend-the-previous-storm-system-brought-floods-and-hail-in-slovenia-italy-and-spain//, divided from destabilizing polar vortex region above northwestern Europe. The system is bringing severe floods and tornadoes /one of the next Mkweather articles/ into European parts of the Mediterranean.
Meanwhile, the Middle East experiences with rare tropical system Shaheen above desert regions far in the north /http://mkweather.com/extremely-rare-tropical-cyclone-shaheen-hits-deserts-in-the-united-arab-emirates//, bringing record rains and 150 km/h winds in northern Oman – will be updated soon.