Mykonos, Tinos, Naxos, Cyclades in Greece report rare snowfall (minimum temperature +0,4°C, maximum temperature +3,2°C in Mykonos)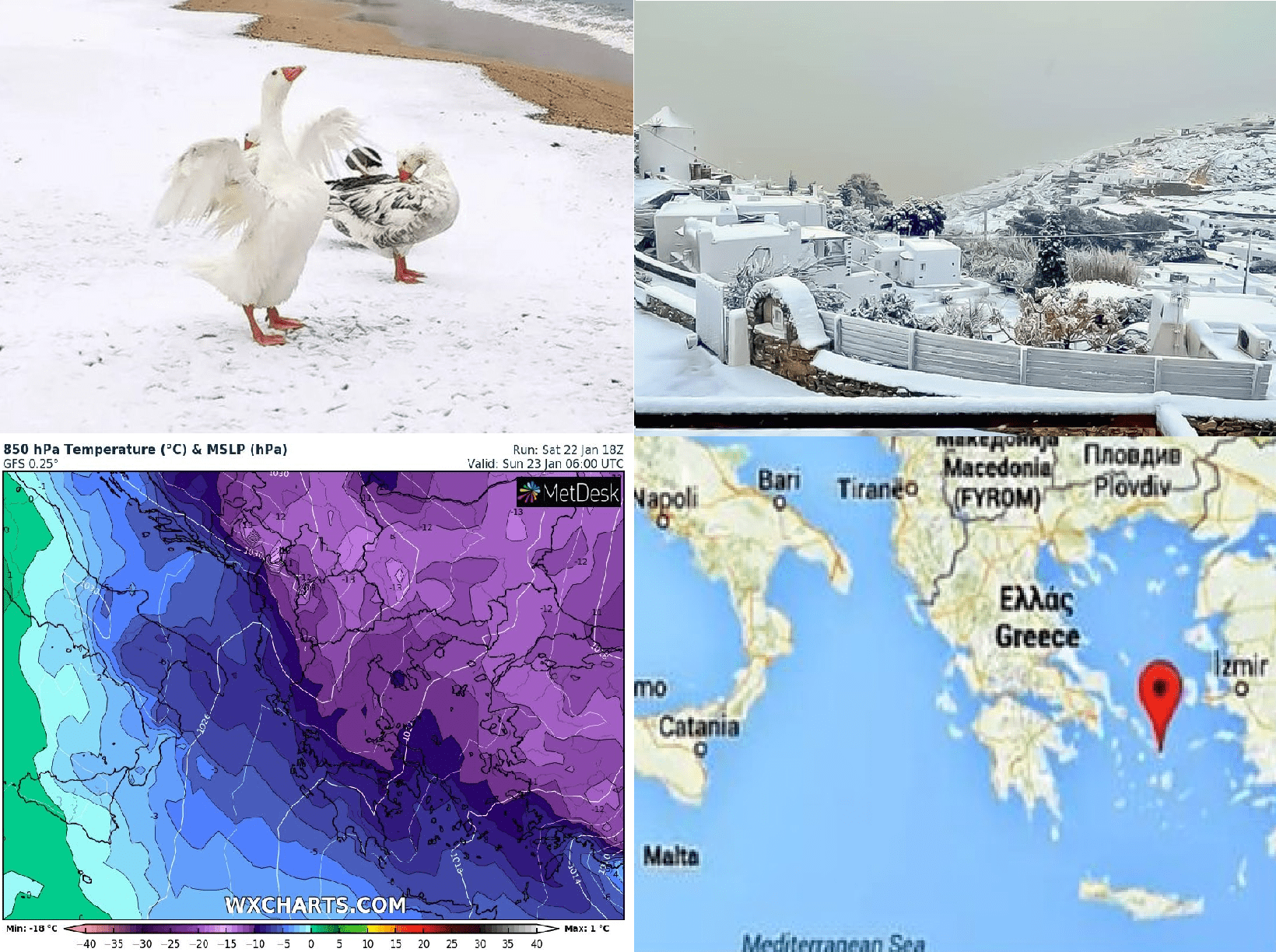 Temperatures in Florina, northern Greece, dropped at the weekend to -14,0°C and in mountainous valleys in Greece with snowfall, below -20,0°C should be rarely possible.
Extreme winter blast is here and anomalously cold air has already shifted above Greece, where snowfall and severe frosts were at the weekend observed.
In Athens and Thessaloniki already on 20. January 2022, minimum temperatures dropped to -3,0°C / -3,5°C. On 23. January 2022, Athens reported a maximum temperature of +5,5°C and Thessaloniki +5,1°C.
In northern Greece and mountains in Peloponnese, ice days (days will all-day frosts were reported) (in Florina -1,2°C on Saturday and -0,3°C on Sunday).
Extremely cold weather surprised mainly islands close to Turkey, including Myconos, where were temperatures on Sunday moving only from temperature minimum +0,4°C to temperature maximum +3,2°C.
This rare extremely cold situation was accompanied by heavy snowfall and all Myconos, including the coast, were covered by a deep snow cover.
Snowfall was reported from many other islands in Greece, including Cyclades, Tinos, or Naxos.
Above Greece has shifted on Sunday, 23. January 2022 extremely cold air, only -12°C in 850 hPa in northern Greece and -6°C in Crete, with a result of snowing in one of the warmest places in Europe.
Wind gusts near the blizzard were reaching up to 100 km/h.
Very cold weather is forecast for Greece until the end of January 2022 and between 4.-9. February 2022, so far. Early-spring conditions should come much later than in the rest of Europe /https://mkweather.com/6-week-ecmwf-forecast-for-europe-until-7-march-2022-early-spring-is-coming/; https://mkweather.com/ecmwf-is-confirming-nao-spring-should-come-to-europe-already-in-a-few-weeks/; https://mkweather.com/early-spring-conditions-nao-in-europe-in-february-and-march-2022-is-still-confirming-mainly-for-western-northern-and-central-parts-se-sector-will-stay-cold//.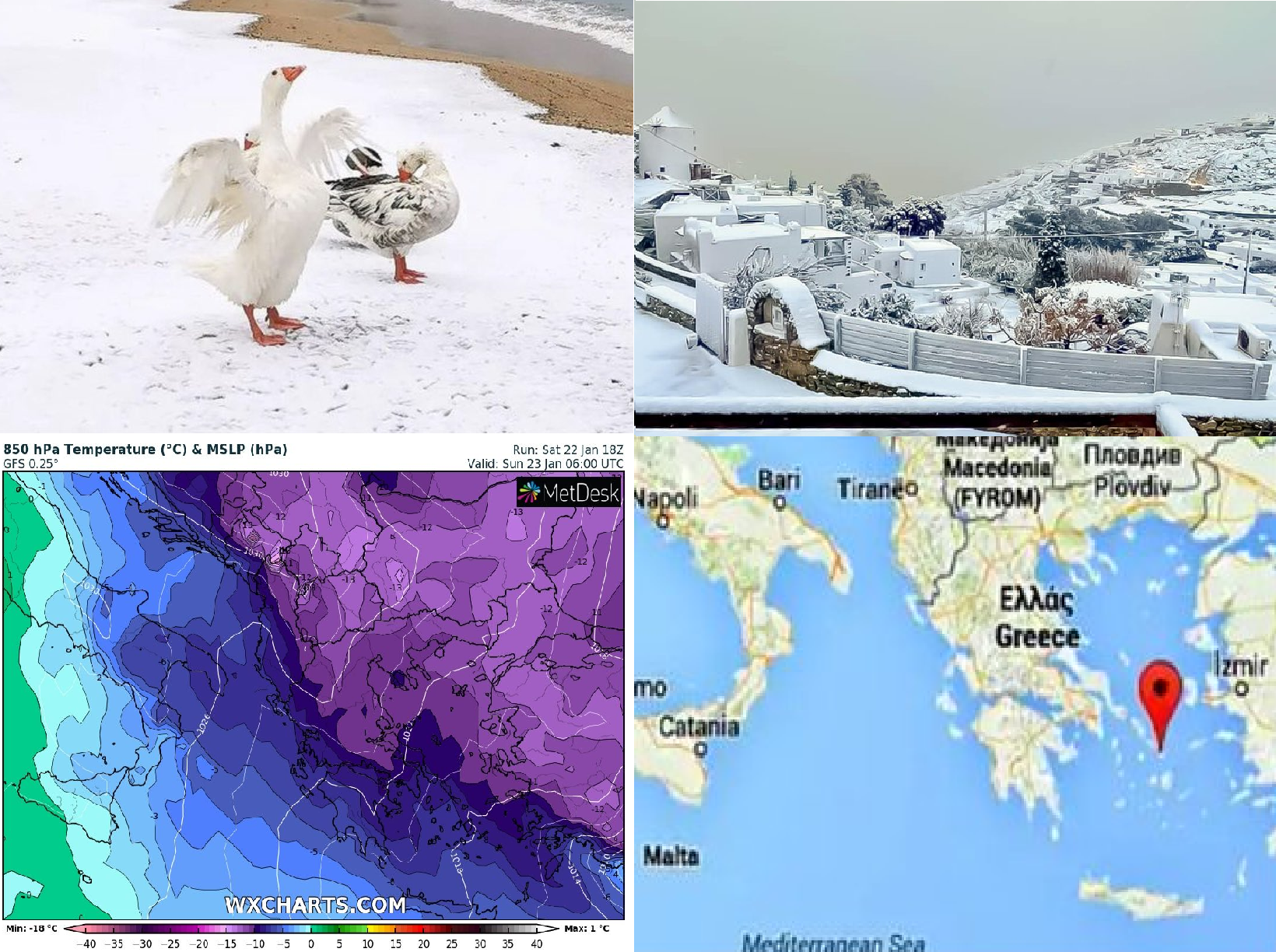 Illustration picture: LeydiKedi Twitter, wxcharts.com, qwerty Twitter, Tonynetone Twitter (googlemaps)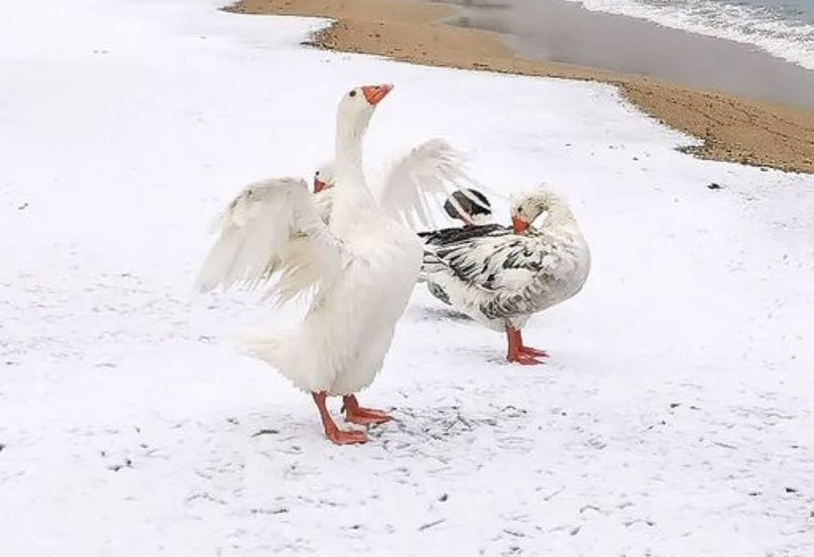 Source: LeydiKedi Twitter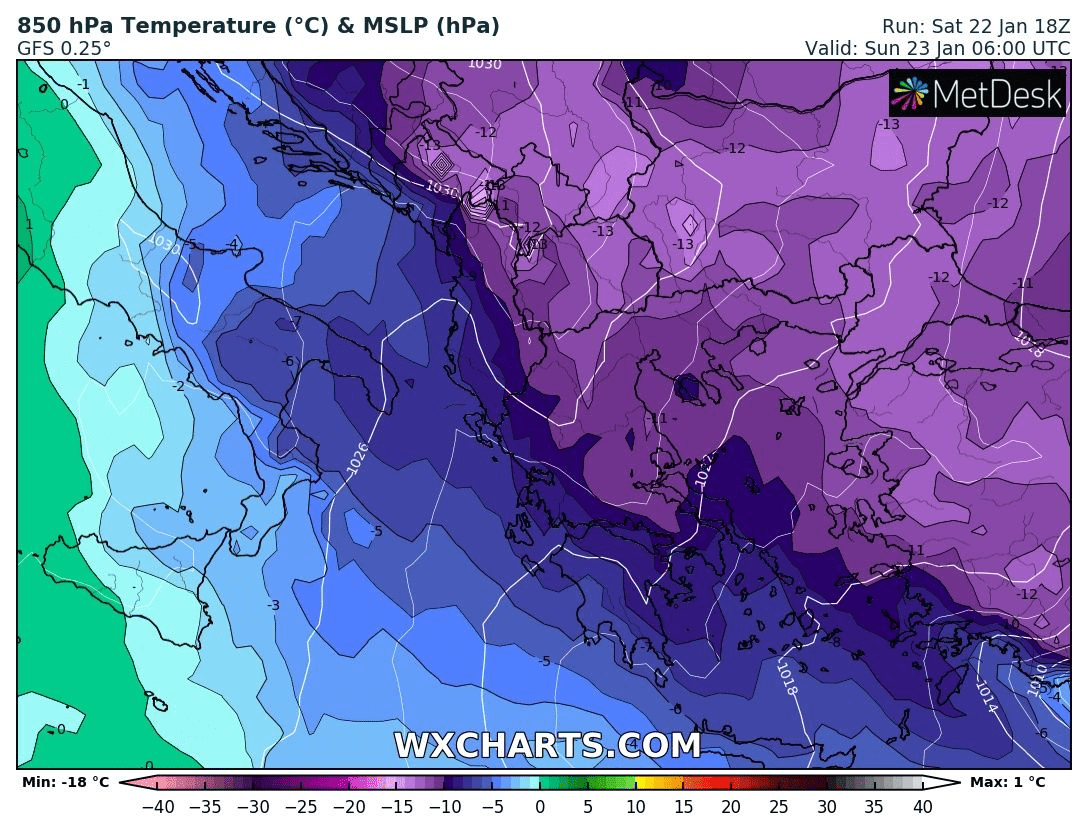 Source: wxchats.com
(Visited 186 times, 1 visits today)