North Korea +39,2°C, the coldest city in Japan +36,2°C, Olympic Games in an extremely hot atmosphere
Already in the last articles, we informed about the situation in Eastern Asia /https://mkweather.com/typhoon-in-fa-hit-china-shanghai-63-dead-typhoon-nepartak-affects-olympic-games-before-their-arrival-extreme-heatwave-across-east-asia-russia-japan-taiwan-philippines/; https://mkweather.com/tokyo-olympic-games-hits-typhoon-nepartak-china-with-disastrous-floods-6171-mm-in-96-hours-typhoons-cempaka-and-in-fa//.
Together 3 typhoons appeared in the area from southern China to Japan (Cempaka, In-Fa, and Nepartak) and on the front side of these disturbances, extremely hot air was flowing above large parts of Eastern Asia (temperature records from Russia, Japan, Taiwan, and the Philippines are mentioned in the first link above).
Extreme heatwaves in Japan and Korean Peninsula are however continuing and while the region northward from Tokyo is already hit by Typhoon Nepartak, in Hokkaido or North Korea, extremely hot conditions are still persisting.
In Japanese city, where was measured the coldest temperature in history in Japan, Asahikawa, +36,2°C on Tuesday, 27. July 2021 and a previous all-time record for the station from 1989 was broken.
Extremely hot weather was reported from North-Korean meteorological stations, too – in Chunggang, 2 days with +39,2°C early this week appeared. The all-time record for the city has a value of only +40,2°C (only 1°C was missing).
Hot atmosphere hit in the last period almost all Japan, including Olympic Games areal, Tokyo. Sportsmen and sportswomen had therefore harder conditions for their performances. High temperatures and increased humidity should defeat many world records and many Olympians, therefore, have trained in specially modified training buildings, where temperature and humidex were artificially increased.
Tropical weather for the Tokyo region is forecasted until Saturday, 31. July 2021, between 1.8.. – 6.8. it will be finally colder, between +25/+30°C, with possible showers or storms during some days.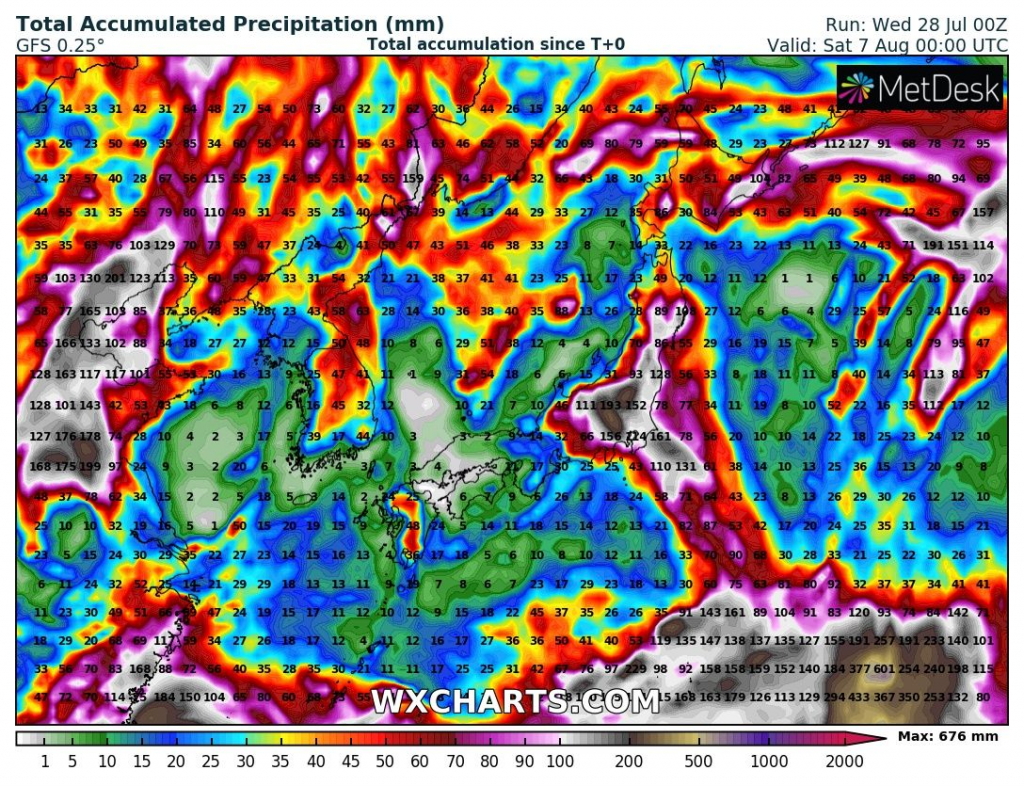 Source of maps above: wxcharts.com
(Visited 21 times, 1 visits today)