26 people in northern Nigeria (Kano region) and 35 people in Niger lost their lives near widespread floods in the wider Sahel region. From other countries, Chad and Cameroon were hit, too.
Intertropical Convergence Zone during the peaking Summer 2021 already shifted from equatorial Africa minimally to southern Sahel region, where the next heavy rains from Senegal to Ethiopia are in the next 16 days expected.
The worst rains are forecasted in southwestern West Africa, Nigeria/Niger/Cameroon, Chad with Sudan border, and in Ethiopia in the next period, with the next regional floods.
Meanwhile, in Sahara, extremely hot air masses are regenerating, with the next forecasted heatwaves in Europe in the next period /https://mkweather.com/breathtaking-heatwave-projected-for-17-august-43c-in-alpine-and-carpathian-countries-spain-49c-italy-and-greece-again-deadly-47c-balkan-45c/; https://mkweather.com/last-chance-for-hot-summer-spain-portugal-italy-balkan-up-to-45c-hungary-40c-continental-europe-33-37c-british-islands-33c-scandinavia-above-30c-between-13//.
In Algeria, the temperature in the first 6 August days reached up to +49°C, which is only 2°C from all-time temperature records – locally, all-time August or even all-time records should be overcome.
In places, where normal summer maximum temperatures are moving around +40/+42°C, temperatures around +48°C are in the last days reported.
Hot weather is persisting above all Sahara, with anomalously hot temperatures in Morocco, Tunisia, Libya, and Egypt, too.
Measured TOP30 stations from the region for 1.-6. August 2021 are on pictures below.
It´s possible, that during the next period, the heatwave will be even stronger, with the next possible all-time records not only in Europe but too in parts of North Africa, where will be the origin of anomalously hot air.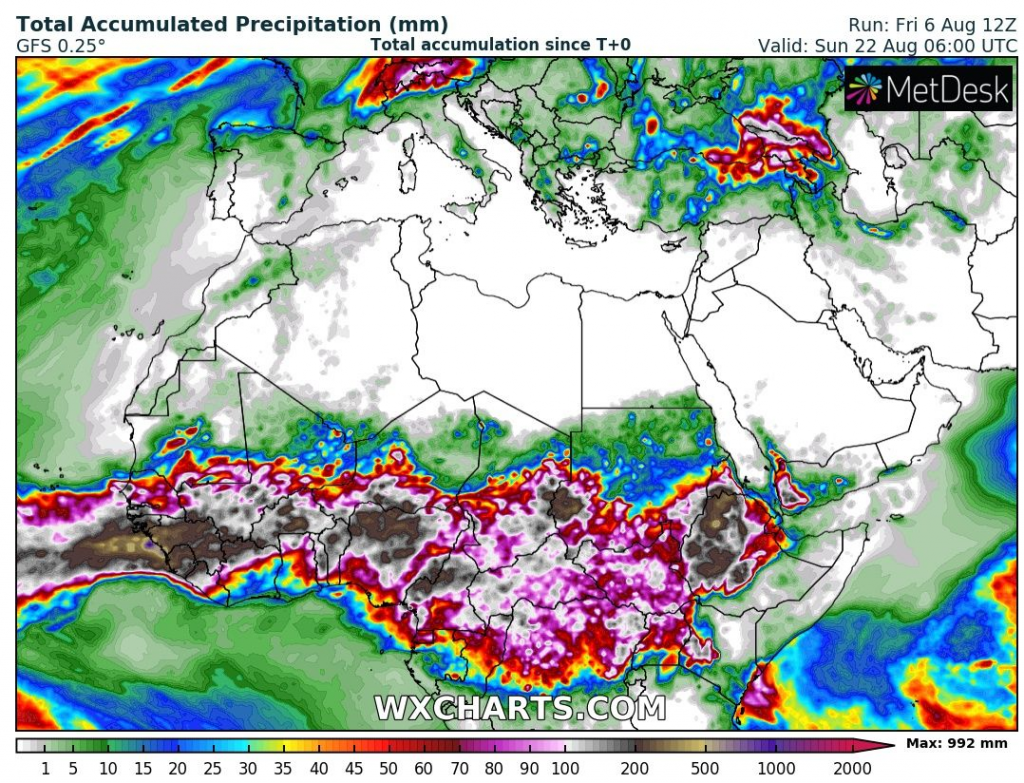 Source: wxcharts.com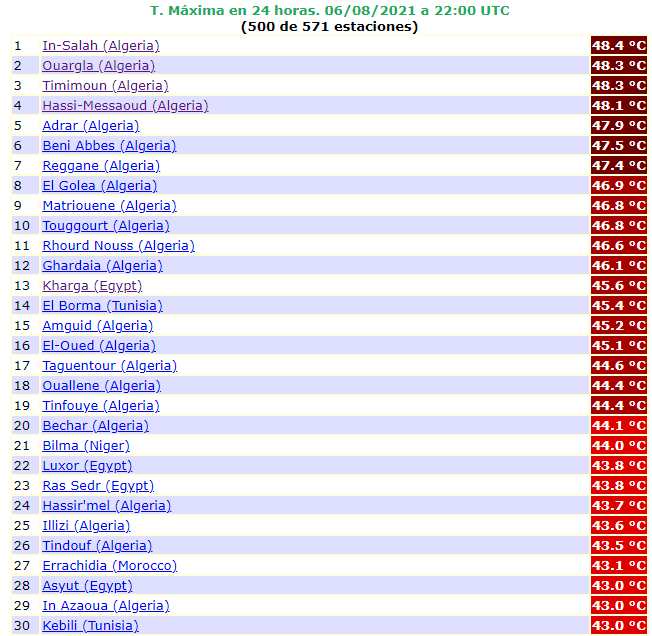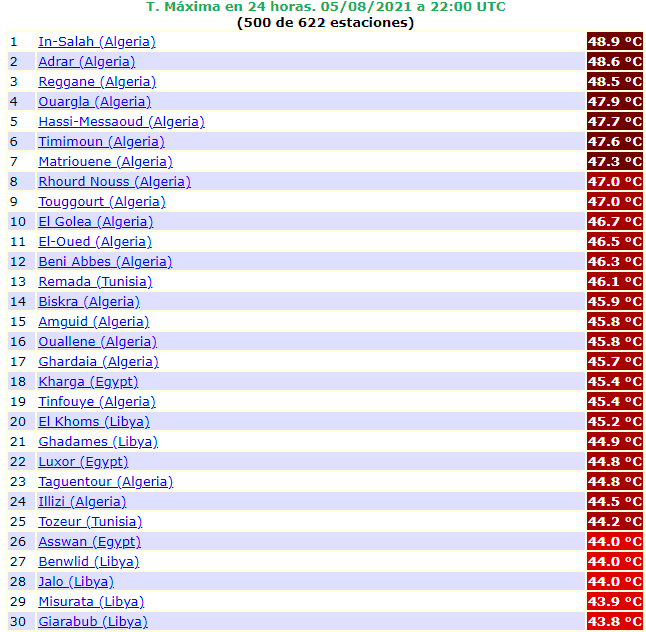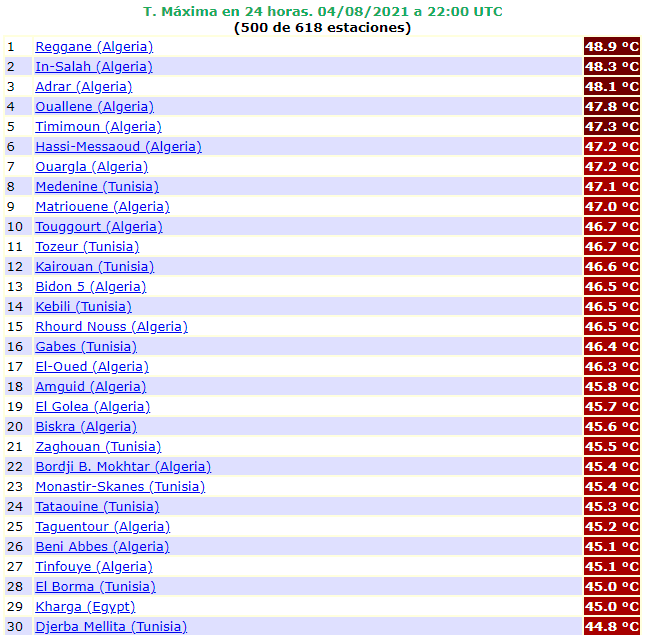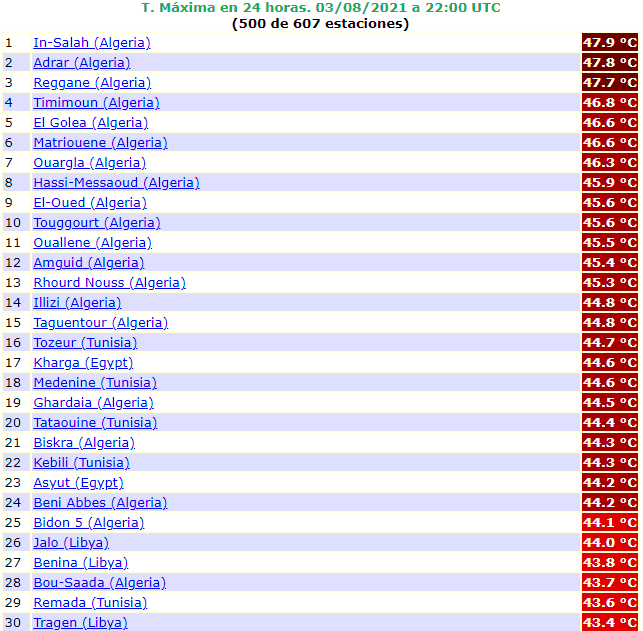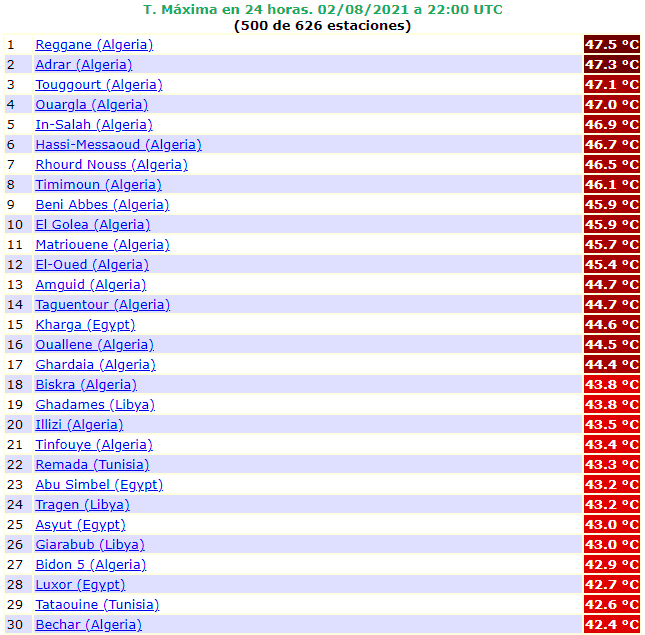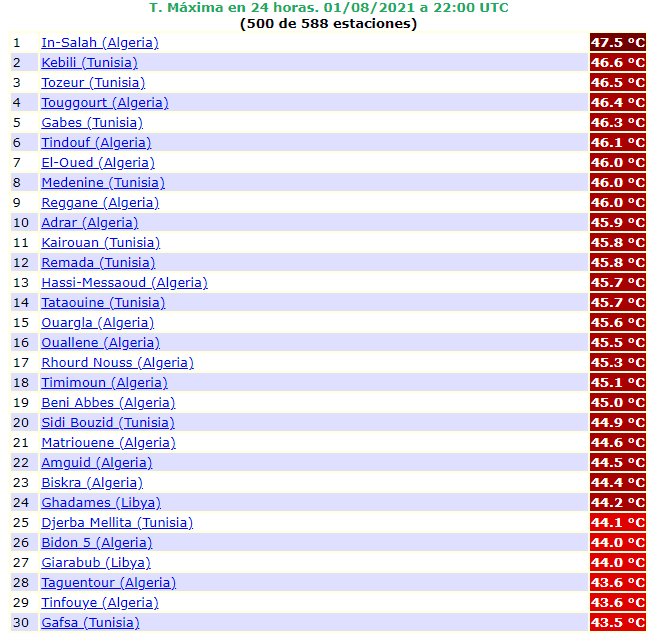 Source: ogimet.com
(Visited 34 times, 1 visits today)