Snowing in Potsdam, Berlin, Germany in May after 50 years!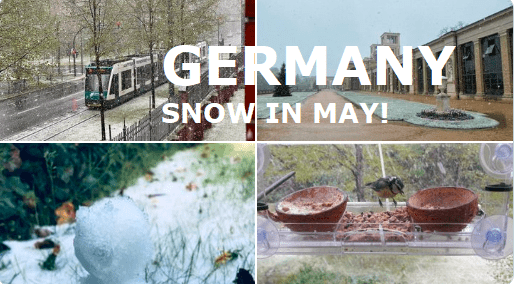 After the coldest April in Germany in 44 years (since 1977), extremely rare snowing in May appeared on 6. and 7. May 2021 in the country!
Rare snowing appeared in Potsdam, Germany in May, the first time after 50 years!
‍A quick ERA5 analysis indicates that snow has fallen in Berlin during May only 3 times in the last 7 decades: 1991, 1978, and 1970 according to experts and Twitter watchers.
Therefore it should be the first snowing in Berlin in May after 30 years!
Extremely cold conditions with snowing bothered Germany mainly in morning hours, when +0,4°C was measured in Potsdam and +1,4°C in Berlin on Friday, 7. May.
Extremely rare snowfall was reported from the Netherlands on Friday, too /https://mkweather.com/snowing-in-the-netherlands-on-7-may-extremely-rare-snowstorm// and on Wedensday, 5. May 2021, snowfall appeared in Belgium and northern France.
Very late snowing too surprised parts of England, Wales and Ireland and heavy snowfall was observed in Scotland.
From Wasserkuppe, Germany, 921 MASL, 2 cm of snow cover is reported last 3 days near persisting snowing. On Friday, 7. May 2021, minimum temperature in Waserkuppe reached only -1,1°C and maximum temperature only +3,8°C.
Despite of extremely cold conditions during the first May 2021 week in Europe (and Germany), a short heatwave, with temperatures up to +30°C is forecasted already in next days, with peak around Sunday and Monday, 9.-10. May 2021.
After this heatwave, rounds of severe storms are prepared for many European countries, with probability of extremely strong T-storms in Germany and Alpine region /https://mkweather.com/may-2021-in-europe-long-rounds-with-severe-storms-and-2-heatwaves-in-outlook//.
Extremely cold weather in Spring 2021 in Europe is associated with anomalously cold Earth thanks to La nina, series of volcanic eruptions and minimum of current solar cycle activity /https://mkweather.com/global-temperatures-dramatically-went-down-the-sharpest-jump-since-1990s-la-nina//.