South Africa, Namibia, Botswana, Zimbabwe, and Mozambique with an extreme Antarctic blast at the weekend, Level 6 snow warnings in SAR!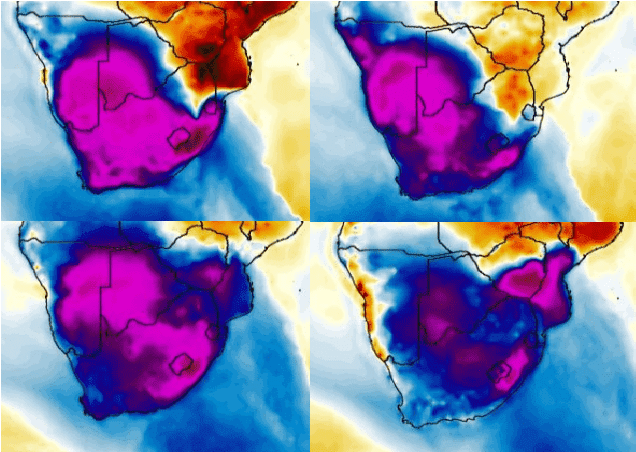 After extreme July´s Antarctic blasts in South African states it has appeared, that the extreme peak of Winter 2021 won´t be overcome /https://mkweather.com/antarctic-winter-in-africa-namibia-100c-botswana-77c/; https://mkweather.com/botswana-97c-only-09c-from-the-all-time-national-record/; https://mkweather.com/johannesburg-sar-70c-all-time-july-record-zimbabwe-67c-2021//.
However, at the end of Winter 2021, already at the weekend, 28.-29. August 2021 will arrive in South Africa, Namibia, Botswana, Zimbabwe, and Mozambique the next extreme Antarctic coldwave, which should bring not only extreme frosts, in South Africa with minimum temperatures up to interval -10/-15°C, but too with severe snowfall in some region.
Snow is forecasted to appear mainly in the Cape Town region, where is from Thursday, 26. August 2021 valid Level 6 weather warning before extreme snowfall. Snow showers or snowing is forecasted for many, mainly mountainous populated basins in South Africa until the weekend.
South Africa is therefore similarly such as Argentina hit by a powerful Antarctic cold blast in this period /https://mkweather.com/extreme-winter-in-argentina-2-meters-of-snow-and-20c-temperatures-after-a-powerful-antarctic-blast//. Heavy snowfall was locally at the start of the 3rd August 2021 decade reported from parts of Southeastern Australia, too.
Antarctic blast firstly hits Namibia, western South Africa, and Botswana on Saturday, 28. August 2021, then Zimbabwe, eastern South Africa, and Mozambique on Sunday, 29. August 2021.
Forecasted temperatures will be regionally 20°C below all-time averages and in eastern South Africa, 20°C cooldown is forecasted.
Regional temperature records are near this configuration possible and in northern regions, frosts should damage the harvest.
Dry and cold Antarctic air should worsen the virological situation, too.
After a relatively good winter, with many cold blasts, stormy and temperature neutral or colder Spring 2021 in is south-African states forecasted /https://mkweather.com/spring-autumn-forecast-for-africa-mostly-hot-and-dry-parts-of-sahel-equatorial-africa-stormy-and-south-africa-stormy-and-cold//.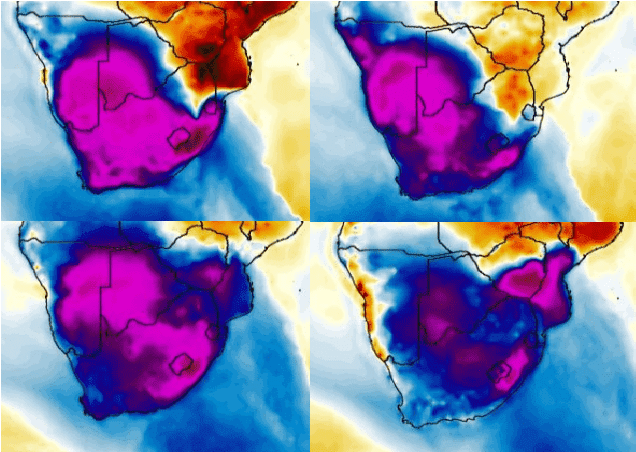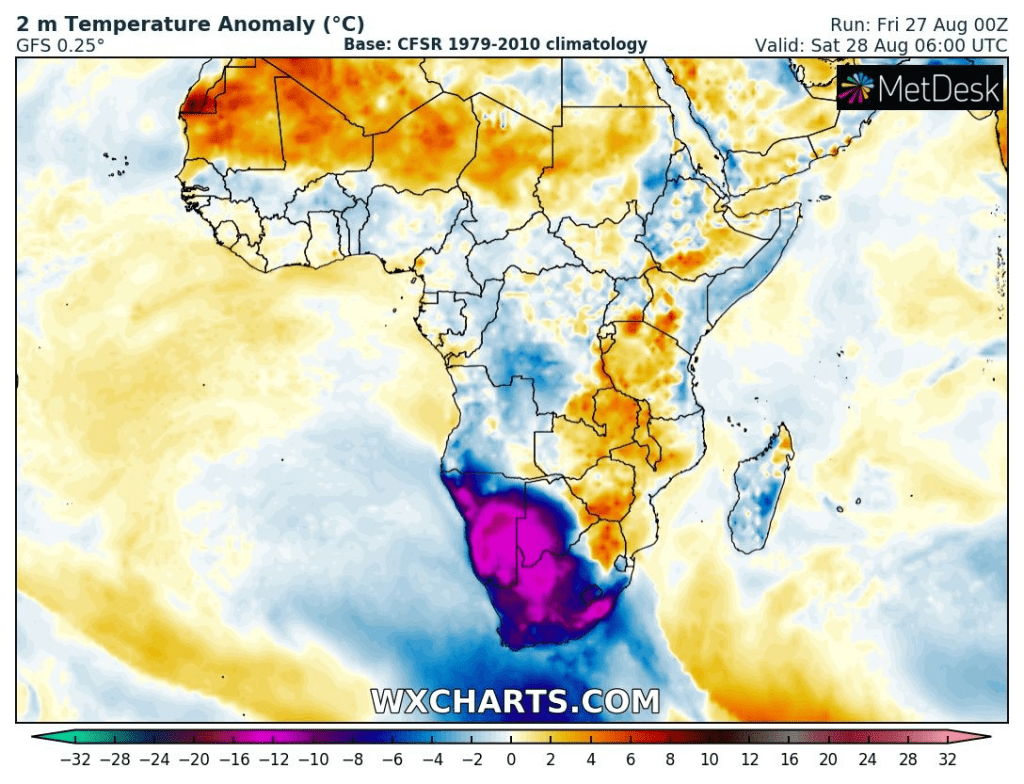 Source: wxcharts.com