Spain +25,9°C, France +24,1°C, Austria +21,5°C, Hungary +20,1°C, Serbia +19,8°C, Bosnia +19,4°C, Slovakia +18,1°C!
Despite Windstorm Eunice /https://mkweather.com/severe-windstorm-eunice-hits-nw-europe-with-wind-gusts-100-140-km-h-rarely-180-km-h// and severe tornado event in Poland /https://mkweather.com/5-destructive-tornadoes-hit-poland-injured-people-and-destroyed-homes-the-strongest-should-have-the-power-of-ef2//, strong winter warm spell, in southwestern Europe we should say that heatwave, hit southern parts of continental Europe, parts of Balkan, France, and Spain.
In Iberia, summer temperatures up to +25,9°C (Xátiva near Valencia) appeared
France reported +24,1°C in Le Luc, but the final national warmest temperature should be even warmer, maybe around +25,0°C after possible Météo France more accurate corrections.
Such we forecast in one of the last articles /https://mkweather.com/20c-in-slovakia-hungary-and-austria-already-on-thursday-17-2-2022-very-close-to-all-time-winter-records//, extremely warm winter day appeared before the arrival of windstorm in Austria, Hungary, Slovakia, or even Serbia and Bosnia and Herzegovina.
In Deutschlandsberg, Austria, 354 MASL, anomalous +21,5°C was measured, which is very close to the winter national record.
In Sopron, Hungary, +20,1°C was measured.
Loznica, Serbia, reported +19,8°C, and Gradacac, Bosnia and Herzegovina +19,4°C.
In Bratislava, Slovakia was finally colder, only +18,1°C, although after corrections from the Danubian basin it should be a higher national value.
Wind gusts were the highest in Snezka / Sniezka (Poland / Czechia), 180 km/h, Brockenm Germany, 152 km/h, or Cairnwell, the UK, 141 km/h, so far (plus similar measurements from Alpine peaks).
Mainly in the southern half of Europe, very, or extremely warm will be Friday and in Italy, Balkan, Greece, or western Turkey the weekend, too, with the next possible anomalous winter temperatures.
The very or extremely warm period between 25.2. and 5.3. 2022 is confirming, so far, soon (probably on Friday) we will bring an early-spring update.
TORNADOES IN POLAND EDIT: Together 6 tornadoes, including EF1, were on 17.2.2022 in Poland reported, with 3 injured people, so far.
Illustration map: wxcharts.com (T2 anomalies in Europe on 17.2.2022 18Z)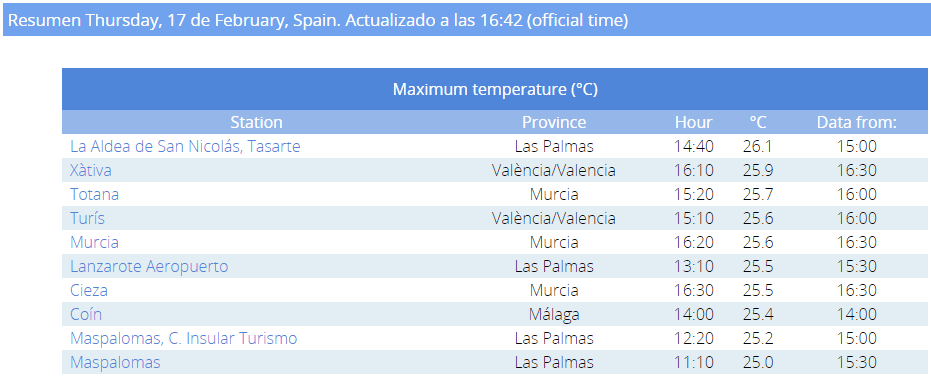 Source: http://www.aemet.es/en/eltiempo/observacion/ultimosdatos?k=esp&w=1&datos=det
Source: wxcharts.com