Hot and dry March, cold and stormy April and May? The long-term forecast for Europe sees a return of cold weather patterns!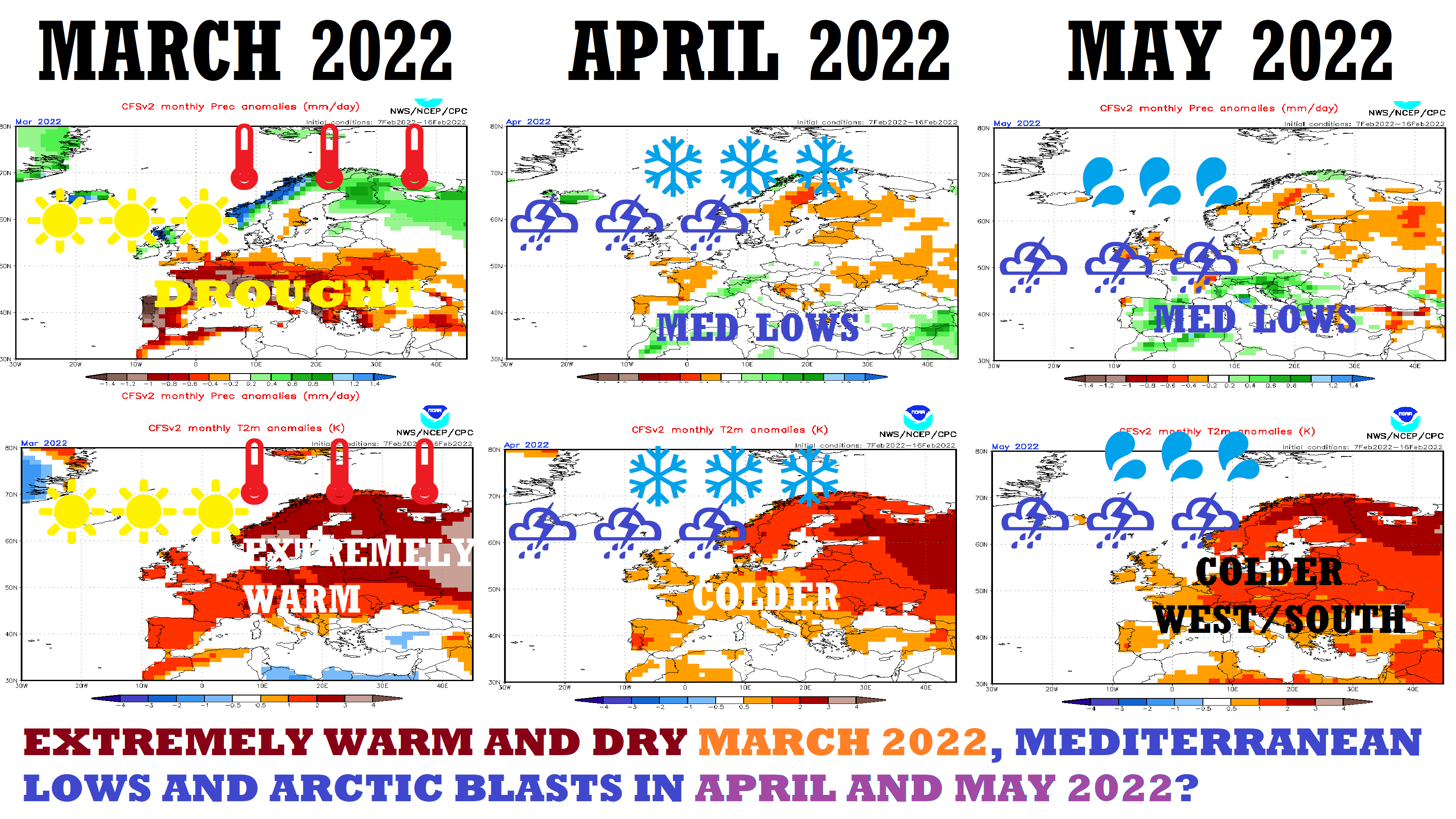 Early-season heatwaves should hit in 2022 in Europe already in March 2022 /many materials on our homepage: https://mkweather.com// which agrees with Mkweather Spring 2022 forecast for Europe, so far /https://mkweather.com/spring-2022-forecast-for-europe-early-dry-late-stormy-very-warm//.
According to current materials, NAO+ should be persisting above Europe until 27. March 2022 (will be updated already in the next article, then ECMWF 6-weeks outlooks and weather in the US/Canada).
In March 2022, a lack of Mediterranean lows on CFS outputs is evident, with extremely warm and dry weather in the Mediterranean and continental Europe, southward from stormtrack, with extremely warm weather /https://mkweather.com/spain-259c-france-241c-austria-215c-hungary-201c-serbia-198c-bosnia-194c-slovakia-181c/; https://mkweather.com/the-first-heatwave-of-the-summer-season-will-come-very-early-26-2-5-3-2022-the-mediterranean-30c-continental-europe-25c-british-islands-scandinavia-up-to-20c//, but very stormy northern Europe, with a possibility of similar windstorms and tornado events such as these days (very strong Icelandic cyclones: https://mkweather.com/5-destructive-tornadoes-hit-poland-injured-people-and-destroyed-homes-the-strongest-should-have-the-power-of-ef2/; https://mkweather.com/severe-windstorm-eunice-hits-nw-europe-with-wind-gusts-100-140-km-h-rarely-180-km-h/).
While in February and March 2022, very high positive values of NAO index are bringing /should bring surprising warm spells, later early-season heatwaves (tropical days mainly in the Mediterranean, in the second half of March 2022 summer days in continental Europe, too), in April and May 2022, a decline of NAO index into negative values is predicted, so far, which should mean stormy pattern for parts of western and southern Europe and late-season Arctic blasts with severe frosts and even snowfall, temporarily.
A shift from NAO+ to NAO- is evident from the predicted activity of Mediterranean lows in April and May 2022, which will be pulling cold Arctic air from the Greenland region above the western half of Europe, with overall colder weather patterns such as in March 2022.
Only above the continent should in late Spring 2022 develop hot and dry continental air masses, with partial effects to east-continental Europe, Turkey, or Balkan.
In April 2022 therefore, the last severe frosts or regional snowfall should appear, which should have a negative effect on agriculture and gardens.
In May 2022, more storms and precipitation should mean oppositely, good effect for agriculture, before hot and stormy Summer 2022 /https://mkweather.com/summer-2022-forecast-for-europe// (cold May means paradise in barn according to Central-European weather-folk saying).
If you like warm and dry weather, try to use the next weeks carefully, because it appears, that cold weather won´t say in the winter season the last word, yet.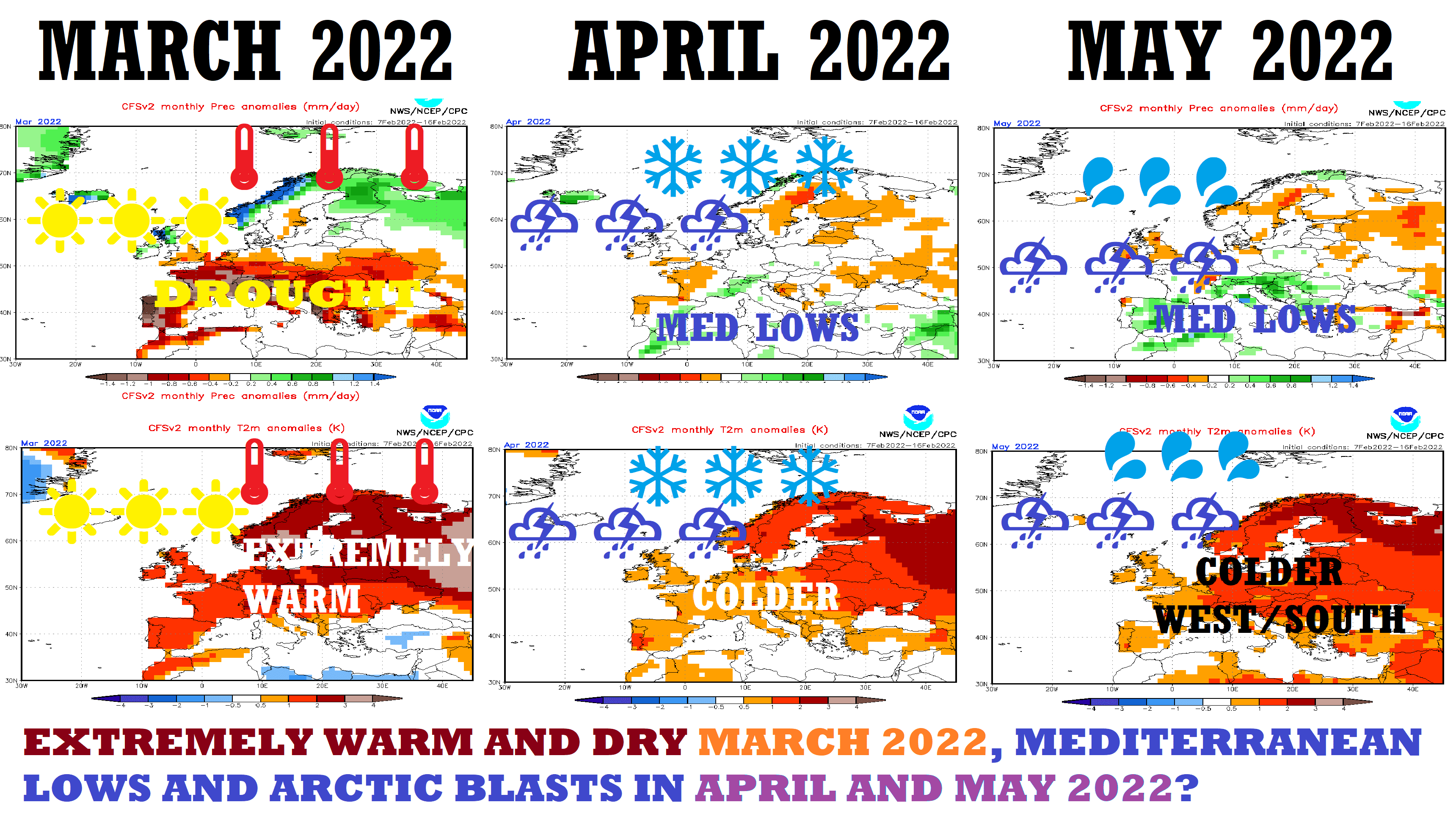 Illustration picture: CFS: https://www.cpc.ncep.noaa.gov/products/CFSv2/CFSv2_body.html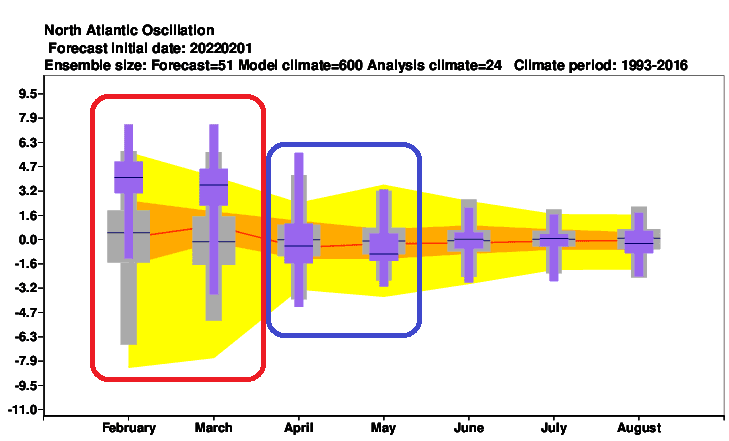 Source: NAO index forecast /ECMWF – https://apps.ecmwf.int/webapps/opencharts/products/seasonal_system5_climagrams_teleconnection?base_time=202202010000&index_type=NAE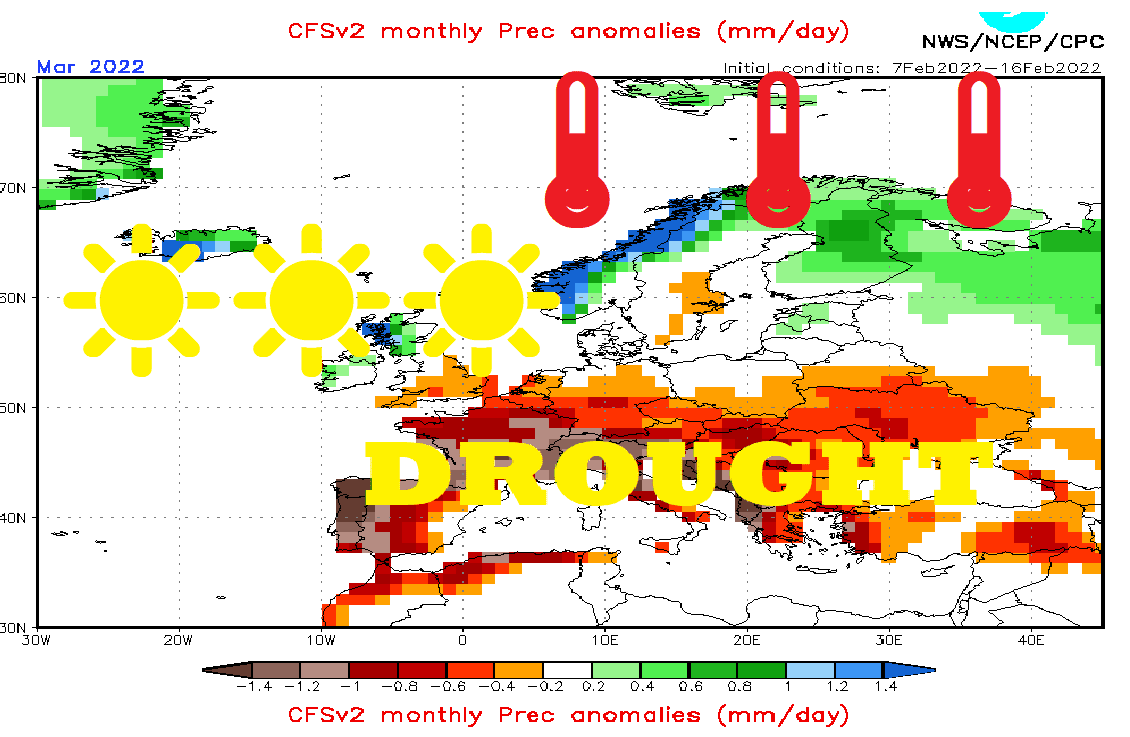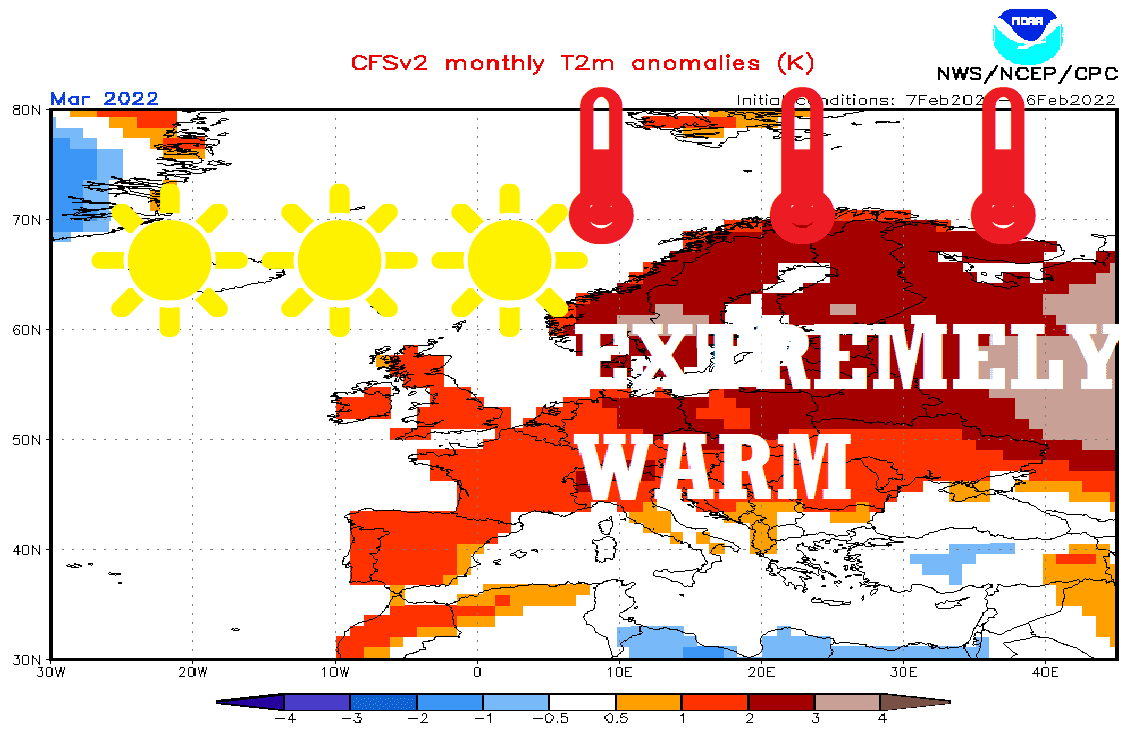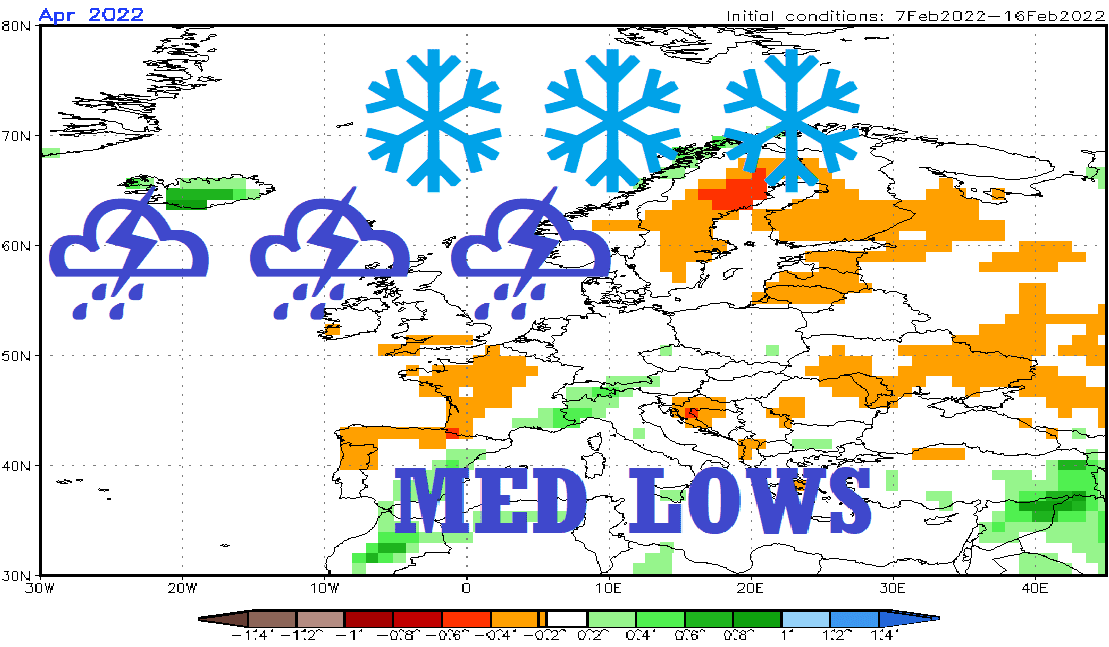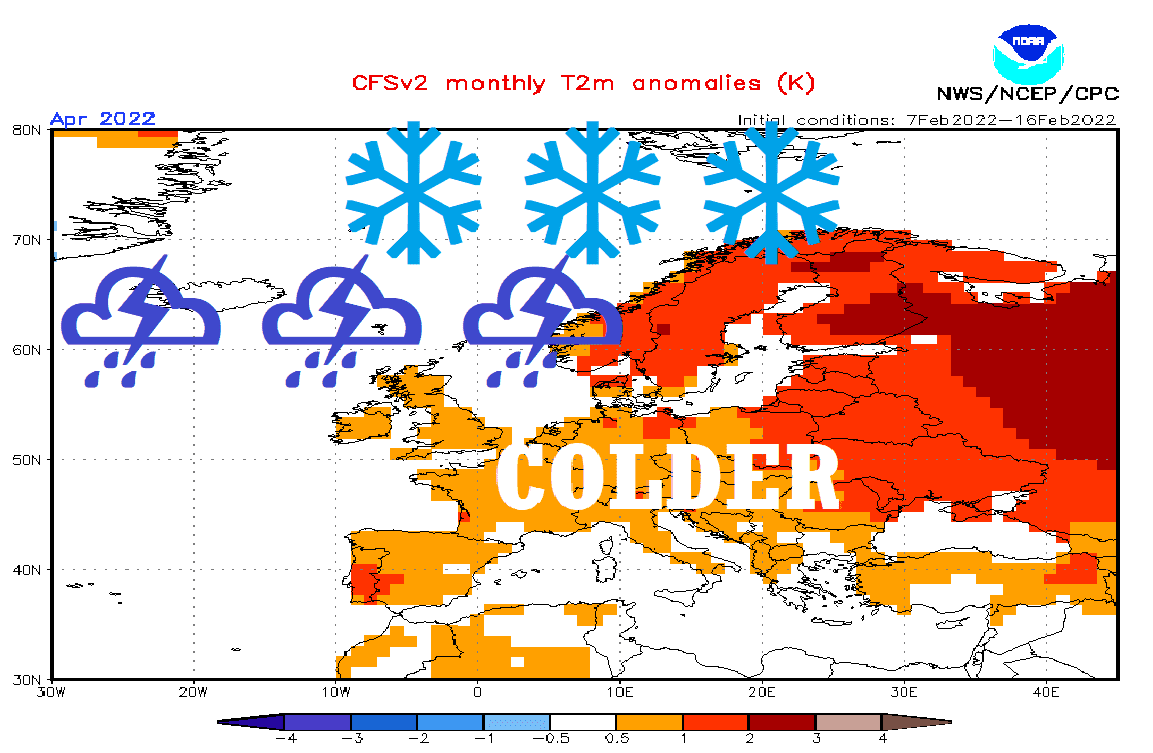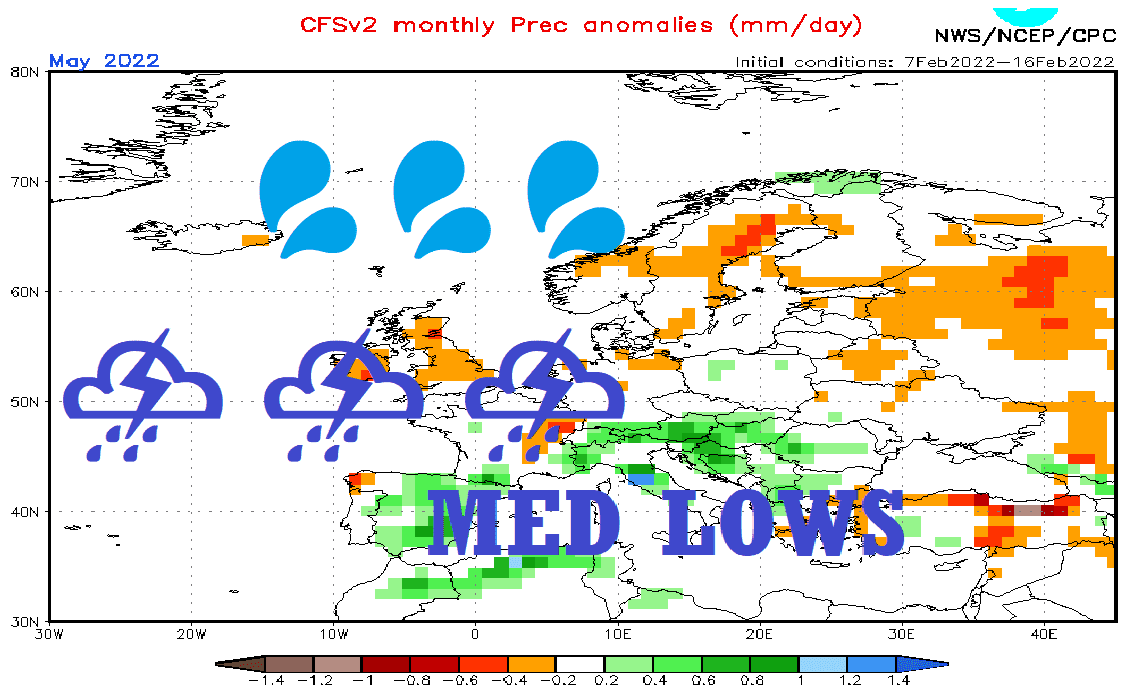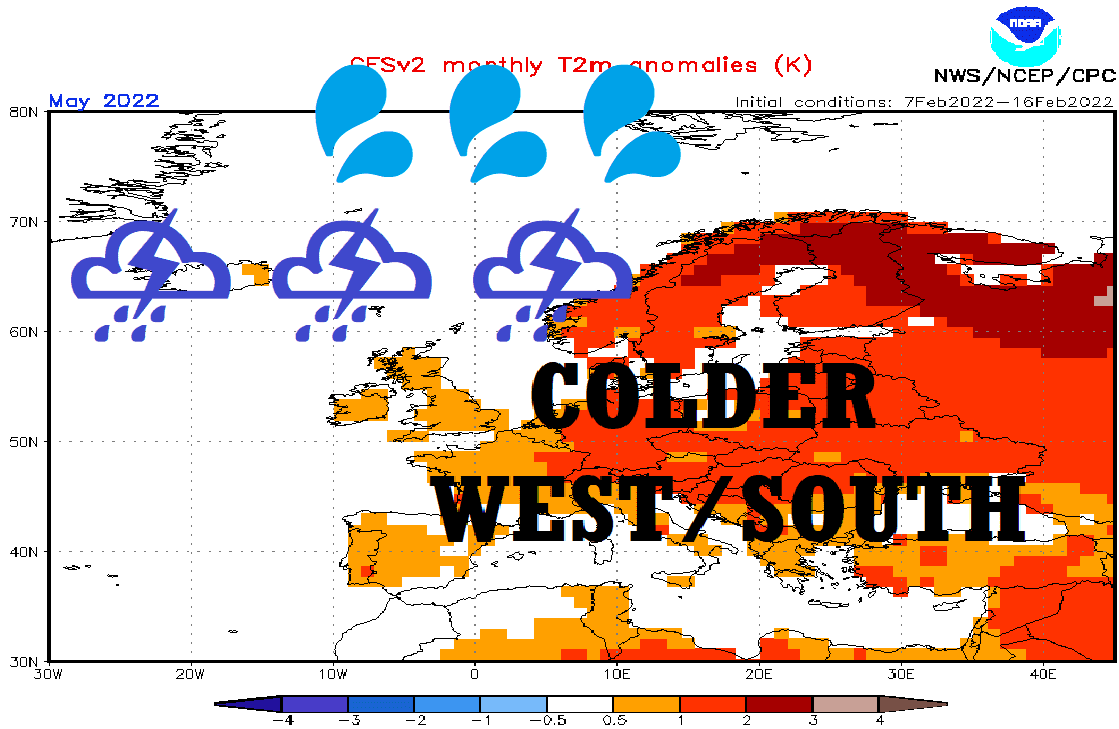 Source: https://www.cpc.ncep.noaa.gov/products/CFSv2/CFSv2_body.html